Chelsea interim boss Guus Hiddink believes John Terry can play on at the highest level but was unable to clarify if the captain has played his final game for the Blues.
Terry made his 703rd - and, potentially, his last - appearance for Chelsea in last Saturday's 3-2 loss at Sunderland.
The 35-year-old, who made his debut in October 1998, was sent off for the second time this season and will serve a two-game suspension.
The ban rules Terry out of Wednesday's Premier League clash at Liverpool and Sunday's fixture with champions Leicester, when a Stamford Bridge farewell was probable.
He is out of contract this summer and, while Chelsea insisted an offer may be forthcoming, there has been no news on his future, with some supporters planning to protest at the likely departure of their 'Captain, Leader, Legend' at the final two games of a disappointing season.
"Whether it would've been the last game that's not up to me," said Hiddink, whose second caretaker spell ends after Sunday's match with Leicester.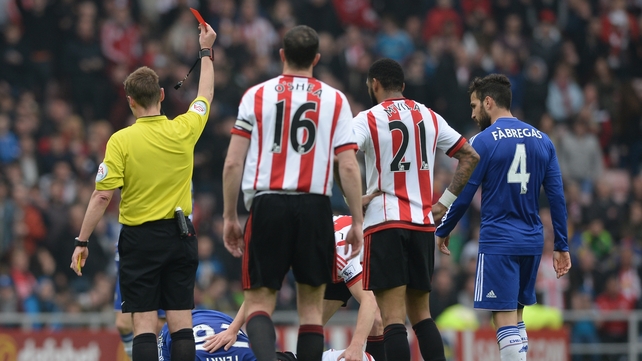 "When I make a judgement on how he plays and his fitness on his age, he's able to play, he's able to continue.
"Where? What the near future is up to the club, it's not for me to make declarations on that."
Incoming head coach Antonio Conte has a major say in the final decision over Terry, but one has not been communicated so far.
Terry, whose previous sending-off this season came at West Brom in August, has missed some memorable moments with Chelsea through suspension.
He was banned for the 2012 Champions League final win over Bayern Munich but joined the celebrations in his full kit, a protocol dictated by UEFA.
Reports recently suggested Terry had hired Stamford Bridge for a private party.
He has been linked with a move to China, the Middle East and Major League Soccer, but given his reluctance to face Chelsea and their absence from Europe next season, he could also move to another European club.
Despite not being available for selection at Anfield or against Leicester, Terry has been training this week.
Hiddink added: "He has been training in recent days. Of course, when you come on the pitch for training after being sent off it's not the most beautiful face.
"He started to lift up his morale and trained okay. Of course, not being there in the last two games is a blow for him and for us."