Barcelona and Real Madrid will pay an emotional tribute to Johan Cruyff before resuming hostilities in their latest eagerly-anticipated El Clasico fixture on Saturday.
This weekend's clash at the Nou Camp will be Barca's first outing since the death of their former player and manager Cruyff, one of the greatest and most influential figures in their history.
A minute's silence will be observed before kick-off with a special video tribute having been produced for the big screen. Fans will also hold up a mosaic in homage to the Dutchman.
Last week's international friendly between the Netherlads and France was stopped in the 14th minute for a round of applause to honour the football legend.
"The only thing left to top off the tribute to Cruyff is to dedicate a victory to him"
How the occasion affects the atmosphere and performance of title-chasing Barca remains to be seen, but defender Aleix Vidal believes the most poignant tribute would be to win the match.
Cruyff himself starred as a player in a 5-0 thrashing of Real in his first season at Barca in 1974, a victory which provided one of the highlights of a first La Liga title-winning campaign in 14 years.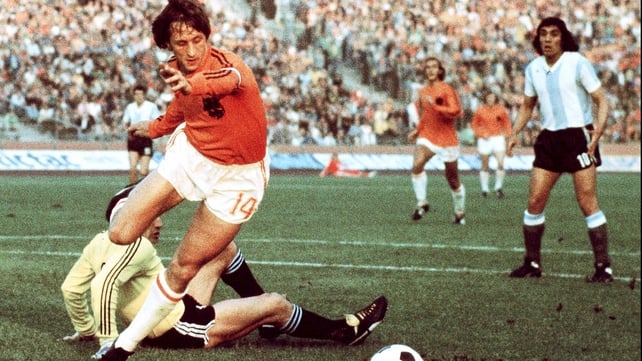 "The club has done everything he deserves. The only thing left to top off the tribute to Cruyff is to dedicate a victory to him," Vidal said.
The two clubs may be fierce rivals but Real will also pay their respects.
Real captain Sergio Ramos, who is expected to overcome a back injury to feature, told Bwin: "It was very difficult news for the footballing world. We have lost a legend.
"He was a footballing legend before I was even born and that says a lot about a player who defined an era and a philosophy within the sport. For that he will be remembered by everyone who loves this sport."
In terms of the action, Barcelona resume their La Liga title challenge after the international break holding a nine-point lead at the top of the table and a 10-point advantage over third-placed Real.
Victory would see Barca take a big step towards retaining the crown while also dealing a blow to any hopes Zinedine Zidane's Real may still have of making a late charge for top spot.
Vidal, who is preparing for his first taste of El Clasico, said: "Everybody would love to be in our position but, in matches like these, the difference in points is put aside. Whoever thinks it will be easy is mistaken."
Ramos has faced Barcelona 31 times and also expects the clash between two high-quality sides to be a ferocious one.
He said: "The most important thing is that the team plays a good game and, obviously, wins. We hope that it will be an attractive game for all football fans.
"These type of games have always been very special.
"For me it means the best teams in the world coming face to face with one another, who in recent years have shown that they were the best in almost all competitions. This rivalry has intensified and in the Clasico you notice it even more."