England goalkeeper Jack Butland accepts his dream of appearing at Euro 2016 is all but over due to the fractured ankle suffered against Germany.
Butland sustained the injury in the first half of Saturday's 3-2 friendly win over the world champions in Berlin and is to undergo surgery on Tuesday night.
Euro 2016 is only 10 weeks away and the 23-year-old Stoke stopper knows the rehabilitation that lies ahead effectively rules him out of contention.
Shay Given's hopes of making Martin O'Neill's 23-man European Championship squad were boosted by Butland's misfortune, although the Doegal man was quick to offer his support to his  club-mate, tweeting: "Keep the head up pal, you'll be back in no time."
Given, 39, hasn't played since being forced with a knee injury during the Republic of Ireland's 1-0 defeat of the Germans last October and is competing with Darren Randolph, Rob Elliot and David Forde for a place in the Ireland squad.
"I tried to shake it off because it didn't feel like anything too problematic" - Jack Butland
He was left out of the extended Ireland panel for the friendlies against Switzerland and Slovakia. Elliott is likely to start Tuesday night's clash with Slovakia.
"I don't think it (Euro 2016) is going to be an option for me now to be honest because I won't be able to play again between now and the end of the season," Butland told #pottersmag.
"I will have an operation on Tuesday night and then it is all about working hard and making sure I come out the other side stronger and better than before.
"It is difficult because I have been working towards the Euros this summer, but I won't be able to be part of that experience now.
"It isn't the challenge that I expected or wanted this summer but I'm going to approach it with the right mentality and learn from it, both physically and mentally.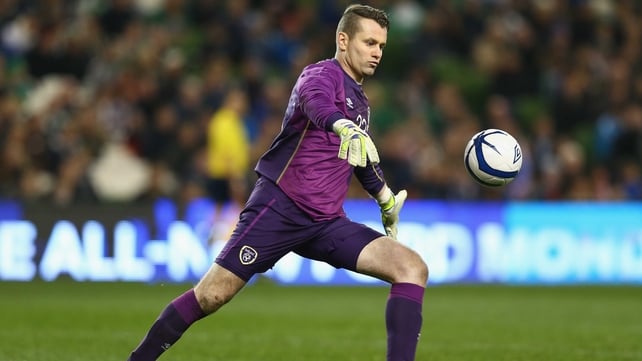 "I have not had to deal with an injury like this before so I will come out of it as a stronger person and a better goalkeeper, and look forward to the start of next season."
Butland picked up the injury just before Toni Kroos opened the scoring in Berlin but did not kick the ball out in the hope of running the knock off. However, he was beaten from long distance.
"I knew a couple of minutes before the goal that something wasn't right but I felt it was my opportunity to make an impact for my country," he added.
"In the heat of the moment I didn't want to put my hand up and come off, so I tried to shake it off because it didn't feel like anything too problematic.
"Unfortunately, during the period of time that I was trying to shake it off they scored the goal.
"When I tried pushing off to make the save I knew instantly that there was absolutely no way that I was going to be able to continue.
"It's in my nature to want to carry on and fight, but unfortunately it proved to be my downfall in the end."