Damien Duff believes that the key to Ireland's Euro hopes rest in their first game against Sweden.
Martin O'Neill's team begin their France 2016 campaign against Sweden at the Stade de France in Paris on June 13.
That's followed by fixtures with Belgium in Bordeaux five days later and Italy in Lille on June 22, but the former flying winger believes the Sweden game is vital.
"It couldn't be any worse than four years ago when I was involved!" he joked, referring to Ireland's disastrous Euro 2012 campaign in Poland.
"A lot goes down to the first game. To say they're a one-man team is a cliche, but Zlatan Ibrahimovic is a class act and beyond him I don't think they have a lot to offer.
"If we show the hunger, desire that fighting Irish spirit we showed in the playoff against Bosnia, we could get three points there and who knows. It would be nice to get out of the group anyway.
"It's a tough group, possibly not as tough as four years ago, but similar to the Croatia game in 2012, a lot rests on the first game and it didn't go so well in Poland four years ago," said Duff, who was speaking on RTE Radio 1's Ray D'Arcy Show.
Ireland lost to the Croatians four years ago and the results only got worse as defeats to Spain and Italy followed.
The Boys in Green emerged from a tough qualifying group featuring Germany, Poland and Scotland and made the Euros via a play-off with Bosnia Herzegovina though they are outsiders to progress from their Euro pool.
Duff is one of Ireland's best loved footballers and he only recently retired having wrapped up his career close to home with Shamrock Rovers in the League of Ireland.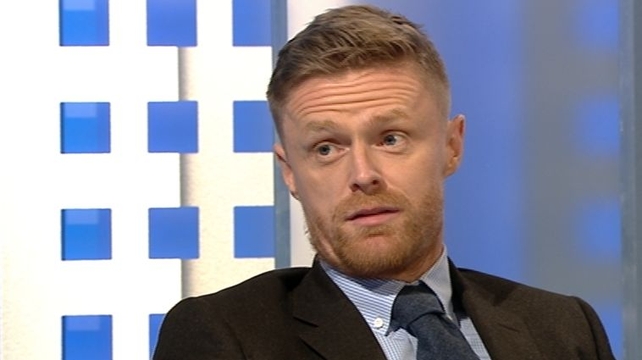 His career took him from Blackburn to Chelsea, Newcastle, Fulham and Melbourne before he returned to Dublin. He is now trying his hand as television punditry with RTÉ (above).
Amongst the mangers he worked under is Claudio Ranieri, who is currently trying to mastermind Leicester City's unlikely Premier League charge.
"He's a great guy," said the 100-times capped Duff. "The same kind of guy as (Giovanni) Trapattoni, I guess, really charismatic and a manager you want to play for.
"I have never seen anything like this done before. Leicester still haven't done it yet and a small bit of me is still worried for them because they can slip up.
"Having said that the other teams don't look like they want to catch them. It's good to see that you can get places with pure hunger and hard work and desire, which is what they are doing."
Duff now lives in quiet retirement in Wicklow with his yoga-teacher wife Elaine and their children Woody and Darcy.
Woody was diagnosed with a congenital heart defect before he was born and there were fears about his health, but he has since grown into a strong and healthy child.
"We were just going in for the 32-week scan to get a few fancy photos and we came out in tears," recalled Duff. 
"Since then we've gone back, had all the scans and he's grand; can do whatever he wants. He has more energy that any kid I've ever seen and he's always running around."