Former Arsenal striker Graham Barrett has described the attitude towards grassroots football in Ireland over the last 20 years as "negligent" and "shameful".
Barrett aired his deep concern at the developmental process in this country in a column for The Irish Times on Tuesday, highlighting issues he believes will leave Ireland in the dark ages by the time the next generation of players come through.
Barrett, who was part of Brian Kerr's Republic of Ireland Under-16 team who won the European Championships in 1998, is heavily involved in grassroots football both at home and across the water, and warns the huge contrast in how both countries are nurturing their rising stars should be a serious worry.
Speaking to RTÉ 2fm's Game On, he said: "What's happened has been shameful. For the last 20 years we've done nothing.
"There's been a generation of players that could miss out on the dream of being a football player because we've been negligent. People have looked at their own egos and their own sense of power before they've looked at the kids' development and I think that's wrong.
"We all look forward to France with a wonderful group of players. I think they embody everything that's great about the Irish spirit, I think they've been brilliant. What would worry me is how many journeys like this summer are we going to have ten years from now?
"There's been a generation of players that could miss out on the dream of being a football player because we've been negligent."
"I went with the DDSL [Dublin and District Schoolboys League] to Everton to play their Emerging Talent programmes – 11s, 12s, 13s.
"The difference between our players and their players was that their potential is being realised. Our players are probably doing three to four hours a week in terms of contact hours; coaching, practice.
"Their eight to 12-year-olds are doing eight to 12 hours a week contact hours. Their 12 to 16-year-olds are doing between 12 and 15; they aim for 20.
"England have come out with an aggressive development plan and they're trying to catch the rest of Europe. What they're doing is working.
"Our boys show great heart. The one thing we beat them on was our spirit and our heart, which has to be our foundation. Everybody was very proud of them. I just came away from the trip thinking, 'I feel guilty I haven't said anything already, so I'm going to say something now'."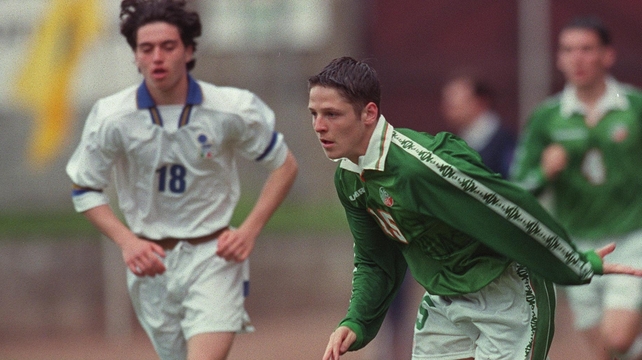 Barrett was part of a golden generation of Irish players and holds out hope that there are diamonds in the rough waiting to be unearthed around the country, with the 34-year-old accentuating the importance of dedicating time and effort to the honing of fledgling talents.
He hopes League of Ireland clubs can work closely with leading amateur set-ups to develop academy facilities that offer a clear path from schoolboy level right up to senior football.
"I was involved with a very successful group of young players between 1997 and 2003. We had some incredibly gifted players – John O'Shea, Andy Reid, Liam Miller, Robbie Keane, Damien Duff, Richard Dunne – really talented, but our success was based on the fact we were fearless.
"That's always got to remain but the contact hours we're giving our players compared to what everyone else is giving them isn't enough.
"I think the stakeholders in Irish football want to take care of themselves."
"We can show as much heart and desire we want but if we're in the same trade and you're doing you're job three times more than I'm doing my job, you're going to be three times better in the end. I don't think the FAI Development Plan is strong enough to combat that.
"I suggested that the LOI clubs merge with the best amateur clubs and not just loose relationships - more professional ties.
"You look at St Kevin's, who have historically been the most productive club in Ireland in terms of producing young players – Robbie Brady, Jeff Hendrick are St Kevin's graduates – and they're in a catchment area with Bohemians and Shelbourne. I suggested that you merge the three clubs.
"If anyone goes down to Shanowen Road they see how professional it is and all you have a proper youth set-up with a senior set-up, a path to run into.
"I think the stakeholders in Irish football want to take care of themselves. They might talk a great game… but you've got to walk the walk. I just don't see us progressing unless it radically changes."