Sepp Blatter and Michel Platini are facing likely bans of around seven years when FIFA's ethics judge delivers his verdict on Monday.
Barring a major surprise, both FIFA President Blatter and UEFA President Platini are expected to be found guilty of ethics code breaches surrounding a €1.8 million 'disloyal payment' made to the Frenchman in 2011.
German judge Hans-Joachim Eckert, the chairman of FIFA's adjudicatory chamber, held disciplinary hearings for the pair last week and is due to announce his findings and any sanctions on Monday morning.
Ethics investigators accept that proving corruption, which carries a lifetime ban, will be difficult.
However, they are very confident that other charges including conflict of interest, false accounting and non-cooperation will be proved. 
A file running to more than 50 pages was submitted by investigators.
Sources with knowledge of the case say sanctions handed down to other FIFA officials previously provide an indication of the level of the bans faced by Platini and Blatter.
In July, Harold Mayne-Nichols. the official who headed the inspection team for the 2018 and 2022 World Cups, was banned from all football-related activity for seven years for conflict of interest and breach of confidentiality.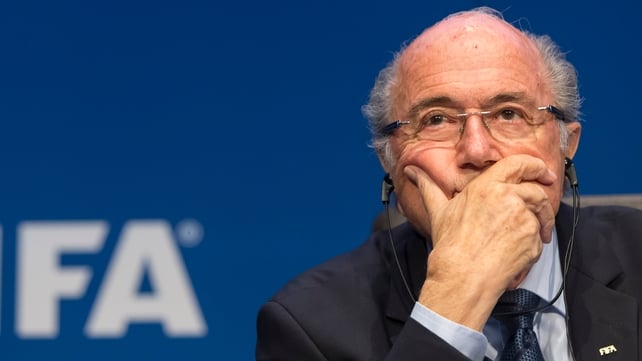 Former FIFA vice-president Chung Mong-Joon from Korea was banned for six years in October for ethics code breaches that he said related to matters such as duty of disclosure, and confidentiality.
Platini boycotted his hearing in Zurich on Friday in protest, claiming a decision already appeared to have been made.
His lawyers attended, but it looks as though the Frenchman is already preparing to take the matter to the Court of Arbitration for Sport.
His slim hopes of running for the FIFA presidency on February 26 would be seem to be ended by any sort of a ban however.
The provisional suspensions imposed on him and Blatter in October mean he has been unable to carry out any campaigning.
Blatter, above, is unlikely to go quietly either as he faces an end to his four decades at the top of FIFA.
The 79-year-old has called a news conference for Monday morning in Zurich in the same building that used to house FIFA before it moved to its new headquarters in 2006. 
He has already claimed in media interviews that the ethics committee has no power to remove him as president.
The two million Swiss franc payment at the centre of the case was made to Platini in February 2011.
The Frenchman and Blatter deny any wrongdoing and say the payment was honouring an agreement made in 1998 for work carried out between 1998 and 2002 when Platini worked as a technical advisor for the FIFA president.
The payment was not part of Platini's written contract but the pair have insisted that it was a verbal agreement which is legal under Swiss law.