Everton manager Roberto Martinez believes his quartet of young stars can drive the Toffees further up the table this season.
The current campaign has seen 22-year-olds Romelu Lukaku, Ross Barkley and Gerard Deulofeu and John Stones, both 21, take on key roles for his side.
Lukaku, with eleven goals this season, is behind only Leicester's red-hot Jamie Vardy in terms of Premier League scoring.
Centre-half Stones has grown in stature at the back following the loss to injury of captain Phil Jagielka, while Barkley and Deulofeu are playing with a freedom which is terrorising opposition defences.
Martinez believes they have proven their quality with consistent regularity and deserve the plaudits they are receiving.
"Anyone can get carried away and we have done that over the last few years in the British game with young players," said Martinez.
"We see a young player in a good moment and we make them superstars.
"In our case we have been very cautious and we have just made young players with important roles in our team.
"We don't treat them by age, we treat them by what they do and they have always been at the front of our thoughts as it is a way you can reach a level that probably you cannot achieve with money."
He continued: "Barkley, Lukaku, Deulofeu, Stones - they are not just young players who have appeared on the scene and had a good game here or there, they have been very consistent for the last two seasons.
"Those are important players. They are effective and give you reliable performances in your team.
"Lukaku played 31 games in the league last season and has played 97 per cent of all the minutes in the league this season.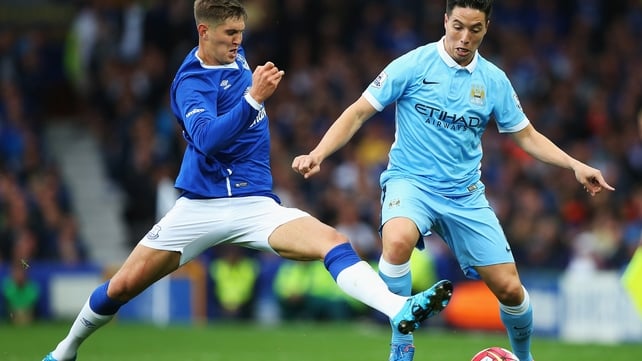 "John Stones (pictured above) has been a source of inspiration for other players of a young age. Barkley is the same.
"You are talking about young players who know their role and are ready to cope with anything which comes their way.
"The balance in the dressing room is fantastic - we have experienced players who maybe don't grab the headlines but who allow these young players to have important roles and now we just have to see how far they can go."
That quartet - plus 19-year-old Brendan Galloway, who has deputised for injured left-back Leighton Baines all season - have kept more established players out of the side.
A knock-on effect is it has given Everton their strongest squad for a long time and Martinez believes that increased competition is driving up performances as a whole.
"John Stones has been a source of inspiration for other players of a young age. Barkley is the same." - Roberto Martinez
"The hardest thing to do is to score goals and have a threat, and this season we have found a very interesting moment of form of certain players," said the Toffees boss ahead of Monday's visit of Crystal Palace.
"We have a large attacking threat and a very balanced squad, and I am pleased with the way we have coped with injuries - at one time we had five defenders out of the squad and as a team we always cope with everything which is thrown at us.
"You have players waiting for their opportunities and that is why you see players performing so well - no-one can drop their standards or take it easy in games.
"I am sure certain individuals will grab headlines but it is the strength of the squad and the attitude to push each other to see how far we can go together."