Darren O'Dea is confident that Ireland's players can handle the pressure of next month's EURO 2016 play-off against Bosnia-Herzegovina.
The well-travelled Dubliner, currently playing in the Indian Super League with Mumbai City, played against the team when the sides met in a friendly three years ago in Dublin, a game that Ireland won 1-0.
"It's in their own hands, they're more than good enough," the 28-year-old told RTÉ's Soccer Republic.
"The quality they've got, the drive. I think the players will like the kind of pressure they'll be under.
"I'm very confident that come next month we'll be qualified and looking forward to another tournament.
"I was relatively pleased [with the draw]. Obviously, Hungary would have been the ideal one but after playing against Sweden in the last qualifying campaign I saw how difficult that one was.
"[With] my experience playing in Ukraine I know how good the Ukrainian side is. All in all it was a good draw. It's certainly one the players should fancy getting through."
As they bid for qualification for France next summer, Ireland will be without the suspended John O'Shea and Jon Walters for the first leg in Sarajevo on 13 November.
"I think the players will like the kind of pressure they'll be under"
Martin O'Neill's men must deal with former Manchester City striker Edin Dzeko, captain of Mehmed Bazdarevic's side, who is currently playing with Roma in Serie A.
O'Dea recalled facing Dzeko in the friendly back in May 2012.
"It was a fantastic experience playing against a top player. For us, it was a warm-up for the Euros, it was a summer friendly, if you like. The game wasn't nearly as intense as the ones in the next month will be."
The former Celtic man has had spells in Ukraine and Canada and has conceded that if he wants to add to his 20 international caps, he must base himself closer to home when his current contract ends at the start of next year.
"It's possible [to get back in contention] but it's only down to me, what I do in January," he said.
"The Indian league is a short league so in January I'll be finding a new club and if that's back in England or in a league which is more recognised for the boss. Of course, I'd always want to be part of the Irish team."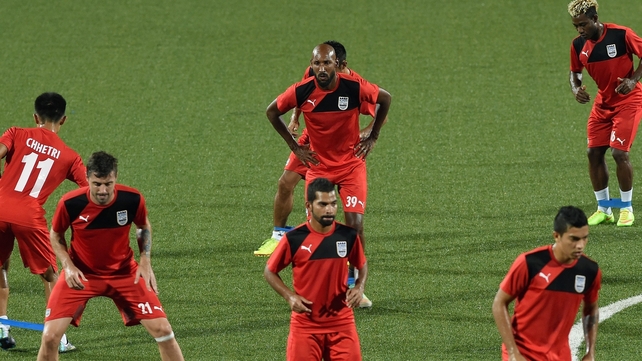 O'Dea's boss at Mumbai is former France international Nicolas Anelka, who is player-manager at the club, and the ex-Toronto man hailed his attitude.
He added: "He's good. Obviously, it's strange, he's a player as well. He mixes both, he's got a Spanish assistant with him who's very good.
"One thing with Anelka, he's 36 but he's probably the fittest player on the team maybe the quickest still so that kind of helps in that he's leading by example.
"It's nowhere near the standard [in England]. It's something that's exciting, my debut was in front of 60,000 fans – it was one of the best atmospheres I've played in.
"The show they put on, every game is televised. There's a real hunger to make football a leading sport in India, obviously cricket is massive here."