Eamon Dunphy has said the Republic of Ireland should not treat Germany like "supermen" and must enter the Aviva Stadium pitch with a positive mindset for tonight's EURO 2016 qualifier.
The RTÉ Soccer analyst thinks Ireland should take great heart from Scotland running the world champions close in last month's game at Hampden Park.
"I have huge respect for Liam and he is very knowledgeable - but he does come from the Trapattoni mindset..."
An own goal from Mats Hummels and a James McArthur strike saw the Scots twice cancel out Thomas Mueller goals against Germany thanks to their prowess from their delivery from set-pieces – although they did eventually succumb to an Ilkay Guendogan winner.
And Dunphy feels Robbie Brady's influence could see Ireland also bear fruit from deliveries into the box.
He told RTÉ Sport: "There is an awful lot of pessimism in newspapers and in talk around the team. But I do believe we can a result.
"Scotland scored two goals against this German team from set-pieces three weeks ago. We can do the same. We have Robbie Brady who is one of the best set-piece deliverers in the Premier League.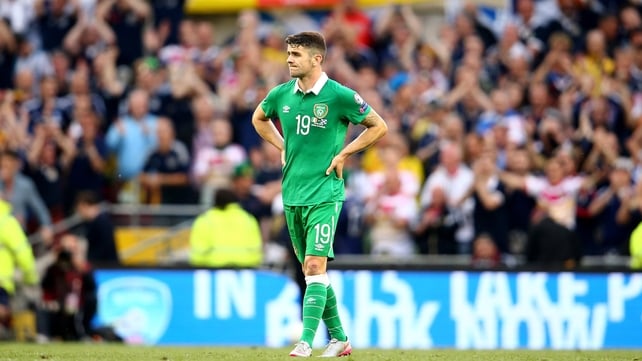 "They do give goals away. Poland beat them 2-0. We have to respect two of the players in particular in Thomas Muller up front and Marco Reus. They are world class, they are dangerous and score goals.
"We will get corners, set-pieces, free-kicks. It depends on our attitude. We have to go into the match believing we can be competitive. We have to stop talking about them being world champions.
"The team that takes the field tonight is not the team that won the World Cup 15 months ago. For example, Mesut Ozil in midfield went to Arsenal for £49m. Everyone agrees he has been a disastrous signing.
"Schweinsteiger is one of their other three midfielders, he is at Manchester United now. We watched him and he can't get through 90 minutes.
"We have got to look at their weaknesses as well. But we are unlucky with injuries and suspensions. We will miss Seamus Coleman, James McClean and Marc Wilson. They are three big misses.
"It is a difficult task for the team and for Martin O'Neill to get the best out of whatever XI he gets out on the field. It will not be easy. It's a difficult task against a team that will be well-organised.
"But they are not supermen and we can't go on the pitch with that idea. If Scotland can score two against them, then we most certainly can."
Fellow analyst Liam Brady wrote in the Irish Examiner this morning that, in his opinion, Ireland's only hope is Poland winning in Scotland to leave Ireland in a play-off spot.
Dunphy said Brady has an unrealistic approach to Ireland's chances.
"I think Scotland will beat Poland and it is my biggest fear. I don't think Poland, apart from Lewandowski, are much of a team. We should have beaten them at the Aviva.
"The idea that we require a miracle to get a result tonight - I have huge respect for Liam and he is very knowledgeable - but he does come from the Trapattoni mindset, ie Irish players are no good and we are lucky to be in the competition.
"That is not realistic and we have every chance of at least getting a draw tonight. We have to go on the pitch with the handicap of suspensions and injuries but if you look through the German team, if you could look at the set-piece goals they conceded against Scotland, you'd take great heart.
"It won't be a miracle. But it'd be a tough night's work. That is what it's supposed to be."