England's David Gill will reject a place on FIFA's executive committee if Sepp Blatter is re-elected president on Friday.
Football Association vice-chairman Gill told UEFA member associations in Zurich he will not take up the place if Prince Ali Bin Al Hussein loses the election against Blatter.
Blatter has rejected calls for his resignation in the wake of US and Swiss investigations into corruption that saw seven soccer officials arrested in Zurich on Wednesday.
"It's been a seismic couple of days in football, unbelievable really," Gill told RTÉ Sport. "Let's see what the election [result] is. Obviously, the congress is going to go ahead.
"Prince Ali will be a contender against president Blatter and let's see who wins that election.
"It's a difficult decision but I think what's happened in the last few days is seismic.
"I took a lot of persuading to put my name forward, spoke to a lot of people in UEFA, including Michel Platini, the FA and across the world and decided yes, I would put my name forward. With eight UEFA votes out of 25, we could have a say.
"Much-needed change to FIFA will not take place with president Blatter at the helm in my opinion." - David Gill
"What's made me change my mind? The events of the last two days, the reaction and the fact that congress is continuing, the election will continue and that president Blatter has no intention of resigning, indicate to me that to be on that body is a futile exercise.
"Much-needed change to FIFA will not take place with president Blatter at the helm in my opinion."
"I would delighted beyond belief if Prince Ali is the new president and I would be delighted to work with him to make much-needed change to the organisation."
The UEFA meeting also agreed to throw its full weight behind Prince Ali, according to FAI chief executive John Delaney.
Delaney said: "David Gill stood up and said he won't take up his seat, that was the big thing. I think it was very brave and very honest of him and there was a good round of applause, people thought 'that's a man of honour'.
"From his own personal perspective he doesn't want to serve under Blatter and you have to respect that position.
"There wasn't a vote taken but Michel Platini will tell you UEFA is unified. Whether all 53 transfer their votes over I don't know. I think one or two will be lost along the way."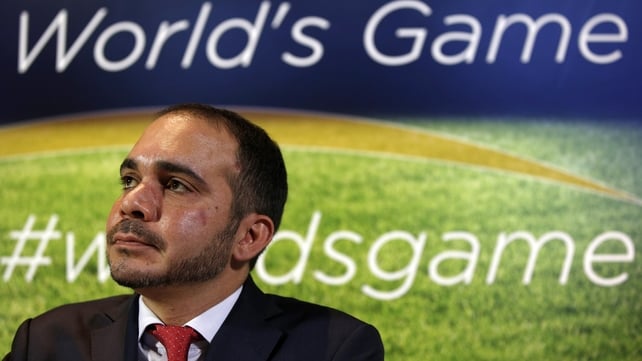 Delaney told RTÉ Sport that support for Ali was increasing but he still faced a tough task to gain the votes needed to force Blatter out.
"Prince Ali is gaining ground," he said. "A day or two he didn't have any great chance of winning.
"He's gaining votes. CONMEBOL, the South American confederation, are supporting him. [What is] key though [is that] the Africans and the Asians still say they're supporting Blatter.
"The big piece is how many countries in Europe support Prince Ali. If the 53 vote in bloc, Prince Ali could probably win. Even if 40 came with him, I think he could win.
"But there are countries in UEFA, who won't take the UEFA line. Countries like Russia are under pressure from people like Putin, who has come out saying to support Blatter.
"My heart says I hope he [Ali] wins. My head says that Blatter is still favourite.
"But there's no doubt he's losing ground. When you look at television, and you see vice-presidents being bundled into prison cells, that's got to crystalise people's minds.
"If you look at the facts, you look at a guy who really isn't running his organisation in a credible way" - John Delaney on Sepp Blatter
"Blatter is very good spinning but if you look at the facts, you look at a guy who really isn't running his organisation in a credible way. 
"With absolute carnage and farce surrounding him, I would hope that people in good conscience would vote for Prince Ali."
UEFA president Platini has not ruled out the possibility of a World Cup boycott by European countries if Blatter wins, but Gill said that it would be wrong to make the fans suffer.
"That's a discussion to be had by everyone in UEFA," he said.
"All the options will be looked at but ultimately it's for the fans.
"The fans like the World Cup, the fans like the big games so that's to me a measure of last resort and I don't think we will get there.
"We should ensure the World Cup goes on, we had a great World Cup last summer - apart from England - and we need to move on so let's see what other avenues are open. Why should the fans and the players suffer because of maladministration - I don't think they should."
HOW THE VOTING WORKS AT FRIDAY'S FIFA PRESIDENTIAL ELECTION IN ZURICH:
1. Sepp Blatter and Prince Ali Bin Al Hussein will both have opportunities to address the FIFA Congress.
2. Each of FIFA's 209 associations should have a vote, although a few can face disqualification for reasons such as not playing in competitions.
3. If either candidate achieves two-thirds of the eligible vote in the first round then he wins outright - if there are 209 votes that means 139 to win outright.
4. If there is no outright victory, the winner will simply be whoever gains more votes in the second round.