European soccer's governing body UEFA has called for Friday's FIFA presidential election to be postponed.
"We strongly believe the FIFA Congress should be postponed with new FIFA presidential elections to be organised within the next six months," secretary general Gianni Infantino told reporters.
The world's most popular sport was plunged into turmoil on Wednesday after US and Swiss authorities announced separate inquiries into the activities of soccer's ruling body.
Nine high-ranking officials, including two current vice-presidents, and five sports marketing executives have been indicted on US federal corruption charges.
Seven FIFA officials, including current FIFA vice president and executive committee member Jeffrey Webb, were arrested by Swiss authorities on behalf of the US Department of Justice, which has indicted 18 people alleging bribery totalling more than $150million.
In a separate development, the Swiss attorney general also opened criminal proceedings over the awarding of the 2018 and 2022 World Cups, seized documents and electronic data from FIFA's headquarters and will question 10 current FIFA executive committee members who voted on that tournament.
Sepp Blatter, who is standing for re-election to the FIFA presidency against Jordan's Prince Ali bin Al Hussein, issued a statement on Wednesday evening which read: "This is a difficult time for football, the fans and for FIFA as an organisation. We understand the disappointment that many have expressed and I know that the events of today will impact the way in which many people view us.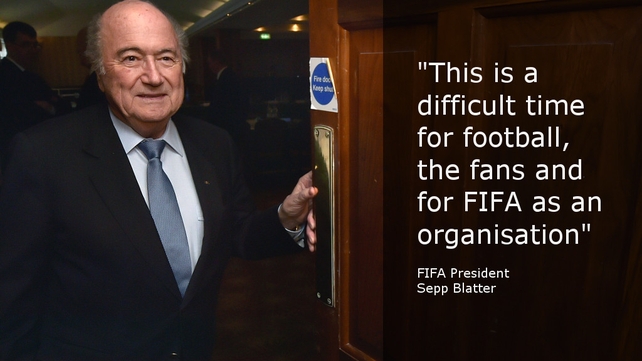 "As unfortunate as these events are, it should be clear that we welcome the actions and the investigations by the US and Swiss authorities and believe that it will help to reinforce measures that FIFA has already taken to root out any wrongdoing in football.
"While there will be many who are frustrated with the pace of change, I would like to stress the actions that we have taken and will continue to take. In fact, today's action by the Swiss Office of the Attorney General was set in motion when we submitted a dossier to the Swiss authorities late last year.
"Let me be clear: such misconduct has no place in football and we will ensure that those who engage in it are put out of the game. Following the events of today, the independent Ethics Committee - which is in the midst of its own proceedings regarding the awarding of the 2018 and 2022 FIFA World Cups - took swift action to provisionally ban those individuals named by the authorities from any football-related activities at the national and international level."
FIFA communications director Walter De Gregorio said earlier that the election would go ahead as planned.
Earlier, FAI chief executive John Delaney said he believed the arrest of FIFA officials would not be enough to deny Blatter victory in the election.
Speaking before the UEFA announcement, Delaney told RTÉ this morning: "In my opinion he will win the election if it takes place on Friday. Until this morning there wasn't really [a chance of Blatter losing].
"I think there was a sense among people that myself and the FAI were going to vote against Blatter because we felt he shouldn't continue and that was the right thing, but yet he would have the votes to win because he has those of the small countries.
"The events of this morning may change that and I'll only know that when I get to Zurich later today and when we attend the UEFA meeting in the morning."
"If it wasn't so serious it would seem like something out of a mafia movie," Delaney said.
"Nothing would surprise with me with FIFA. That's the sad thing about FIFA. I have often said that UEFA is a tremendous organisation to work with, but the world body is really, really....as I said nothing would surprise me. It's shocking and very saddening.
"There is always speculation, accusations of bribery, corruption, awards of World Cup which are always covert, if I could use that phrase. Then there are independent reports which we don't get to see. We are told we'd get redacted versions and we don't get those. There is always controversy around FIFA and its decisions and governance.
"The one person who has always been at the head of that for a long time has been Sepp Blatter. He has to take some responsibility at this stage. That is why I said yesterday that we wouldn't be voting for him.
"If it wasn't so serious it would seem like something out of a mafia movie" - John Delaney
"I think it's time for Sepp Blatter to step down now and let somebody else take over the running of FIFA to improve the image of FIFA but also to improve the governance of FIFA."
Delaney revealed that the prospect of reducing the number of places in the World Cup for UEFA nations also added to the desire for change, before the arrests this morning.
"There has been an attempt from Blatter's camp to look at reducing the World Cup places and also to look at reducing the number of UEFA people who are represented on the FIFA board.
"These are things that were going to be discussed tomorrow morning at the UEFA meeting. But events of last night will also at fuel to the fire.
"There could be radical things done like saying we won't participate in FIFA tournaments, we won't participate under the FIFA exco – that would be radical and there have been mutterings about that over the last number of months and we'll see what tomorrow morning brings.
"The way FIFA works is one country one vote, so Germany has one vote and East Timor has one vote, but that's the democracy approach.
"UEFA with 54 countries, but Gibraltar don't get a vote this time round, so that's 53 votes and it's not enough to remove Blatter as president because you need to have at least another 53 or 54 votes and it'll be interesting to see if the events of last night further Prince Ali's cause."
Greg Dyke, chairman of the Football Association, questioned whether Friday's presidential election should proceed.
In a statement on the English FA's website, Dyke said: "There must be a question mark over whether the election should take place in these circumstances."
"Clearly things are changing very quickly and our delegation to the FIFA congress in Zurich, which I am leading, will discuss the position and what we should do about it with our colleagues in UEFA when we meet tomorrow morning."