Liverpool have finalised the terms of a club-record fee with Barcelona for the sale of striker Luis Suarez.
Official talks began over a week ago and were productive from the start with the Catalan side agreeing to meet the Uruguay international's buy-out clause, believed to be £75million.
Subsequent negotiations continued over the method of payment as the Reds were interested in taking forward Alexis Sanchez as a makeweight in the deal but with the Chile international having signed for Arsenal on Thursday it became a straight cash transaction.
The finer details of how exactly that is to be paid have now been hammered out and Suarez, currently serving a four-month ban for biting Italy's Giorgio Chiellini at the World Cup, is likely to be confirmed as a Barcelona player next week.
From today, we're all following @luis16suarez. Welcome to @fcbarcelona #SuarezFCB http://t.co/tOzYobZiVN pic.twitter.com/HRwptQgTaJ

— FC Barcelona (@FCBarcelona) July 11, 2014
"Liverpool FC confirms that Luis Suarez will be leaving the club after a transfer agreement was reached with FC Barcelona. The player now has permission to complete the usual formalities, which will then conclude the transfer," said a statement,
"We would like to thank Luis for his contribution and the role he played in helping bring Champions League football back to Anfield.
"Everyone at Liverpool Football Club wishes Luis and his family well for the future."
"Thank you again for some great moments and memories. You'll Never Walk Alone"
Suarez said it had always been a dream and ambition of his to play in Spain and he asked fans to understand his decision.
"It is with a heavy heart that I leave Liverpool for a new life and new challenges in Spain," said the 27-year-old, whose move to Barcelona takes him closer to his wife Sofia's family.
"Both me and my family have fallen in love with this club and with the city but most of all I have fallen in love with the incredible fans.
"You have always supported me and we, as a family, will never forget it, we will always be Liverpool supporters.
"I hope you can all understand why I have made this decision.
"This club did all they could to get me to stay, but playing and living in Spain, where my wife's family live, is a lifelong dream and ambition. I believe now the timing is right.
"I wish Brendan Rodgers and the team well for the future. The club is in great hands and I'm sure will be successful again next season.
"I am very proud I have played my part in helping to return Liverpool to the elite of the Premier League and in particular back into the Champions League.
"Thank you again for some great moments and memories. You'll Never Walk Alone."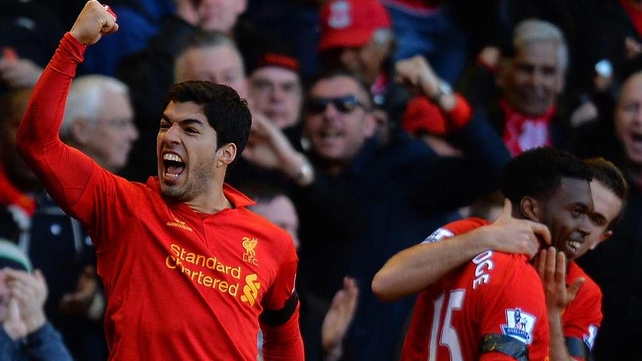 Manager Brendan Rodgers now has the job of filling the world-class void left by Suarez.
He had hoped to persuade Alexis Sanchez to move in the opposite direction as a makeweight, but the Chile striker signed for Arsenal on Thursday meaning the Reds boss has the full cash amount of the club-record transfer to spend.
Rodgers remains positive they will cope without the brilliance of Suarez.
"Luis is a very special talent and I thank him for the role he has played in the team in the past two years, during my time at Liverpool," he told liverpoolfc.com.
"I think he would be the first to accept he has improved as a player over that period, along with the team, and has benefited from being here as we have benefited from him.
"The club have done all they can over a sustained period of time to try to keep Luis at Liverpool.
"If there is one thing the history of this great club teaches us, it is that Liverpool FC is bigger than any individual." - Brendan Rodgers
"It is with great reluctance and following lengthy discussions we have eventually agreed to his wishes to move to Spain for new experiences and challenges.
"We wish him and his young family well; we will always consider them to be friends.
"We are focused on the future, as we strive to continue with the progress we have made and build on last season's excellent Barclays Premier League campaign.
"I am confident we will improve the team further and will be stronger for this coming season, when we will be competing on all fronts; domestically and in the greatest club competition in the world, the Champions League.
"If there is one thing the history of this great club teaches us, it is that Liverpool FC is bigger than any individual.
"I hope our supporters continue to dream and believe that we are moving forward and with continued improvement and progression, together we will bring the success we all crave and deserve."