Manager Ian Baraclough praised two-goal supersub Danny North for shrugging off the disappointment of starting the FAI Cup final from the Sligo bench and hailed the striker as Rovers' FAI Cup "matchwinner".
North came off the bench to hit two goals and then lay on Anthony Elding's winning strike as Sligo came from behind to beat Drogheda United 3-2 in their Aviva Stadium showdown.
Speaking of North's invaluable contribution, Baraclough told RTÉ Sport: "There were three great goals and Danny had a hand in all of them.
"Speaking of someone who has had the disappointment of being named on the bench, Danny's channelled it in the right way and he has gone and made a massive impact.
"We talk about substitutions having an impact. It's not the eleven that start, it's a squad game and if that doesn't typify it, I don't know what does."
Rovers went in at half-time 1-0 down to Paul O'Conor's 13th minute goal, but the scoreline could have been worse as the Claret and Blues had much the better of the opening 45 minutes.
Baraclough had to muster his troops at the break but he always felt his charges would turn things round in their favour.
"I always believed in what we were doing. It was calm at half-time. There were no harsh words. We just had to believe in ourselves and be a bit more positive on the ball.
"We had to be more positive in our running and in our decision making and we would get chances."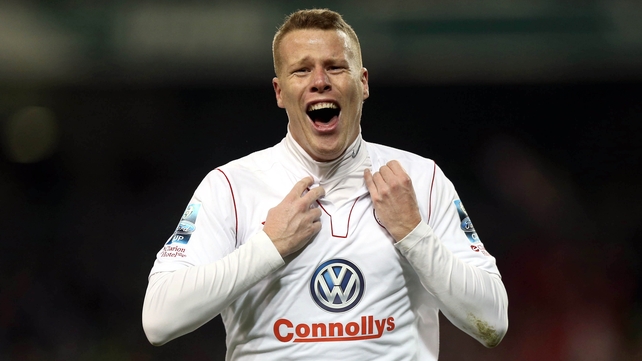 Those chances eventually came; North's first touch of the game, after coming on in the 78th minute, was a swivelled, left-footed volley into the back of the net.
Six minutes later and North struck again to give Rovers the lead after getting on the end of a cheeky flick from a Joseph Ndo free kick.
North said: "The first goal I just acted on instinct, while the second was well worked… we had done it earlier in the season against Limerick and I said to Joey [Ndo] to do it again.
"Luckily it has landed and I could not have hit it any sweeter."
The day had not started well for the Englishman, however, with the news he would be on the bench and Anthony Elding, who it turned out netted the 94th minute winner, getting the nod up front.
"I was gutted just like the other lads not playing," said North.
"I knew at some point I would get on.
"I just didn't realise I would make the impact that I did."
Once the party celebrations die down, the attention will focus on Baraclough's future at the Sligo helm, as rumours persist that he tops the list for the vacant managers job at English League Two outfit Notts County.
Asked about his immediate future, Baraclough said: "We'll speak about it in a few days time when we can really digest it all.
"We can sit down around the table again and talk about the direction this football club wants to go in.
"It's never been about me and my personal finance and that type of thing.
"It's about how I think the club should be taken and hopefully we can get somewhere where this great club becomes even greater."