As Alex Ferguson hawks around his autobiography this past week, it has been noticeable that the one item that gets him excitable is a favourite pub-quiz piece of trivia.
How many penalties has Ryan Giggs won during his 22-year career carving open defences for Manchester United? The answer: five.
Giggs' ability to stay upright in the penalty box couldn't be more different to that of the other outstanding Welsh player of his generation: Gareth Bale, the €100 million man. 
Bale, who will play his first clásico today  on Saturday in front of 99,000 baying Barça fans at the Camp Nou, has had a fitful start to his Real Madrid career.
Owing to injuries and an unsatisfactory pre-season training regime, he made only his third appearance for Real Madrid last weekend. 
With 14 minutes left, he was sprung from the bench in a league match against Málaga at the Bernabéu stadium.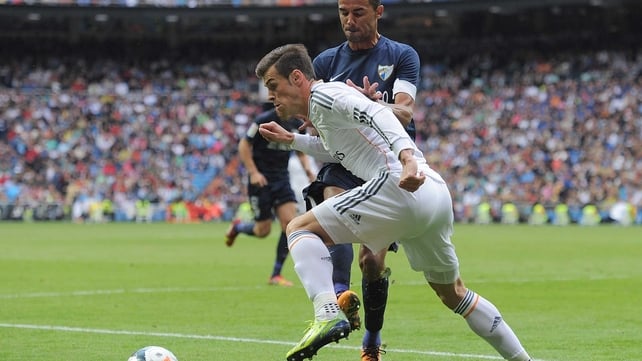 In one of his only actions in the game, he sped into Málaga's box and while wrestling with his marker he tipped over onto the ground, and won a penalty.
Cristiano Ronaldo converted the spot-kick to secure a 2-0 win for Real Madrid. 
Was Bale pushed or did he engineer the penalty, as the press in Barcelona claimed? Bale is "a simulator of penalties" ran a headline in El Mundo Deportivo, which regurgitated video clips from his time at Spurs and pointed out that he's the player with the most yellow cards for simulating penalties in the history of the English Premier League – seven in total. 
The Barcelona press were merely deflecting attention from Neymar Jr, argued Real Madrid's fans. The Brazilian has been besieged by allegations that he is a diver since making his official debut for Barça in August. 
Meanwhile, Xavi, contended last week in a radio interview that there is a Madrid-based media plot to blacken Neymar's name.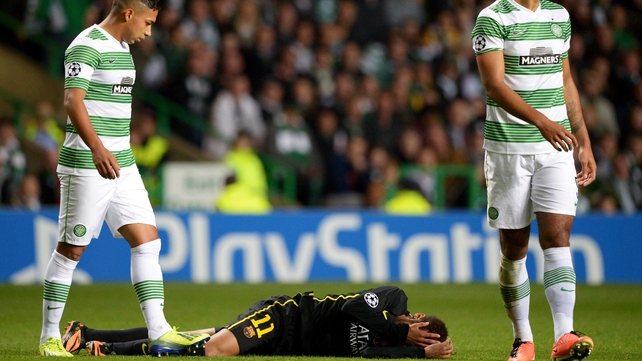 "All the focus is on Neymar, but he is not play-acting or diving," claimed the Barça playmaker. "These accusations happen because we have a lot of rivals. The people in Madrid are looking for things they don't like and then try to put a certain label on a player."
The conspirators, however, had a certain source material to work with. Neymar arrived in Catalonia with a reputation for play-acting, something that became apparent to European football fans during the Confederations Cup in June, notably for an elaborate swan dive late in Brazil's semi-final against Uruguay. 
A media storm rolled in following his part in the dismissal of Celtic captain Scott Brown during Barcelona's Champions League match in Glasgow earlier in the month. Celtic's reduction to ten men proved decisive in Barça's ultimate 1-0 victory. 
Brown wasn't without blame for clipping Neymar as he burst into Celtic's half, as a dressing-room apology to his team-mates after the match proved. What bugged Celtic's manager Neil Lennon was the way Neymar hammed up his injury. 
José Mourinho, never averse to lunging in for a late tackle on Barcelona, rowed in. "The search of a red card to another player is a disgrace. It's a disgrace," he said during a press conference, citing Neymar and another incident in the Champions League involving one of his former players, Mario Balotelli. 
A few days after the Celtic Park match in a league game against Valladolid, Neymar fell in the box three times during a 4-1 win for Barcelona, although he failed to win a penalty. After the game, Valladolid's indignant manager, Juan Ignacio Martínez, had to be restrained: "Neymar has a defect, but I'm not going to say what it is."
Barça's management argue Neymar is unfairly targeted.
"Barça's management argue Neymar is unfairly targeted"
His fast, direct running (embellished with the kind of samba flourishes that doesn't endear him to grizzled defenders) has made him the most fouled player in La Liga this season, having racked up three times as many fouls as team-mates such as Lionel Messi and Andrés Iniesta. 
Mourinho, who has managed in top-flight football in four different countries since his management career began in 2000, maintains that diving is a cultural thing, and is less accepted in British footballing circles. 
"If you were born in countries where simulation was accepted, the moment you come to this country you have to change your ship immediately," he said during his recent pronouncement on the subject. 
Michael Robinson, a former striker with Brighton and Liverpool in the 1980s, has re-invented himself as one of Spain's foremost TV football pundits since moving to Spain to play with Osasuna in 1987.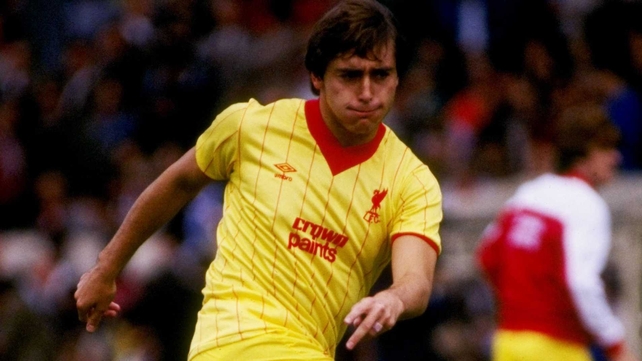 "Diving is the thing I most dislike about Spanish football," he says.
"Unfortunately, it's almost like a national tick. I remember when my kiddie, Liam, was small I saw him playing in our garden with his mates and I saw him dive and I said, 'What are you doing, you tart? That wasn't a foul.' And he said, 'Well, Stoichkov does it.' 
"I remember my manager at Osasuna saying to me, 'Why don't you go down more in the area?' I had a long debate with him and wouldn't do it. I wasn't brought up that way. When Spanish players do it today it's not premeditated; it's already in there. It forms a part of their football kit."
When it comes to diving and feigning injury, Barcelona has a list of serial offenders, among them Dani Alves, Pedro and Sergio Busquets. Real Madrid, too, have their play-actors, among them, surprisingly, are their two meanest defenders – Pepe and Sergio Ramos. 
It was noticeable also how Ronaldo clutched his face – despite been elbowed into the neck by Juventus's Giorgio Chiellini – during an incident in Wednesday night's Champions League match against Juventus, a tussle which led to a red card for Juve's defender.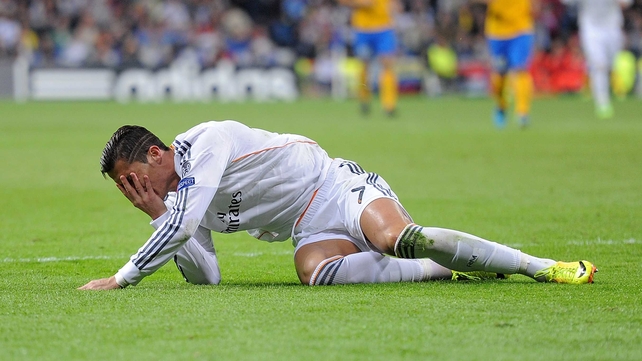 "In Spain, a lot of players are more pícaro, cunning," says Rafa Guerrero, a former linesman in La Liga.
"They play with their hands or fall down on purpose. In other European countries, they would be punished, but here it is more tolerated. Players act. They try to deceive the referee. It's to do with their football education."
The pícaro, a rogue, is a subversive figure from Spanish literature of the Renaissance period that navigates a corrupt world through skulduggery.
He is celebrated for his wiles. A rogue's actions may well decide the clásico. 
Richard Fitzpatrick is the author of El Clásico: Barcelona v Real Madrid, Football's Greatest Rivalry, which is published by Bloomsbury.