Giovanni Trapattoni has warned his Ireland players not to become too wrapped up in their mission to shackle Sweden striker Zlatan Ibrahimovic.
The two sides meet at the Aviva Stadium in Dublin tonight (7.45pm) with three priceless World Cup qualifying points at stake and with the Paris St Germain frontman representing the most significant threat to Ireland's hopes of victory.
However, while acknowledging Ibrahimovic's prowess, Trapattoni insists it would be a mistake to think he is the Swedes' only potential match-winner.
The 74-year-old Italian said: "There are players like Ibra, like (Lionel) Messi, like Robbie (Keane), the goalscorers - they have a feeling for the goal.
"A long time ago, I was a player, I was a player like 'Okay, there is Pele, put Trapattoni on Pele. Trapattoni doesn't play, Pele doesn't play'. It was okay.
"Today, football has changed and it's impossible to put Messi, for example, under lock and key. It's impossible because the team allows him to keep the ball. You can't put two men against Messi.
"Ibra is Ibra. He can score, he can play where he wants - he can play back, he can play as a striker and it will be important for us not to follow him because there are other players - there is the Sweden team."
"Ibra is Ibra. He can score, he can play where he wants" - Giovanni Trapattoni
Ibrahimovic failed to hit the heights when Ireland travelled to Stockholm in March and returned with a creditable 0-0 draw.
However, Republic skipper Robbie Keane knows he and his team-mates cannot rely upon a repeat this time around.
The 33-year-old said: "You can't play well in every game. With players like Zlatan, everyone is watching him to see what he's going to do and thinking he is going to do something special all the time.
"But sometimes, it doesn't work like that and the way we played in Stockholm certainly frustrated the Swedish team and they didn't get much service to Zlatan, so in that respect it was probably a difficult game for him.
"But you can't play well all the time and hopefully we can keep him quiet as well because we know how important he is to Sweden and at any given time, he can produce something out of nowhere, so we have to be very, very wary of him."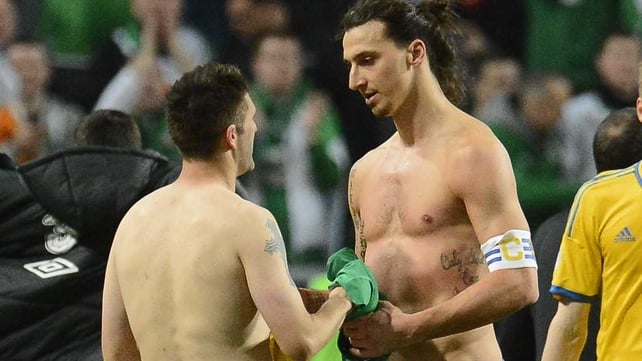 Keane's 59 senior international goals make him Ireland's stand-out threat to hopes, but just as he cannot do it alone, midfielder Sebastian Larsson is adamant Sweden are not a one-man team.
Asked if they are too reliant on Ibrahimovic, he said: "No, not at all. I don't see it as a concern to have a world-class striker like him in our team.
"He has helped us out a lot before when we maybe haven't reached a level that we should do.
"But at the same time, we are 11 men on the pitch and we can't just rely on him. We will all have to chip in and try to do well."
Live television coverage of Republic of Ireland v Sweden from 19.00 on Friday 6 September on RTÉ Two and RTE.ie (RoI only). Live radio coverage with full commentary from 19:00 on RTÉ Game On on RTÉ 2fm and RTÉ.ie (Worldwide).