By Alan Cawley
There has been widespread discussion this past week about last weekend's friendly match between Liverpool and Celtic in the Aviva stadium.
Some of the debate has been very constructive and some of it not so much. I don't think anyone was surprised by the turnout which this friendly received from Irish supporters.
It just proved that we have such an appetite for soccer in this country that left me feeling optimistic for the future and Irish soccer particularly.Allen: Limerick 'cannot just turn up' against Clarek I suggested a very achievable target for Irish clubs to aim towards would be 6,000 people to attend games in all grounds here. That should be our starting point.
That would mean attracting just one fifth of last Saturday's attendance and spreading it around the league. This would be an increase of an extra 10,000 people attending games all across the country.
The clubs who currently have the highest attendances could almost reach this figure instantly and obviously the lesser attended clubs would need a bit more help but it would be a start.
"Kelly is the best referee in this country ... so why oh why was he in the Aviva Stadium on Saturday?"
As I said last week, you have to crawl before you walk. The challenge has been laid down now to the powers that be and the clubs and let's turn all this exposure and heated discussion into a positive for the league and let's see some change for the better.
On a footballing issue, something which I found very, very disappointing was the appointment of Alan Kelly as referee for Saturday's game.
Kelly as we all know is the best referee in this country, and has been for some time, so why oh why was he in the Aviva Stadium on Saturday for a meaningless friendly when he should have been in Tallaght the night before for a more appropriate Dublin decider?
If we are serious about Irish football, like some suggest we are, well let's start sending out the right messages about our league and start changing people's perception.
These kind of decisions don't help our cause - but as I said earlier, all of the events of last weekend both on and off the pitch could act as the catalyst for change if people are really serious about bringing it about. Let's just hope so.
I will make a journey across the M50 to Tallaght again tonight for the EA Sports Cup semi final between Shamrock Rovers and Sligo Rovers.
Following the events of Friday night and Shamrock Rovers' heavy defeat to St Patrick's Athletic this game has now become hugely important to the Hoops and in particular Trevor Croly.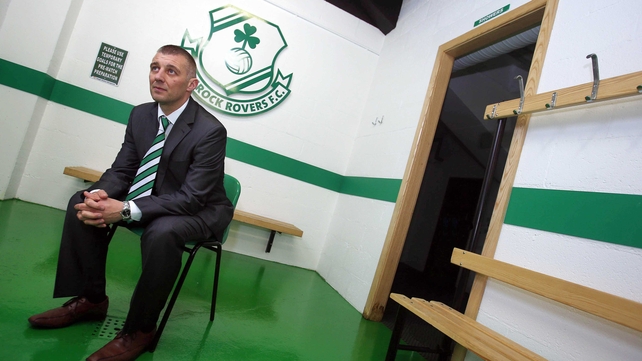 Although he may not admit it, he must surely be starting to feel the pressure that this job brings, although talk of him possibly being replaced are a bit premature in my opinion.
He has to be given an adequate amount of time like all managers. The board of Shamrock Rovers will know this only too well given the job Stephen Kenny has gone on to do at Dundalk after his reign was cut short prematurely last season.
It's not as if this game between two huge rivals needs any more spicing up but if it did the signing of Richie Ryan by Shamrock Rovers may have just done that.
Ryan of course was club captain of the Bit o' Red and a real fans favourite during his spell in the North West.
It looked almost inevitable that a return was on the cards to the Showgrounds for the Tipperary native last week only for his head to be turned by the late interest shown by the Hoops.
He is a fantastic signing for Shamrock Rovers as he is one of the finest footballers in the country. He will no doubt add plenty to Croly's side in their quest for European qualification as we can safely say the league is too far out of their grasp now.
It's very important for Shamrock Rovers that European qualification is achieved as it would be a huge blow financially if they were to miss out on Europe two seasons in a row.
The great thing about football is that you always get another chance almost immediately to put previous disappointments behind you and tonight Croly and his troops have that opportunity. All that remains to be seen is can they take it.
Until next week...