By Alan Cawley
Friday night saw the first Dublin derby of many this season. St Patricks Athletic visited Tallaght the home of Shamrock Rovers in what was undoubtedly the game of the weekend on paper.
The game received the build up it deserved in the media especially with the comings and goings from both clubs in the close season. Sadly I would have to say it never lived up to expectations as Rovers ran out comfortable and convincing winners.
St Patricks Athletic were very disappointing on the night and conceded very soft goals most unusual for them.
On last weeks MNS programme Stuart Byrne was highly critical of Pat's manager Liam Buckley. While I don't disagree with the point Stuart was making with reference to the future under Buckley, I do feel it may be a bit premature to question his position as we are only two games into the new season.
My thoughts on the Inchicore clubs manager is that he lost his most crucial cog in the wheel during the close season.
That cog was not a player, but his former assistant Trevor Croly and it could prove fatal. Croly has been widely regarded as the best coach in the country for the last four or five years and was crucial to all that was good about Pat's last season.
He is extremely hands on on the training pitch, very organised and so passionate and enthusiastic about his work. He demands that his standards are met not just in training, but also in matches on a Friday night.
Judging by the poor performance and the shabby defending from St Pat's on Friday night it's a clear indication of exactly what they are missing; the Croly factor.
He is also extremely well respected not just by players who he coaches but also by players all over the league. He has a fear factor about him that all the top coaches and managers have that players respond to.
If you are doing the business you play - if you are not you don't play. He doesn't care about names. Whether the same can be said for Liam Buckley I'm not so sure.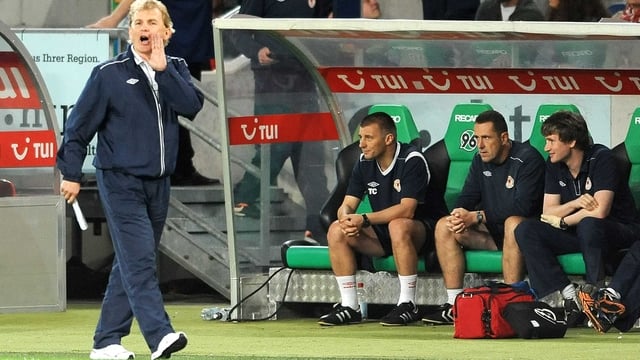 As I have said many times in my blog I am a fan of the attractive brand of football that Pat's play, but to be successful you need a bit more than that. Trevor Croly has that little extra that's needed,  but sadly for Buckley and his players he is no longer around to offer that.
Instead their Dublin rivals Shamrock Rovers will be on the receiving end of the Croly factor and you could already tell it's working as on Friday night they were streets ahead of St Pats.
I predicted Pat's would finish fourth this year and having watched them twice now I am sticking firmly to that prediction.
I think Shamrock Rovers and Sligo Rovers are miles ahead of them and now with the loss of a couple of important players and Croly I don't see them closing the gap anytime soon.
Whilst a lot of clubs would be delighted with a top four finish the question Pat's supporters will be asking is that good enough for our club.
I don't think it is, they are a big club and should be challenging regularly and winning trophies. This all takes us back to Stuart Byrnes point that Buckley is more than capable of a top four finish, but not capable of winning the league.
I do agree to a point but rather than focussing on Buckley's management the deciding factor for me on whether will they or won't they win the league is most definitely the void left by the departure of Croly.
Until next week,
Alan