By Ed Leahy
The arrival of James McClean on the Premier League scene this season sparked a spate of debates about the Ireland midfielders that would be travelling to this summer's European championships.
McClean had not even received an international call-up and was not even officially eligible, yet the clamour for his inclusion reached fever pitch as the Derry City starlet lit up the Stadium of Light under the expert tutelage of new Sunderland boss, Martin O'Neill
Trapattoni was last to jump on the McClean bandwagon, yet he has since been swayed and has now admitted that the former Candystripe is 90 to 99 per cent going to Poland.
So McClean's probable inclusion has made the midfield eight even more competitive, and with so much quality to choose from in this category, some big names are going to be left behind.
But let's look at the midfielders who could justify selection for the EURO 2012 Republic of Ireland squad:
James McClean
Less than 12 months ago, McClean was putting the fear of God into full-backs the length and breath of the country. Derry City had unearthed a gem, yet to the average Ireland football fan, the name would not have rang any bells.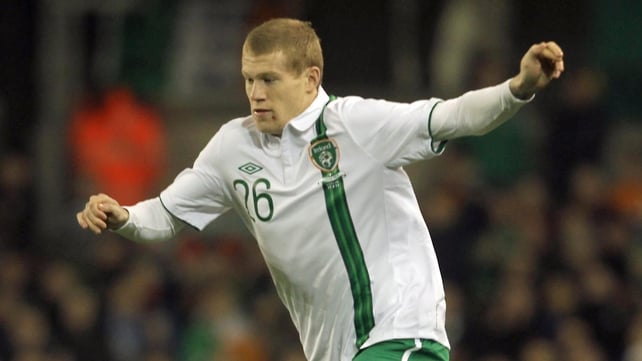 Luckily for the lively left-sided midfielder, some top English clubs were paying attention to the League of Ireland and McClean was snapped up for a bargain and shipped off to the banks of the Wear and to Sunderland.
Remarkably, McClean made his Premier League bow less than five months ago and it was just over four months since he made his first start for his new club.
So was Trapattoni right to be slow to embrace McClean? Is he really good enough to justify a place in the EURO 2012 squad considering he played no part in the qualification process?
McClean's club performances (24 starts since 1 January) have proved that the ability is there and no better judge of a player than Martin O'Neill. And when Trapattoni saw the spontaneous crowd reaction as McClean made his Ireland debut, he probably felt that it was a win-win situation to take the young Derry man to Poland.
McClean's inclusion is akin to England's gamble on Theo Walcott at the 2006 World Cup. The Arsenal youngster wasn't used in that tournament, but Trapattoni is almost certain to utilise McClean at some stage in Poland. Expect the Sunderland man to get a good run in the pre-Euro friendlies and those performances should dictate whether McClean might be starting that opening EURO 2012 game in Poznan against Croatia.
Verdict: Didn't personally think that McClean would be going to the Euros until Trap let the cat out of the sack last week. Four months of high-octane Premier League football hasn't exposed any flaws but will the Ireland rookie be accepted by those that matter most, his new international team-mates.
Glenn Whelan
Four years into his Stoke City career, 28-year-old Glenn Whelan is in the prime of his career going into this summer's championships. There is absolutely no chance that Whelan could be omitted and he is certain to start the opening game against Croatia.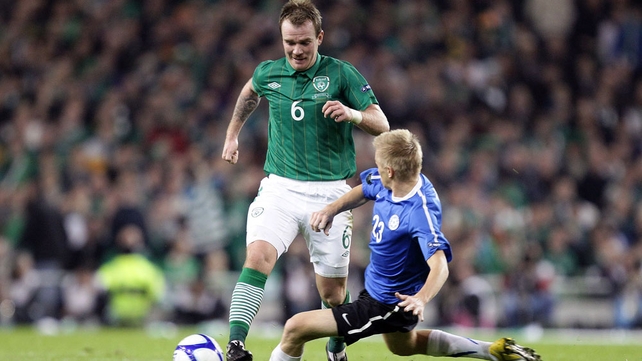 Trapattoni has been good for Whelan and likewise, the hard-working Stoke City midfielder has been a revelation for the Ireland boss. The central midfield workhorse position is not the most glamorous job but it is one that is needed for the Trapattoni machine to function.
And coinciding with the successful European qualifying campaign, Whelan's club career has also flourished as the former Sheffield Wednesday man was recently rewarded with a new contract at the Britannia Stadium.
Verdict: The pundits take pleasure pointing out the limits of Whelan's talents but without the Stoke midfielder carrying out orders for General Trapattoni, the Irish would be enjoying an extended summer break, watching the Euros from the bars of the Costa Del Sol. Whelan's on the plane.
Keith Andrews
After a turbulent year at club level, Keith Andrews will be delighted to get back to a bit of normality in the international set-up.
Like his midfield partner at international level, Glenn Whelan, Andrews knows the job that Trapattoni wants him to carry out and he has been performing it to the manager's satisfaction, which guarantee's Andrews' place in the squad and a start in the tournament opener in Poznan.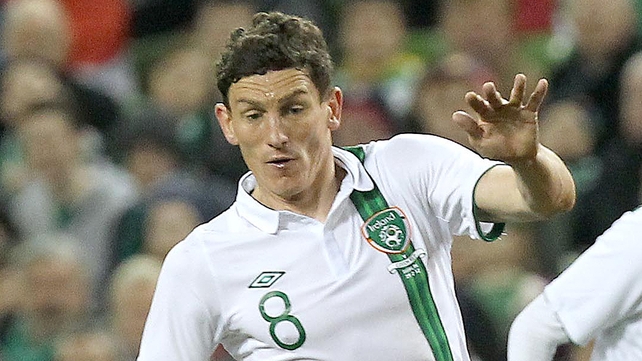 Trapattoni's reluctance to tinker with selection and formation, especially in the midfield engine room, has benefitted the central pairing as other talented midfielders have not been given ample opportunity to displace the Whelan-Andrews axis.
Despite Andrews' club issues, the midfielder played plenty of first-team football at Ipswich and with West Brom since his deadline day transfer to escape from the sinking ship that is Blackburn Rovers. Andrews will be a free agent at season's end so a solid EURO 2012 should see the 31-year-old land a nice deal at a club looking for a hard-working, reliable midfielder.
Verdict: Another easy target when things aren't going well for Ireland but Andrews' work-rate allows Trapattoni to include two flair players in his midfield four. The only opinion that matters will deem that Keith Andrews will be on the plane in June.
Damien Duff
Ten years ago Damien Duff was terrifying defenders and scoring vital goals at the 2002 World Cup in Japan and Korea. Fast forward to the 2011-12 season and the tricky winger is still showing that same form and desire that has cemented his place in the Ireland starting XI and he remains one of the fans' favourites ahead of the summer's championships.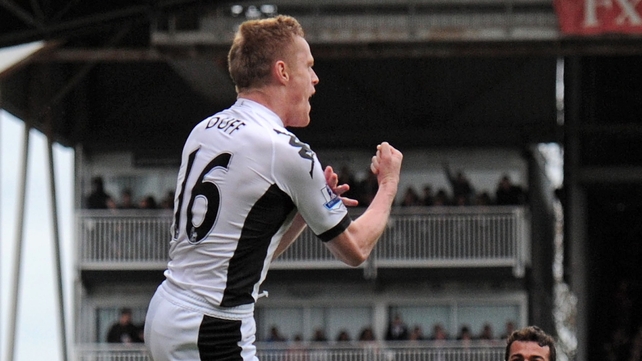 Duff's season started last June as Fulham went through the qualifying stages of the Europa League, however, the midfielder has not been overused and has only played 34 times for the Cottagers. And at 33, the Dubliner's club form earned a contract extension to stay at Fulham until the summer of 2013
Verdict: The Ireland legend is still loving his football and wearing that green jersey. Hopefully his goal celebration will be as good as his Japanese bow when he scored against Saudi Arabia in the World Cup.
Darron Gibson
What do you do when your international manager tells you to leave Manchester United? Well Darron Gibson eventually heeded the advice and, like John O'Shea moving on to Sunderland, the transfer has been a revelation for Gibson who has seamlessly slotted into the Toffees' midfield. And Gibson has since become an instant fans' favourite, scoring the winner against Manchester City less than a month after joining the Goodison Park outfit.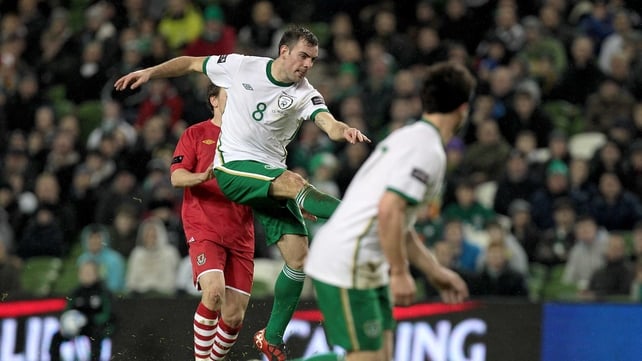 Despite being called up to the squad for Ireland's last fixture against the Czech Republic, Gibson had to pull out through injury. The injury has cleared up and Gibson played an important role in Everton's impressive finish to the season, also playing the full 90 minutes in the 4-4 draw with former club Manchester United.
Gibson has yet to show what he is capable of in the green of Ireland but has shown glimpses of the quality he possessed including the wonder strike against Wales in the Carling Nations Cup.
Verdict: Surely Trapattoni wouldn't leave him behind after making the ultimate sacrifice, leaving Old Trafford. Gibson must have one and a half feet on the plane but will be playing it cool until he hears Trap announce his name on Monday.
Paul Green
A late arrival on the international scene, Paul Green made an immediate impact on the Ireland team as he scored on his first international start against Algeria.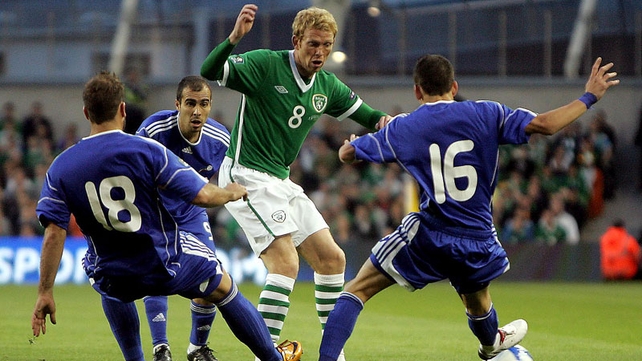 The Derby County midfielder (he is leaving in the summer) missed the end of the qualifying campaign due to a bad knee injury picked up at the end of last season but returned to the Ireland squad, albeit belatedly, for the Czech Republic friendly in February.
Green has won ten international caps in the two years since joining up with Trap's squad so he obviously ticks a lot of boxes as far as the manager is concerned.
Green is a neat and tidy Trapattoni-style midfielder who will work hard and joins up with the attack from time to time and he has slotted in at right back at club level but it would surely take a lot of injuries for the Derby man to get a run out in defence.
Verdict: His short Ireland career was tarnished by some bad press following the defeat to Russia at Aviva Stadium. However, Trapattoni kept the faith as he played the full 90 on the night. Still in with a shout of making the final 23 but will probably just miss out.
Keith Fahey
Another of the League of Ireland exiles who made an immediate impact on arrival in England when he signed for Birmingham City. The former St Pat's midfielder helped City to promotion to the Premier League and spent two seasons in the top flight earning his first senior international call-up along the way.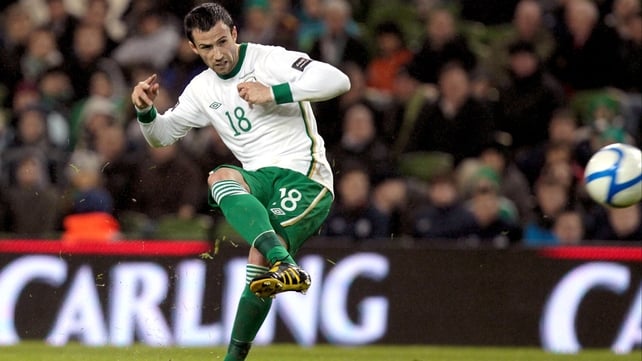 Fahey has played several important cameo roles in the green jersey and scored the only goal of the game when Ireland secured three valuable away points in Armenia.
Birmingham's relegation from the Premier League last year will have done Fahey no favours as he has been out of the spotlight all season. He has, however, played a big part getting City to the play-offs and started over 40 games so far this season, including some high-profile Europa League fixtures.
Fahey is a great passer or the ball and very composed when in possession. He has a quality that brings a new dimension to the Ireland midfield when he plays, and is equally comfortable in the middle or out wide.
Verdict: So many permutations in midfield that someone who helped Ireland qualify is going to miss out. Will it be Fahey? Hopefully not but it's a close call. If the rumours of an established player not being available are true, it just might work in Fahey's favour.
Seamus Coleman
The former Sligo Rovers defender was transformed into a midfielder by David Moyes at Everton and received his first international call-up as a result of impressive performances on the right wing during the 2010-11 season.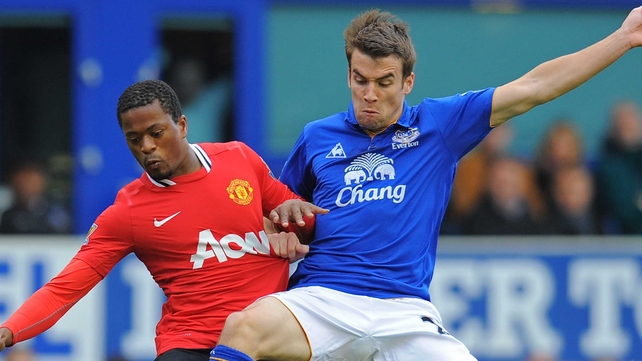 The clamour for Coleman's inclusion in Trap's squad last year was not too dissimilar to the James McClean furore this year. However, Coleman's five international caps so far have not appeared to overly impress the manager, while the 2011-12 season at Goodison Park has been a mixed bag with injuries resulting in Coleman playing less than 20 games.
Verdict: Close but no cigar for the Killybegs youngster. Will probably be kept on the reserve list in case of injuries but there will be plenty more opportunities for Coleman in future campaigns.
Stephen Hunt
Another member of the Wolves mafia, Stephen Hunt is one of those players every manager loves to have at their disposal and one that no defender wants to be marking.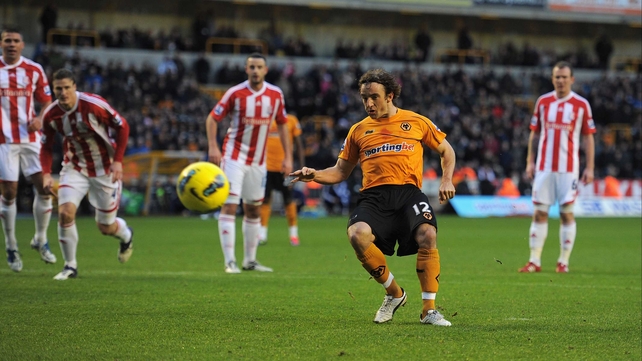 Hunt has been an integral part of Trapattoni's Ireland project and has worn the green 38 times since his debut in 2007. The former Reading midfielder has been used more recently as an impact sub for Ireland as he sits behind Aiden McGeady and Damien Duff in the pecking order for the wide midfield role.
The arrival of James McClean on the international radar will certainly have given Hunt food for thought considering he was playing in a struggling Wolves team and has missed a large chunk of the season run-in following a hernia operation.
Thankfully for Hunt, he returned for already relegated Wolves last weekend and will, no doubt, be begging Terry Connor to give him the remaining two games to build fitness ahead of the Euros.
Verdict: Once Hunt can prove his fitness he will make Trap's 23. The arrival of McClean, however, could limit the Deise man's involvement at EURO 2012.
James McCarthy
For a player with just three international caps, James McCarthy has already had an enormous amount of press coverage in relation to his Ireland career.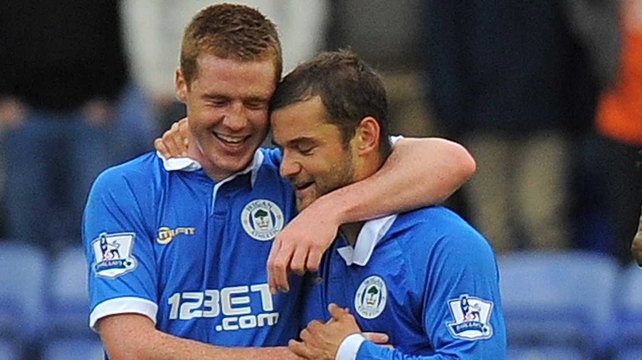 The Wigan midfielder was another player to face the wrath of the Trapattoni communication machine and things were not looking too good for McCarthy at one stage with reports claiming that he was ready to turn his back on Ireland to play for his native Scotland.
Reports were rubbished and a truce appears to be in place as McCarthy was called into the squad for the recent clash with Czech Republic. McCarthy was also recently praised by assistant Marco Tardelli but that just could mean he's in the 'one for the future' category.
Verdict: Watching some of McCarthy's recent performances for Wigan, most notably putting Tomas Rosicky in his pocket in the victory at the Emirates Stadium, you would imagine that the midfielder would be guaranteed a place in the Ireland 23. But this is Trapattoni that we're dealing with. All will be revealed on Monday. Gut feeling – In…!!
Aiden McGeady
An ever-present in Trapattoni's squads, Aiden McGeady is now playing his club football in Russia with Spartak Moscow after leaving Celtic in 2010. The decision was baffling, however, the quality of the league that the tricky Ireland winger is playing in cannot be questioned as it is ranked seventh by UEFA.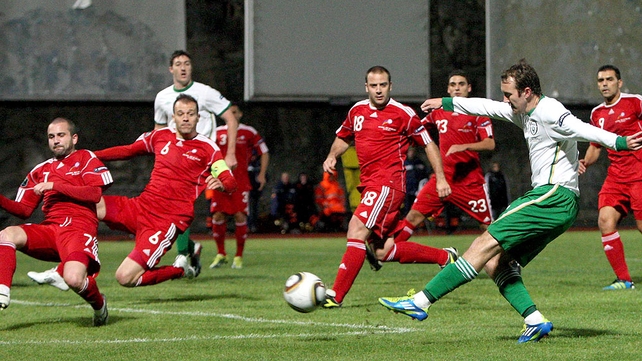 Recent reports from Moscow regarding McGeady's form are positive and that will please the Ireland boss who has shown great faith in the winger throughout the qualifying campaign.
Verdict: McGeady will make the 23 and should start the opening game against Croatia.
Best of the rest
Hats off to throw-in specialist Rory Delap who has continued to impress with Stoke in the Premier League but with absolutely no hope of getting a call up from Trapattoni.
And what about Liam Lawrence? A regular in the last World Cup qualifying campaign, the hard-working right-sided midfielder fell out of fortune as his club side Portsmouth went into freefall. Now on loan at Cardiff, Lawrence has helped the Bluebirds into the play-offs and may have something to celebrate this summer, although it won't involve the words Poland or aeroplane.
Norwich City midfielder Wes Hoolahan is a class act and has proven himself to be of Premier League quality. The Ireland management team are keeping tabs on the former Shelbourne player's progress but there'll be no phone call this week regarding EURO 2012 affairs.
Likewise, Hoolahan's team-mate Anthony Pilkington has had a superb season at Carrow Road in the Premier League and should see some senior international action in the upcoming World Cup qualifying campaign.
Sunderland's David Meyler has seen very little action this season, while Keith Treacy has six caps in the last two years but has recently been spotted in League One, of all places, helping Sheffield Wednesday's quest for promotion.
And the last word on midfielders goes to Stephen Ireland. A shame that such a class act is not even being considered for international duty but no manager in his right mind would spring him into the EURO 2012 squad at the last minute.
The right noises are starting to come from Camp Ireland about returning to the international scene and, while it's not the most coveted of awards going this year, Ireland was named Aston Villa Supporters Player of the Year.