Croatia coach Niko Kovac and veteran striker Ivica Olic are role models setting an example for the rest of the squad ahead of the World Cup finals, winger Ivan Perisic has said.
Perisic, who endured a patchy qualifying campaign before scoring twice in Saturday's 2-1 friendly win over Mali, said Kovac's no-nonsense approach would help Croatia for the tournament in Brazil.
"Kovac has set the bar in line with his German-bred mentality that order, hard work and discipline are essential ingredients for good results," Perisic told Croatian media on Tuesday before the team's departure to Brazil.
"I was not surprised because he built his career in the Bundesliga, whose virtues I have become very familiar with myself and cherish the principles," added the 25-year-old Wolfsburg player.
Germany-born Kovac spent the bulk of his playing career as a central midfielder in the Bundesliga, with Bayern Munich, Hamburg, Bayer Leverkusen and Hertha Berlin before finishing up at Austria's Red Bull Salzburg in 2009.
With top scorer Mario Mandzukic suspended for Croatia's Group A opener against Brazil in Sao Paulo on 12 June, the 42-year-old coach, who scored 14 goals in 83 international appearances, will rely on the evergreen 34-year-old Olic to lead the line.
"Only after I had seen him in action did I realise how much harder I had to work" - Ivan Perisic on team-mate Ivica Olic
Perisic acknowledged there was no better man to carry the mantle then his Wolfsburg team-mate. Olic has won three league titles with CSKA Moscow and one with Bayern, and he reached two Champions League finals with the German giants.
"Olic runs like an 18-year-old, has the passion of an understudy and the hunger of a player in the early stages of his career," Perisic said.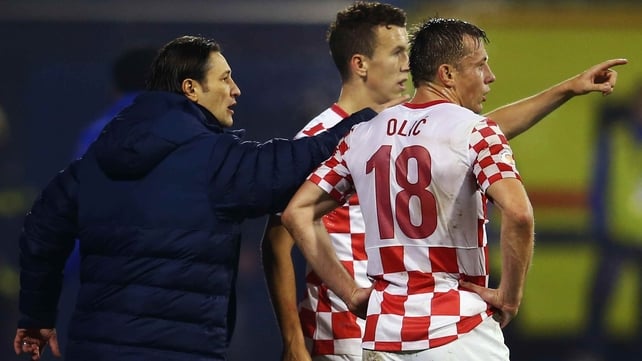 "I heard a lot about his commitment before I broke into the national team some years ago, but only after I had seen him in action did I realise how much harder I had to work and change my habits in order to be even close to him.
"He became my role model and broadened my horizons at a crucial stage of my career, thus helping me choose the right path."
Croatia, who are aiming to reach the knockout stages for the first time since 1998, when they reached the semi-finals, also play Cameroon in Manaus on 18 June and Mexico in Recife five days later.