The World Snooker Championship qualifiers kick off on Monday with eight Irish players battling for the 16 available spots for the game's biggest event.
Six of those players, including 2020 EBSA European Under-21 champion Aaron Hill and 1997 World Champion Ken Doherty, are starting off in round one, meaning that they need to win four matches before Wednesday week to get through to the Crucible Theatre.
There is a guarantee of at least one Irish winner in the first round on Wednesday when the two Fergals - O'Brien from Dublin and Quinn from Tyrone - meet one another.
It's fair to say that the pair are at opposite ends of their careers, but O'Brien, who was ranked as high as No 9 in the world in the 1999-2000 season, says he has no plans to call it a day just yet.
"When you hear I've died you'll know I've definitely retired," joked the 49-year-old.
The trajectory has been downward for the Lucan native over the last five seasons, dropping from 27 in the rankings at the start of the 2015/16 season to 66 at the beginning of this campaign.
He hasn't qualified for the World Championships in four years while you have to go back to 2007 for his last win at the Crucible when he got past Barry Hawkins in a first-round decider.
He gives an honest assessment of his season so far - "not great" - but that doesn't have to be the full story.
"A trip to the Crucible can make a season," said the 2000 quarter-finalist.
"If you've had a good season and you don't qualify for the Crucible you're always disappointed, and vice versa. This part of the season is massive.
"Even the draw being confirmed gives you a bit of a buzz and you start thinking about how great it would be to get through. No matter how many times you get through it's always special.
"I haven't qualified since 2017 so I'm due."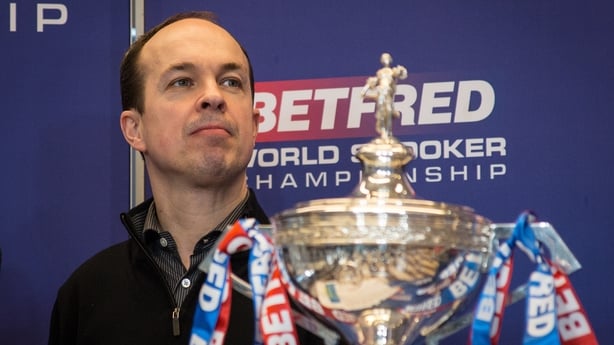 The golden era of the game in Ireland is over but Jordan Brown's victory in the Welsh Open was a fillip for all the lower ranked players, according to O'Brien.
The pair have regularly practiced together, with the Dubliner heading up to Antrim three or four times a year to get games in, alongside world No 13 Mark Allen.
The week before Brown's victory at Celtic Manor, O'Brien had managed to get the upper hand in a series of best-of-11 practice matches.
"He was moaning that he couldn't win a decider that week but the very next week he won four matches, including the final against Ronnie in a decider. So my bragging rights about winning tight matches didn't last too long!
"I've been playing him regularly over the last three or four years and he just keeps improving.
"I was pleased for him but for everyone, that little bit of selfishness comes out and for me it was case of being able to relate to someone I was practicing with, someone who was a little bit lower down the rankings, going out and winning a tournament.
"I know if I'm practicing with him, and beating him regularly, that I'm not a million miles away."
In his 30 years as a professional, the game - and how players prepare for tournaments - has changed. O'Brien would be the first to admit that he has a reputation for practicing a lot.
Snooker was once known, rightly or wrongly, as something of a pub game, perhaps best exemplified by the likes of Bill Werbeniuk, who was said to need six pints before a match to settle his nerves.
The sport has tried hard to shake that image, and defending world champion Ronnie O'Sullivan even brought out a cook book at one stage.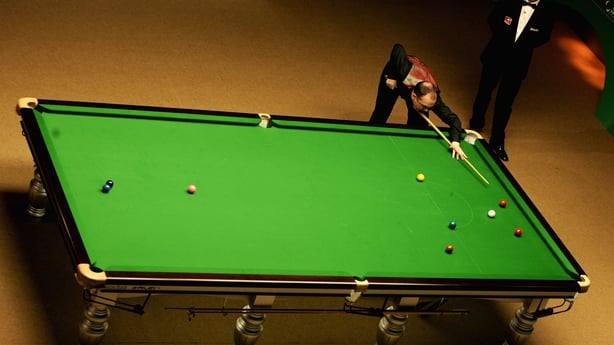 While O'Brien jokes that he won't be following suit any time soon, despite making a "mean beans on toast", he does admit that the way he prepares for tournaments has changed.
"As I've gotten older I've had to accept that it's more about quality of practice than quantity of it. At what point do the diminishing returns really kick in and you're just hitting balls for the sake of it?
"On top of that, for the last few years I've probably been spending too much time practicing on my own and that's to my detriment. You can do your head in a little bit and start looking for areas to improve in where you don't need to. So I've tried to play the likes of Jordan or Mark or Shaun Murphy, who now lives in Ireland, and keep myself sharp.
"Looking at a tournament like the World Championship with those longer matches, concentration and stamina can literally be the difference between winning and losing. So it's about fitness and diet as well.
"Twelve years ago I joined Lucan Harriers and that's made a massive difference. My concentration is now as good at 4pm as it is at the start of the day. Travel doesn't have the same impact as it used to, or long matches - you feel like you've got more in the tank.
"The margins have become so fine that a lack of concentration on a couple of shots could be the deciding factor. Take Jordan's win in Wales and winning so many deciding frames, that's down to his mental and physical preparation on top of his time on the table."
Regardless of what happens against his namesake Quinn, and potentially beyond that in the qualifiers, O'Brien says snooker is his priority.
"There's an expression that if you're thinking about the end then it is the end. I'm 49 years old and my last season or two haven't been great. But I don't think that's an age issue - it's a form issue, and maybe some of my preparation hasn't been so good.
"I still look to the future and I still want to achieve things. I'm not carrying any baggage about a potential end of my career. Of course you'd love someone to say, 'calm down Fergal you're guaranteed another ten years on tour'.
"If you kept having seasons like this one you'd end up off the tour and you'd have to go back to Q School. My attitude is that I'm going to keeping going and play the best I can, and fight to achieve as much as I can.
"If it's taken out of my hands then so be it. I've no plan B - it's still all about snooker for me for now."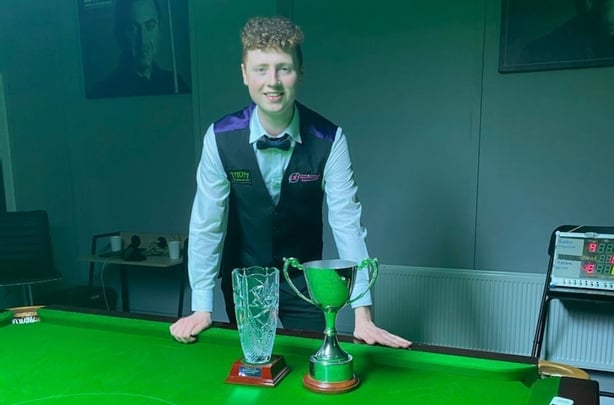 Things couldn't be much more different for his opponent Fergal Quinn. The Tyrone-based player turned 21 last month and is competing in the World Championship qualifiers for the very first time.
His love of snooker came from his Dad who gave up the game after a defeat to one Ken Doherty in the juniors. Not long afterwards the Dubliner won the World Amateur Championship, the first of many triumphs on his journey to becoming the most successful player the Republic has ever produced.
Quinn's Dad meanwhile emigrated to Australia, where het met Fergal's Leitrim-born mother. The pair returned to Ireland, living first in Dublin before settling in rural Tyrone, between Cookstown and Coalisland.
Quinn takes up the story.
"When I was eight years of age he built a room out the back of the house and installed a snooker table. He was building that for himself! But eventually I started playing, and he started to coach me. I could play well enough, but I got involved with Irish National Coach PJ Nolan when I was 11 or 12.
"I was born in Dublin and lived there for the first couple of years of my life. My mom is from Leitrim and my Dad is from Northern Ireland. So my nationality was completely 50/50.
"It meant that from aged 11 to 17 I was representing the Republic of Ireland, until I had to do my A-Levels. Previously I was travelling down to Carlow. It would take two-and-a-half or three hours in each direction, and it would nearly be worse if you did well because it would mean leaving later to come home on the Sunday night.
"So at that stage I switched to representing Northern Ireland."
It wasn't always about the green baize. Quinn, like Dennis Taylor before him, was also involved in Gaelic football in Tyrone, playing with Brocagh GAA until he was 14.
"I took a short break from Gaelic for a couple of weeks and I began to notice that the snooker was going up a few levels. So I decided to pack it in and put all my focus into snooker. Part of me wishes I hadn't given it up at such a young age. It's so good for fitness and overall for making friends. It taught me about team work and how determined you have to be to succeed. That said, the risk of getting injured was just too high.
"It's very important to keep physically fit for snooker. If you're fit then it's easier to stay focused and that's so important, particularly as the matches hopefully start to get longer. I've been lifting some weights during lockdown.
"On top of that, during lockdown, with no local tournaments on I've been trying to read widely. Snooker is about 80-90% mental so I've been trying to clue myself up. Of the top 128 players in the world, plus the likes of myself who are wildcards, we can all make century break after century break.
"The difference between us and the top 16 is doing it when it really matters, and doing it consistently. The big difference between us all is mentally, really."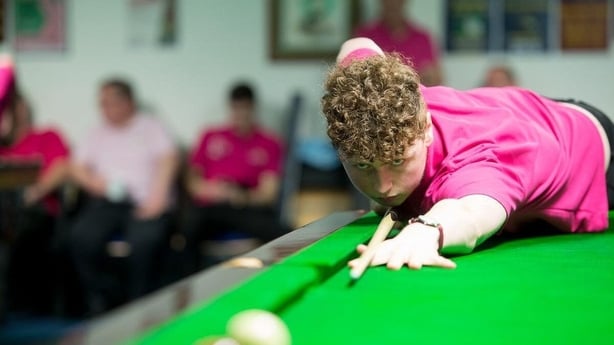 On his opponent Quinn, the reigning Northern Ireland under-21 champion, says, "I've only played him once. I was about 14 or 15 and I went to play him in his club in Celbridge. I was just picking balls out of the pockets for him all day. It's a completely different Fergal Quinn now. I'm really looking forward to playing him - he's an absolute gentleman."
Quinn's preparations for the World Championship qualifiers have taken him to the Q House Academy in Darlington.
He's been there for the last month preparing for the biggest match of his career so far. Hossein Vafaei, who played out of Navan for a period in the last decade, Thepchaiya Un-Nooh and Zhou Yuelong, among others, have been his opponents since he arrived in England.
He says it gives him the confidence to take on someone of the experience of Fergal O'Brien.
"That's why I needed to go, to get sharp by playing for seven hours a day for six weeks. By practicing with players like that it gives me the best chance. I've no fear factor of going in against another pro because it's just another match and you know that you've done it before and that you can do it again.
"The standard in England, compared to Ireland, is next level. They grow up playing the game the right way. Every club player is playing to a very good standard. In Ireland we're not really teaching the club player or the kids to play the game the right way. In England it's all go from the start. Get your technique right, get your mindset right, and really take it seriously."
Look at the rankings now. There are players doing well who are coming in from Asia, but it's England-based players who are getting to the latter stages of all the big tournaments.
"My goal is to win my first match, and to compete well during the second match. Then you never know what can happen. Confidence is such a big part of snooker and if you get a win who knows where it can take you.
"My main goal is to get on the tour and then to stay on the tour after the two-year period. That means getting into the top 64. From there it's all about winning a ranking event, and then who knows after that?"
Selected First Round Matches (Irish in bold):
Monday:
Fraser Patrick v Leo Fernandez
Tuesday:
Ken Doherty v Leo Walker
Wednesday:
Fergal O'Brien v Fergal Quinn
Aaron Hill v Ashley Hugill
Mitchell Mann v Robbie McGuigan