Neil Robertson plundered a history-making maximum break on his way to a second UK Championship title in three years as he held off Liang Wenbo in York.
And although he made hard work of the final, Robertson was the class act all tournament long, richly deserving victory at the ranking event which is second only to the World Championship in prestige.
In the first UK Championship final between two overseas stars, Australian Robertson beat his Chinese opponent 10-5 to finish his year in style.
Along with a £150,000 winner's cheque, Robertson snatched the bonus of £44,000 for making an immaculate 147 break in the sixth frame.
It was the first maximum made in a final of any of snooker's Triple Crown tournaments: the Masters, World Championship or UK.
Robertson took this title in 2013 too, when he defeated Mark Selby, who played the compliant role of his whitewashed semi-final victim this time.
After a 6-0 victory over Selby on Saturday evening, Robertson said he would play computer games into the early hours before bedding down for the night.
He went about the perfect clearance that brought the maximum jackpot with such precision it was close to virtual-reality snooker, Robertson exercising such unflinching control over the cue ball. The plant he made to pot the ninth red was never in doubt and the punch of the air in delight was richly deserved, as was the standing ovation from the York Barbican Centre crowd.
"It gives you such a buzz to make a 147," Robertson said afterwards.
Even Liang joined in, clapping and then hugging his opponent, who now has managed three maximums in his career, two of them in China, snooker's second heartland.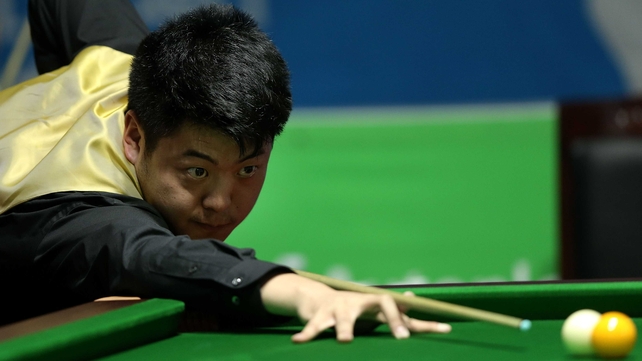 Robertson was almost on the receiving end of a 147 earlier in the tournament when opponent Thepchaiya Un-Nooh missed the black off its spot as the prospect of glory saw him caught like a rabbit in the headlights.
While he could sympathise with Un-Nooh at the time, Robertson ultimately had cause to be grateful for that miss. He would have had to share the spoils of his own masterful break had Un-Nooh slotted that seemingly straightforward ball during their third-round encounter.
At breakfast time in Beijing on Monday, they were waking to their number two player playing the biggest match of his life and clinging on gallantly, until from 7-5 the dream began to slip away. An early-afternoon run of 110 from Liang should have eased any nerves, but it was going to take something special to overcome Robertson, and inconsistency ultimately cost the underdog.
Robertson was struggling until the closing stages to put away the world number 29, and champion-turned-pundit Stephen Hendry suggested the 33-year-old was failing to stamp his authority, saying it would be "one thrown away" if he failed to land the title.
Ultimately it was another major success safely gathered, the flame in gum-chewing Liang's challenge burning out when he missed an easy black in the last frame.
Liang, who had enjoyed the biggest match of his life, offered warm congratulations as Robertson tied up the win.