Neil Robertson swept past Mark Selby with the kind of ruthless performance his vanquished opponent might have privately admired to reach the final of the Betway UK Championship.
A 6-0 victory for Robertson in the second semi-final came from a tighter contest than the scoreline suggested, with Selby repeatedly surging into useful leads before letting the 33-year-old Australian back to the table.
Robertson grasped each chance, and will tackle China's Liang Wenbo in Sunday's final at York's Barbican Centre.
Winning from behind is usually Selby's game, as Robertson experienced in the UK quarter-finals three years ago. A 4-0 lead for Robertson was eaten up on that occasion by a hungry Selby, who won the match 6-4, although 12 months later the tables were turned as Robertson charged back from 5-1 adrift in the final to earn a 10-7 triumph.
In the absence of the resting reigning champion Ronnie O'Sullivan, who was celebrating his 40th birthday on Saturday by working as a television pundit, Robertson and Selby represented two of the tournament's big draws, and there will be many who had rather they met in another final.
Only one could survive the heavyweight clash, and the final between Robertson and Liang will be historic as the first UK Championship final to feature two overseas players, although Robertson has long been a resident of Cambridge and world number 29 Liang bases himself in Romford.
The finalists share a manager, Django Fung, and both are left-handers, but where Robertson is a proven performer and a former UK, World and Masters champion, Liang has struggled until this fortnight to build on early potential.
Liang reached the Crucible quarter-finals in 2008 and was Shanghai Masters runner-up in 2009, but an early career dip has been one from which he is only now emerging.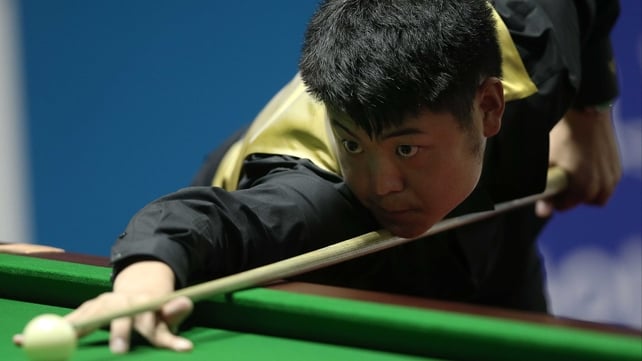 The Chinese player came from 4-2 behind to beat Leeds cueman David Grace 6-4 in a gruelling Saturday afternoon semi-final that over-ran, causing a delay to the evening session. In prevailing, Liang halted the fairytale run of the world number 81 and handed himself a shot at silverware.
The champion in the best-of-19 final on Sunday will earn £150,000, but even the runner-up cheque for #70,000 would be comfortably Liang's biggest career pay-day.
Robertson had lost his last four matches against Selby. If either man had been trawling the afternoon football results, Selby would have been on a high with his beloved Leicester top of the Premier League and Robertson deflated by Chelsea's home loss to Bournemouth.
And when Selby made an early 52 break in the opening frame the world number one looked to be enjoying the occasion, however it swiftly turned sour. Robertson hauled his way back into the frame and snatched it, before Selby's 55 in the next was countered by 68 from the man from Melbourne.
A run of 53 from Robertson widened the gap, and Selby's bad night was summed up when he led 44-27 in the sixth frame but left the black off the final red over a corner pocket, handing back the initiative at a stroke. Robertson tied up the match with a clearance of the colours.