Neil Robertson saw off John Higgins to stay on course for a blockbuster semi-final against Mark Selby at the UK Championship.
Higgins recovered from 4-1 down to force a deciding frame in perhaps the stand-out match of this year's event at York's Barbican Centre.
But the 33-year-old Australian wrapped up a tense 6-5 quarter-final win and reflected on "an emotional roller coaster".
"I don't think I potted a long ball all game and that's not good enough against the top, top guys, and that's what Neil is" - John Higgins
Higgins opened up with the 600th century of his career, 119, but Robertson responded - just as he had in Thursday's last-16 clash, when he watched Stephen Maguire start with a 118 break.
This time it was not with a century of his own as frame two became a dogfight featuring a lengthy ruling over a free ball and an interruption from a butterfly, which twice landed on the table before referee Jan Verhaas removed it.
Robertson made 106, 59 and 71 to take the two frames before the interval and 56 to clinch the first frame back, but Higgins made 69 and a pair of 134s en route to 5-5.
But the 40-year-old Scot missed several chances in the decider, including rattling a red in a baulk pocket, and Robertson prevailed.
"The way I started the match was absolutely brilliant, to go 4-1 up, but John being the champion he is shut me out the next couple of frames," said Robertson.
"It was one of those deciders, I went into the pack but didn't land on a ball very well, I missed a couple, he missed a couple, he knocked in a brilliant long red and lucky for me he's missed a semi-tricky green in the middle.
"I almost made a meal of it when I had to cut that red in, but I'm very relieved to get through."
Higgins said: "The glaring chance (in frame 11) was the red into the green bag, and I twitched that.
"I don't think I potted a long ball all game and that's not good enough against the top, top guys, and that's what Neil is. He deserved to win."
World number one Mark Selby was set to tackle Matthew Selt in the evening session for the right to play Robertson in the last four. Robertson and Selby met in the 2013 final, won by Robertson.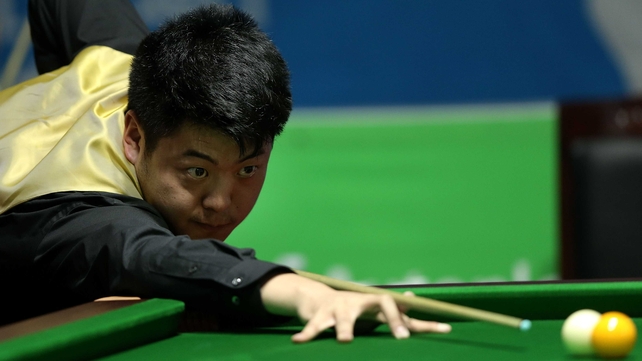 On the other table, China's Liang Wenbo also needed an 11th frame to get past Hong Kong's Marco Fu, having started the match with three straight centuries.
The opener was an unusual affair, a 27-minute frame won by a 106, and Liang followed it up with 132 despite also being distracted by the butterfly.
A 138 followed and he reached 49 in the next before finally allowing Fu a chance which he took with 64.
They shared the first two frames after the interval but Liang made 67 to move within one frame of victory and was on a run of 45 in the next before he wobbled the pink.
Fu punished him with a 79 and took the next with a 45 after Liang missed another opportunity.
A 49 helped Fu level but Liang clawed himself over the line, as he had against Tom Ford 24 hours earlier.
"I started unbelievably," Liang said. "Three centuries, first three frames, I don't know how!
"Fourth frame, I missed an easy pink and my friend Marco cleared up. At 5-2 up I missed the same, an easy pink, and he cleared up. All the match he gave me a lot of pressure."
Asked if he can go on and win the tournament, Liang said: "Of course.
"Everybody has got a chance, you need to be ready. I have confidence in myself, I don't want to talk (about it) to you!"