Stuart Bingham holds a 5-3 lead over former world number one Judd Trump after the first session of their Betfred World Championship semi-final at the Crucible.
Fresh from his crushing victory over Ding Junhui, Trump built a quick 2-1 lead with frames that featured runs of 49 and 64 but he appeared to lose focus when Bingham levelled up thanks to an 89 break.
Ronnie O'Sullivan's quarter-final conqueror then took a two-frame lead with Trump wasting several opportunities to establish himself back at the table and, despite the Bristol potter nicking a frame back, Bingham made it 5-3.
One day after dispatching O'Sullivan 13-9 in Sheffield, Bingham surrendered the first frame to Trump, whose classy brown to black clearance appeared to be a bad omen for the Basildon player.
He was not perturbed when Trump built a 64-point lead in the second frame, though, as he gladly recovered to draw level with a run of 65.
A scruffy frame went Trump's way before Bingham's attempt at a 147 failed when he missed the black while on 89.
Rushed shots from the Bristolian proved costly as Bingham took the fifth and sixth frames respectively, yet Trump rediscovered his nerve to take the seventh.
He would not pot another ball on Thursday night, however, as Bingham wrapped up the final frame.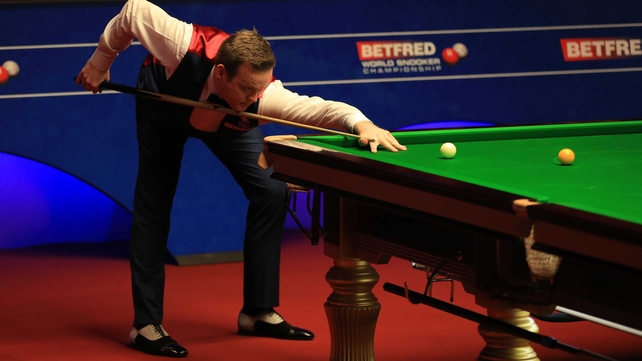 Earlier, Shaun Murphy looked in ominous form as he opened up a 6-2 lead against Barry Hawkins after the first session of their semi-final.  
The 2005 champion opened with a 92 break and recorded two centuries after the mid-session interval with his long-potting coming to the fore as Hawkins often failed to find the cushion, perhaps showing signs of fatigue from his late finish in the 13-12 win over Neil Robertson on Wednesday.
And Murphy would have led by an even greater margin had he not fouled on the final black of frame four to hand Hawkins a fortuitous foothold in the contest.
Hawkins got the first look at the table but broke down on 31 and, after a brief safety battle, Murphy potted an impressive red and then showed ominous form in compiling 92.
Murphy opened the next with a 29 but missed a red to the bottom right and Hawkins looked to have done all the hard work in progressing to 63 until he too missed a routine pot, this time to the centre.
That was all the invite Murphy needed and he cleared the table with ease to make it 2-0 in a smash-and-grab effort.
The third frame was a more scrappy affair but Murphy again looked well in until he got a kick and, despite an impressive effort to get back in position off a pink, he unfortunately managed to end up touching a red and had to play away.
A safety battle was the result but it was Murphy who managed to register a 39 and move further ahead.
The fourth frame was another scrappy battle but Hawkins had complied 30 before he lost position on the final black and had to play a safety.
He left on a difficult pot but Murphy made it into the yellow pocket before agonisingly seeing the cue ball go into the middle, to the disbelief of both players - a foul which handed Hawkins the frame.
Murphy came out flying after the interval and racked up the first century of the match with a 105 but a 69 in the next saw Hawkins find some rhythm and make it 4-2.
Murphy had looked the more impressive amongst the balls all afternoon, though, and he underlined that with a clinical 138 which ensured he would take a lead into Friday's second session.
Hawkins looked like he would narrow the gap but broke down on 50 and yet another long red allowed Murphy in, the 32-year-old closing with a 79 to take a four-frame lead.