Johnny Sexton had to be patient to get into the Ireland shirt.
Considering he was just a few months short of 25 when he got to experience Six Nations rugby for the first time, it's little wonder he's decided to stay so long.
This evening, the Ireland captain will make his 60th and final appearance in the competition, one score away from passing Ronan O'Gara's all-time Six Nations points record, and one win away from claiming his fourth title, and second Grand Slam out on the pitch.
"He has changed rugby for the better. He has taught people what it is like to be a professional, to be an Irishman," said Peter O'Mahony of his captain's legacy this week.
While he was central to the wins of 2014, 2015 and 2018, he had a hand in the 2009 Grand Slam success as Ronan O'Gara's understudy.
If Ireland do complete their own slam this evening, you can be sure both Sexton and Andy Farrell will be namechecking the likes of Gavin Coombes, Cian Prendergast, Jordan Larmour and Jacob Stockdale in their post-match thoughts.
Like those four players, Sexton didn't play a minute of that 2009 campaign, but played a part in making the team champions.
At 37, the out-half remains central to Ireland's success, and it's a mark of his will to win that in his final season before retirement, there isn't even a question mark surrounding his place in the team.
Last week, when the prospect of surpassing O'Gara's championship record of 557 points was broached, he said he'd happily go scoreless against Scotland and England if it meant Ireland won the slam.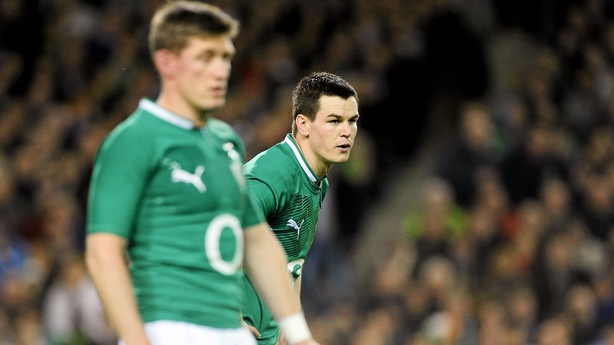 And after seven points against the Scots drew him level with that record, a scoreless outing against England would be the only way he can miss out on taking that crown for himself.
You can break his Irish career into three major acts: the apprenticeship and ultimate tussle with O'Gara for the out-half shirt up to 2013, the Joe Schmidt era to 2019 where he was central to three Six Nations titles, and then his 2023 World Cup cycle as captain, the final scenes of which he's still putting the finishing touches on.
These days, he seems at ease with the captaincy. While some players have been burdened with the role, and have seen it detract from their game, Sexton has continued to be the beating heart of the Irish backline
It seems inconceivable now, but just over three years years ago Andy Farrell's decision to make him captain was seen as something of a gamble.
When Ireland's 2019 World Cup campaign came crumbling down, some people were reluctant to go chips-in on the prospect of heading to France in 2023 with an out-half and captain who would be 38 by the time the tournament rolled around.
His high standards always had him in the Roy Keane bracket, while his relationship with referees was a work in progress, as his exchange with French ref Pascal Gauzere attested to while standing in as skipper during Ireland's Test series win in Australia in 2018.
"I'm the captain, so you have to talk to me," Sexton was heard saying over the referee's microphone, as O'Mahony lay injured on the ground during the third Test.
"I know you hate me, but you have to talk to me."
His development as captain took time, and he learned lessons along the way, notably after Ireland's 2020 Six Nations defeat to France in Paris, where his reaction to being substituted in the final quarter of the 35-27 defeat drew criticism.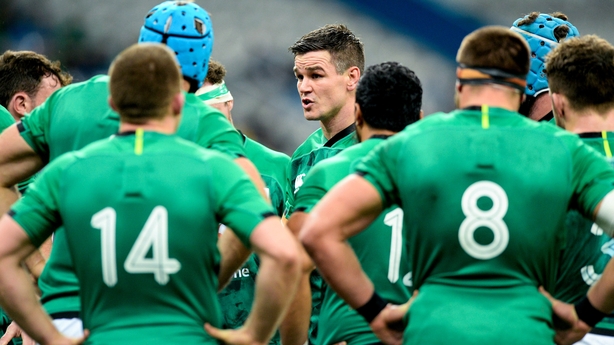 Looking back on that incident this week, O'Gara was reminded of how Sexton has developed as a leader.
"He went away, had a look and reshaped himself, and I think that's a credit to Andy Farrell and the environment he created in his team," the La Rochelle head coach said on Off the Ball.
"Johnny is diligent, intelligent, smart, but it takes a team effort to get him to where he is today.
"He was a spiky character. He's retained a capacity to be an insane competitor, but also to be able to communicate without a nasty tone is so important. There's no nastiness in his tone at the minute."
These days, he seems at ease with the captaincy.
While some players have been burdened with the role, and have seen it detract from their game, Sexton has continued to be the beating heart of the Irish backline, while the tetchy interactions with referees like that 2018 exchange with Gauzere have become a thing of the past.
"Being able to bounce back from adversity, maybe. I've had plenty of bad days, plenty of criticism, scrutiny and just being able to bounce back from those bad moments. Those two things."
Captaincy also brings the extra media responsibilities, and in the last 18 months he's seemed more relaxed taking questions, speaking openly and honestly about everything from retirement to his relationship with Warren Gatland.
"He understands that he's got the balance right," Farrell said this week about Sexton's development as captain.
"The competitive edge we all know is his point of difference. Being able to control that and what he's portraying to the rest of the group has been top drawer.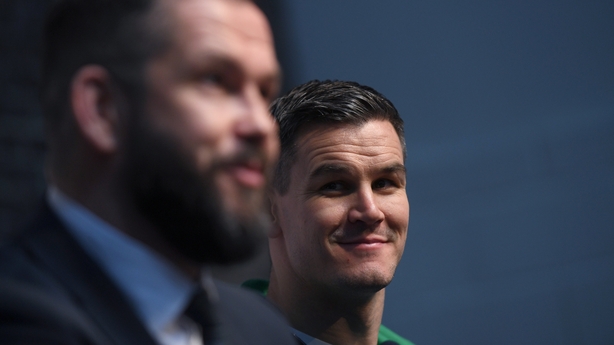 "I still think he's 100% getting better and better in that regard and long may that continue into the World Cup."
The word "durability" has always followed him.
It was the main reason Gatland overlooked him for the 2021 Lions tour, after Sexton's campaign had been dotted with injuries. But for a player who seems to be nursing an issue almost every other week, he's consistently been able to manage his body and play through pain on the biggest days when both Leinster and Ireland need him the most.
Some would hold his injury record against him, the Ireland captain has a different perspective.
"For me, luck, being able to, touch wood, avoid those big injuries that you see cruelly happen to some players," he said this week, when asked about the foundations of his career.
"Recently Dan Leavy, top of his game, the number seven jersey, and then it's all finished in one moment. So luck is a huge part of it."
And also key to the longevity is a healthy relationship with proving people wrong.
"Being able to bounce back from adversity, maybe. I've had plenty of bad days, plenty of criticism, scrutiny and just being able to bounce back from those bad moments. Those two things.
"I think what I've done is surround myself with good people.
"You talk about kicking coaches, very blessed to have the coaches that I have, to put the faith in me post the last World Cup.
"A lot of other coaches would have said, 'There's no chance he can get there'. So, yeah, it's the people that you rely on, your team-mates."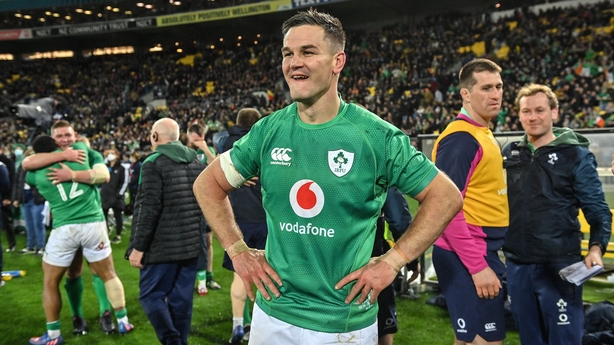 The fear coming into 2023 was not that Sexton was in decline, but rather that Ireland were too reliant on him.
In the first Test against New Zealand in Auckland, the team fell apart after the out-half departed with a head injury, while there was a notable drop in intensity during the November win against Fiji when Sexton was one of several frontliners to sit it out.
"You'd be naive to think that we aren't dependent on Jonathan," James Lowe said in a December interview with RugbyPass.
James Ryan, who has filled in as captain for Sexton, said similar ahead of the out-half's 100th cap against Japan in 2021.
"I'd probably put it to you like this – the difference between when he is there at training and when he's not is pretty noticeable."
The sample size is small, but the signs from his Six Nations is that Ireland look better equipped to cope in the event that they have to go without him on a big day.
Against France, he left with a dead leg at a crucial stage of the second half, but Ross Byrne saw things out comfortably, while the attack looked sharp two weeks later when he sat out the the win against Italy in Rome.
The high standards he demands hasn't always been popular, with Ulster's John Cooney admitting he didn't enjoy his communication style when they played together at Leinster and Ireland.
But without Sexton's drive, it's impossible to see this Ireland team getting to where they are now, winning a Test series in New Zealand, getting to top of the world rankings, and embracing the pressure of being the team to beat in a World Cup year.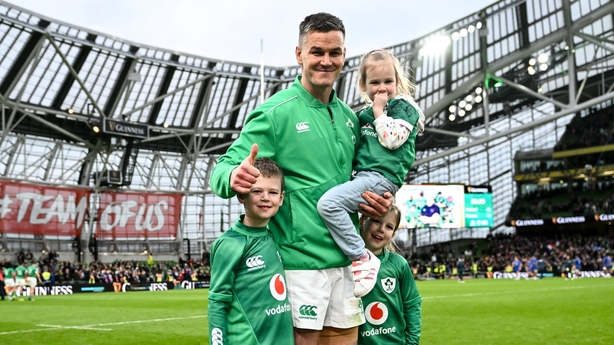 "Johnny has his own standards and all of us strive to get to those standards and we get absolutely torn into when we don't, but we try," said Cian Healy, who will likely also make his 60th Six Nations appearance today.
"Johnny's standard is so high and it has been for so long that it just drives something special in him. He deserves all the accolades he gets because he's a fierce competitor, an unbelievable professional."
In Healy's mind there are two Johnny Sextons, and he'll happily deal with one of them if it means he gets to see the other.
"If he takes a victory at the weekend, no one will ever take it off him, and it's something that belongs to him and a special group.
"That's the sort of thing that's going to drive Johnny. He lives for that successful feeling after a game.
"The Johnny you see after a game is the most enjoyable Johnny to be around, it's a different person, it's class.
"If anything is going to make me play better it's to get to meet that Johnny for a while."
Listen to the RTÉ Rugby podcast on Apple Podcasts, Soundcloud, Spotify or wherever you get your podcasts.
Watch Scotland v Italy in the Six Nations on Saturday from 12.30pm on RTÉ2 and RTÉ Player
Follow a live blog on Ireland v England on Saturday from 4pm on RTÉ.ie/sport and RTÉ News app and listen to live commentary on Saturday Sport on RTÉ Radio 1