Garry Ringrose's shuddering tackle on Dan Biggar was one of the big talking points in the days since Ireland's opening Guinness Six Nations win over Wales.
The centre didn't get on the scoresheet and could even afford to miss four tackles but his second-half hit on the Welsh out-half seemed to shake the entire Principality Stadium, as if everyone in the crowd felt it.
Ringrose has been steadily honing the defensive side of his game to complement his admirable skills on the ball. It's something, he stresses, that has to be constantly worked on in order to fit into Andy Farrell's game plan.
"I suppose I try and consciously work on it every day in some way, at Leinster and continue it on in here," said the 28-year-old.
"I touch base with the coaches and look for advice on that front and review instances in the game because I probably still miss a few tackles that I ideally don't want to.
"So it is a constant work in progress and in training you're not full-on contact but you are in a 'could have' mentality and you build on that.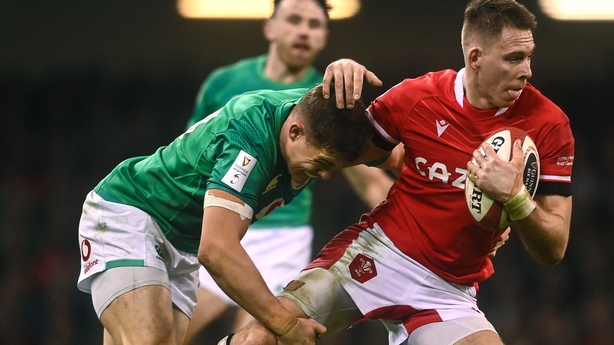 "The windows before and after training when lads are on the pads you can do a bit more full-on.
"I guess I do enjoy that part of the game, as I said, I still miss plenty of tackles, so it's always challenging myself to get better, but I suppose when you physically impose yourself or get involved in something.
"There is no venom against the opposition, but I guess it's an opportunity when you don't have the ball to show how much it means to you.
"We would all be encouraged to do that defensively, so yeah for me, it's about trying to get the technique [right] and miss as little tackles as possible, but then with the tackles you are making, it's to have as big an impact as possible is always the goal.
"I think it is everything, experience plays a huge part [in defence].
"The more times that you are shown a picture in training of the match the more you can learn from it.
"People sometimes say to me that 13 is one of the hardest positions to defend but for me I feel more comfortable in the 13 channel far more than beside a ruck.
"I am a bit more used to seeing pictures out there and feeling it."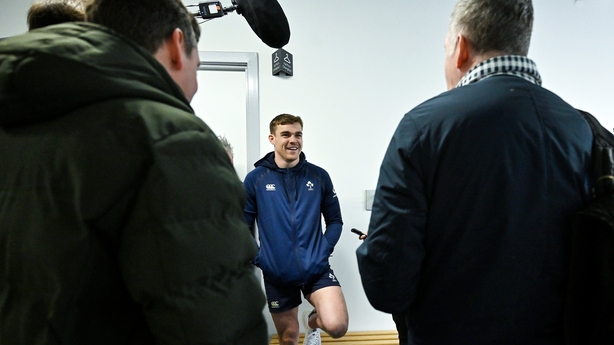 On that particular tackle on the Welsh 10, Ringrose added: "I guess it helped that he opened himself up because he was throwing the wide pass to the edge but he was probably assessing… I knew I had Stuey [McCloskey] outside me and [James] Lowey on the edge, he was sitting off a little bit and could have been a fraction more up.
"So I know when you have that's security on the outside that he was probably just assessing George North outside him and the front door option outside him and as soon as he released it it gave me a licence to go and try and hit him.
"I could have gone a bit quicker and ideally he wouldn't have got the ball away but, as I said, I know I have licence to do that when the boys are in good positions outside me."
Ringrose is likely to keep his place when Farrell names his team for Saturday's game against France at midday today.
Having lost their previous three ties with Les Bleus, Ringrose is expecting a battle royale.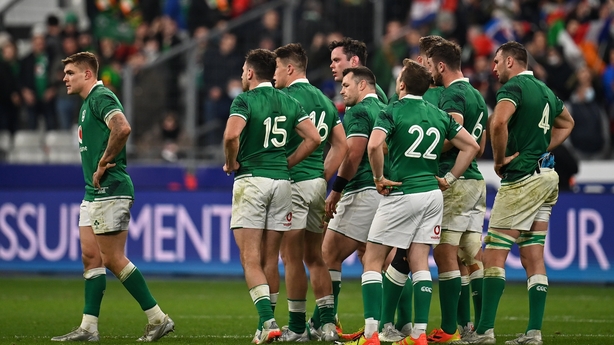 "Since we played in Paris [last season's 30-24 loss], we took a lot of learnings from that game and I think it is one that sticks out in a lot of guys minds certainly myself.
"If we were presented with that challenge again maybe we would be better.
"Like every week game on game it is trying to be better, regardless of who we are playing this week, test ourselves against the best and they are one of the best teams in the world.
"How we prepare, how we are mentally and physically ready when it comes to kick-off we will find out I guess. That is the benchmark we want to hold ourselves against.
"They can take you on up front and narrow you defensively and then they are so dangerous out wide as well. Some of the individuals they have off counterattack, like Penaud, how dangerous he is to create something from nothing.
"On the other side of the ball, defensively, they are unbelievably aggressive, force teams to play differently to what they would have hoped to just with the pressure they put on. On top of that there is the breakdown.
"They have a huge breakdown threat, which is another form of attack, so it is a bit of everything really. But that's what they have been doing, that is why they are so good and that is the challenge for us to try and rise to that."
Listen to the RTÉ Rugby podcast on Apple Podcasts, Soundcloud, Spotify or wherever you get your podcasts.
We need your consent to load this YouTube contentWe use YouTube to manage extra content that can set cookies on your device and collect data about your activity. Please review their details and accept them to load the content.Manage Preferences
Watch live coverage of Ireland v France (Saturday 2.15pm) on RTÉ2 and RTÉ Player, follow our live blog on RTÉ.ie/Sport and the RTÉ News app, or listen to live commentary on RTÉ Radio 1.
Watch live coverage of England v Italy (Sunday, 3pm) on RTÉ2 and RTÉ Player.