After years of faffing around, the French are back.
One senses, despite the obstacle that this will now present to Ireland winning the Six Nations going forward, people are happy about this.
This is a great testament to the nostalgia among folk of a certain age for the French teams of the 1980s and, to a lesser extent, the 1990s.
After an Ireland win over France in Paris or Dublin, there was always a wistful Irish fan who'd sigh, "d'you remember when we used to get hockeyed by them, those were the days..."
"We've never minded losing to France but we don't like losing to England!" boomed George Hook in the RTÉ studio after Ireland had won in Twickenham in 2010.
Invoking the collective 'we' is always dangerous territory (I should know). Irish props of yesteryear who were used to getting trampled upon - literally - in the Parc des Princes loathed the French, loathed them more than any other nation in the tournament.
In Tom English's 'No Borders', Irish pack veterans of the early '90s generally spoke of the French forwards as one might have of a gang of miscreants expelled from the 'Crips' for being too homicidal. Later on, Neil Francis sought to rank them in order of the most psychopathic, settling on Laurent Rodriguez, Eric Champ and Olivier Merle as his top three.
---
Preview: Danger for Ireland as Bleus come to town
---
Asked to outline the predicament involved in facing the French, Peter Clohessy explained: "If there's anything worse than having some f****r sticking his finger in eye, it's having his buddy trying to rip the b******s off you at the same time."
As a result, there was a severe outpouring of joy when Ireland did finally beat them, for the first time in 17 years, in the inaugural Six Nations in 2000.
"I knew then I could die happy," said Clohessy after the game.
Hatred for the French rugby team seems to be confined to the Irish forwards who had to play against them.
Francophilia is otherwise rampant in the Irish rugby community.
Everyone is in love with Les Bleus. Youtube compilation videos of French flair moments from the '70s to the 2000s are rather popular among rugby fans in this country, and beyond.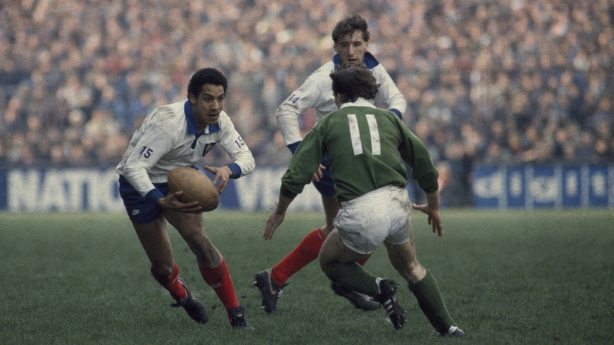 The compilation videos don't contain too much footage stretching beyond 2010 (or even beyond 2000 really, though Laporte's sides won plenty of silverware). There were flashes of flair in the past decade, but usually in losing causes.
The 2020s are already shaping up to be different. It's been flagged for some time that this generation of French players was coming.
Thanks to wifi issues in Fitzgerald Stadium (well, among other things), France had won the right to host the 2023 World Cup and made it a priority to get their house in order in time for the grand showcase.
France duly won back-to-back U20 World Championships in 2018 and 2019, with a crop which contained a number of subsequent graduates to the senior ranks, including Romain Ntamack, Demba Bamba, Pierre-Louis Barassi, and Louis Carbonel.
But in reality, the arrival of this generation of talented players was longer in gestation, dating back to the tightening of the JIFF rules (Joueurs Issus des Filiéres de Formation) which mandated that Top 14 clubs bring through a greater proportion of homegrown talent.
The Top 14, in particular their bolshy chairmen (or presidents), had been blamed for the decline of Les Bleus in the 2010s, with their insistence on a punishing club schedule and their mass importation of semi-aged southern hemisphere rugby talent to the south of France.
The Toulon team which won three Heineken Cups finals in a row between 2013 and 2015 contained more South Africans than Frenchman in the starting line-up for the latter two deciders - and an equal number of Englishmen to Frenchmen in the first.
The JIFF rules were tightened and the effect has been clear. Nowadays, the squads of Toulon, and all the leading Top 14 sides look overwhelmingly French.
The star graduate and beneficiary of these rules is, of course, Antoine Dupont, Toulouse's stratospherically gifted scrum-half, who is already being labeled "the best player in the world".
France's dismal surrender in Twickenham in 2019 saw Morgan Parra banished to international retirement and Dupont was in, automatic first choice from now on.
The team's performance curve has been an upward trajectory ever since and their win-loss ratio has recovered dramatically.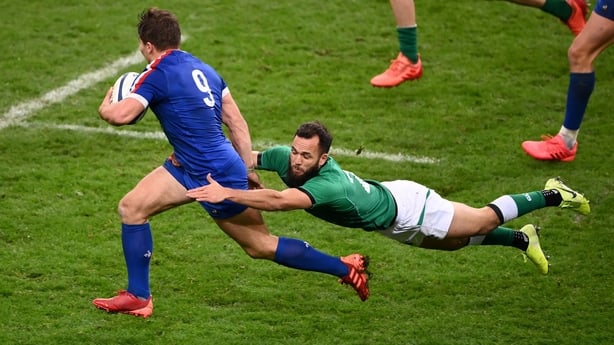 Though the loss in Murrayfield, after a red card for Mohamed Haouas, cost them a Grand Slam in 2020 and allowed a more pedestrian England team sneak another championship win, Dupont still ended up being crowned player of the tournament.
The youngster is being slathered with praise from all angles, people cooing over his inventiveness, his dynamism and his imagination.
We can sense he's already been anointed the heir apparent to flair merchants of yesteryear, feted by neutrals and admired by opponents in the same way Serge Blanco and Phillipe Sella were before him.
However, in as much as the virtuosity of Dupont and Ntamack have rejuvenated the team, perhaps the intrusion of some Anglo-Saxon pragmatism and organisation has also been key.
In advance of France's most recent defeat to Ireland in 2019, Bernard Jackman alluded to the cultural differences which had caused them to fall behind the curve.
"They've got phenomenal athletes but they're maybe not as consistent as the Irish player," Jackman explained to RTÉ Sport.
"They call it the Anglo-Saxon mentality, where the attitude is if you want to play well on Saturday, it starts on Monday morning.
Ireland host France on Sunday and will do so without Johnny Sexton [head injury] and Conor Murray [hamstring] but head coach Andy Farrell still believes his side have enough to get the result. pic.twitter.com/VVBaQ3IL2o

— RTÉ Rugby (@RTErugby) February 12, 2021
"For them, it starts maybe on Saturday. How they feel getting up, how they feel in the warm-up will dictate how they play.
"They don't really believe in a 'process' as much as we do.
"The old days of Blanco having a cigarette in the dressing room at half-time, they're not doing that anymore. But they're maybe a little bit late to the party in terms of the minute details around sports science, nutrition and everything else."
Jackman insisted that the French had thrived across a range of sports even with this mentality and pointed out that they're "very proud of their beliefs and their culture. They don't believe copying and pasting others is the way to go".
But the critical appointment of Shaun Edwards as defence coach suggests they do see some worth in borrowing from the best elsewhere.
The rugby league great operated as defence coach in Wales for 12 years alongside Warren Gatland, winning four Six Nations titles, three Grand Slams and reaching a couple of World Cup semi-finals.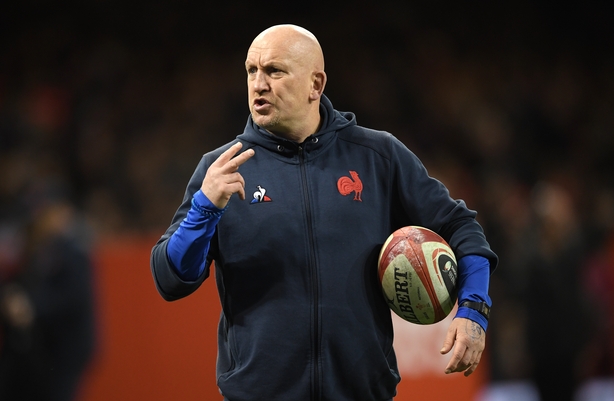 Early in the week, Ronan O'Gara noted "the addition of Edwards to their Latin temperament is interesting and the blend is working well. They look threatening on both sides of the ball".
According to O'Gara, it formed part of a broader shift towards a more serious and up-to-date approach to preparation.
"I think they're very organised now in terms of most of the other Six Nations teams.
"They're very much in sync with what's going on with world rugby and I think under (head coach Fabien) Galthie they have a lot of coaches and a lot of people where everything is defined.
"The lineout coach or the ruck coach is 12 minutes, the attack coach is 20 minutes, the defence coach is 12 minutes and it's bang, bang, bang like that and you've got to win the transition.
"They train at a very high intensity on a Wednesday before a Test match and if you cannot do that session, you won't feature at the weekend."
Ireland, meanwhile, appear to be heading, tentatively, in the opposite direction, trying to loosen Joe Schmidt's tightly structured, formulaic template which saw them beat France in six out of seven serious games played between 2014 and 2019.
This intensely granular, attritional approach, while successful for several years, ultimately became wearing for the players, and was held partially responsible for the general nervous collapse at the 2019 Rugby World Cup.
Now all the talk is of being comfortable in chaos, of playing off-the-cuff, of allowing players the autonomy to make decisions.
During his Autumn Nations Cup zoom press conferences, Andy Farrell continually returned to the phrase "feel and flow" indicating that Ireland are almost in a de-programming phase, seeking to return to a more instinctive, free-wheeling game which will, so the thinking goes, allow the players skills to flourish.
The way they're talking, at least, it sounds like Ireland are trying to become more French.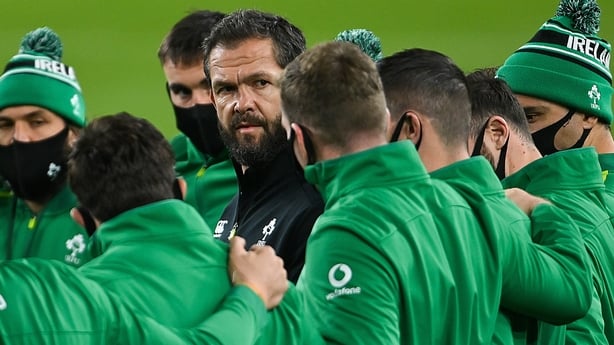 Whether they're achieving this is another question.
There are clearly teething problems. Ireland have won six games under Andy Farrell (all at home) and lost four (all away). In 2020, in addition to their set-piece woes, their attacking game seemed a bit muddled and incoherent.
On the RTÉ Rugby podcast after the loss in Paris in October, Wes Liddy noted that "detail had become a dirty word in Irish rugby".
All the idealistic talk in the chastening aftermath of the World Cup of giving the team space to experiment and make mistakes in preparation for 2023 hasn't, unsurprisingly, survived a few bad results in the Six Nations.
Farrell has come under a degree of pressure, albeit his job doesn't appear under immediate threat.
But despite the loss last week, there were subtle signs of progress, signs, according to O'Gara, that the team is growing "more comfortable in chaos". This remains a source of debate.
It's a formative phase, and with home advantage counting for very little in the current environment, it looks a tall order for Ireland to knock off the ebullient French.
Follow Ireland v France (kick-off 3pm) on Sunday via our live blog on RTE.ie and the RTÉ News app or listen live on RTÉ Radio 1's Sunday Sport. Highlights on Against the Head, Monday at 8pm on RTÉ2 and RTÉ Player.