Everyone remembers that drop goal in Paris.
And it's hard to forget the tries against England that wrapped up the 2018 Grand Slam.
Jacob Stockdale's chip and chase, and CJ Stander's smart touch-off-the-post finish that ended up as a contender for World Rugby's try of the season. 
But asked in the immediate aftermath what moment summed up the character of the side that had delivered just Ireland's third ever Grand Slam, Joe Schmidt didn't hesitate.
Trailing 21-5 in front of a home crowd, England burst out of the dressing room after half-time and laid siege to the green line for what seemed like an eternity.
"I think that eight minutes after half-time sums up this team and this campaign," the former head coach said of the shut-out. 
"We can put together some good moments, and we certainly delivered on tries, but that pure resilience, that willingness to get back up and keep them off our try line...that was special.
"When you get to those moments it says a lot about a team."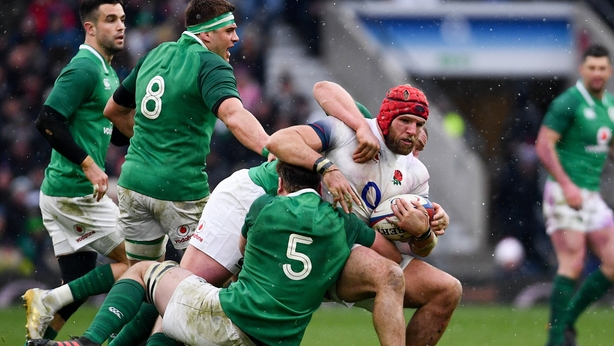 It must have been very special for Andy Farrell, the then defence coach, whose Ireland tenure begins against Scotland in the Guinness Six Nations (4.45pm). 
The glorious 2018 season, which admittedly feels like a long time ago now, ended with a memorable defeat of New Zealand with the All Blacks restricted to a measly nine kicked points, in a defensive masterclass. 
It came after two unbeaten Test tours as defence coach with the Lions, where they conceded just eight tries in six games against Australia and New Zealand, and would have signaled to David Nucifora and the IRFU bosses that they already had the perfect replacement for the departing Schmidt.
The horrors of 2019 have somewhat sullied that record but as Farrell knows and will soon experience, the buck stops at the top.
"I don't feel like I've been waiting a long time," the 44-year-old says. "I've been busy away at it quite happy to be an assistant and learn my trade.
"At the same time, 11 years as an assistant coach, there's always been an inkling that I wanted to be a head coach one day.
We need your consent to load this Facebook contentWe use Facebook to manage extra content that can set cookies on your device and collect data about your activity. Please review their details and accept them to load the content.Manage Preferences
"It's a brilliant job to have, coaching the Ireland national team, there's an unbelievable heritage, history, unbelievably proud rugby nation, family links along the way, it means a lot to me.
"Being able to influence how a team performs is what a coach is all about.
"[As for] the change of dynamic as a head coach?
"Obviously, people can't work unless you are organised, people rely on you etc, etc, being organised, and getting ahead of the game, planning for the here and now, which is pretty important, the medium term and the long term future is the balancing act that we'll all got to face."
Born in Greater Manchester in 1975 Farrell shot into the limelight when making his rugby league debut for Wigan at the age of 16, two months after the birth of his first child, Owen, the current England captain.
Rugby league in England in the early 90s was no place for the faint-hearted and Farrell, who simultaneously competed a joinery apprenticeship, was right at home.
A Challenge Cup winner by 17, he was a full international the following year and captain of the Warriors by 21.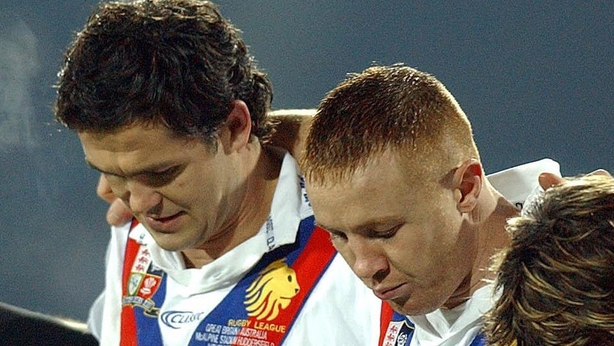 "I came into the Wigan team at 17 and Andy was 21 at the time," former England captain Kris Radlinski, who soldiered alongside Farrell back in the day, tells RTÉ Sport.
"He was the biggest voice on the training field, the biggest character in the changing rooms. You sit back and you wonder, how has this happened?
"How is this guy, at the age of 21, demanding the attention and respect of a very experienced changing room full of superstars?
"But that's what he did. From an early age he didn't respect reputations. He lived and trained as though he wanted to be the best and he was pretty single-minded in that approach.
"He didn't just talk the talk, he performed and he performed consistently and very well at a very early age. Everybody wanted to get on board with him."
His progression was rapid and as he moved up the grades the coaches he worked with recognised that they had on their hands.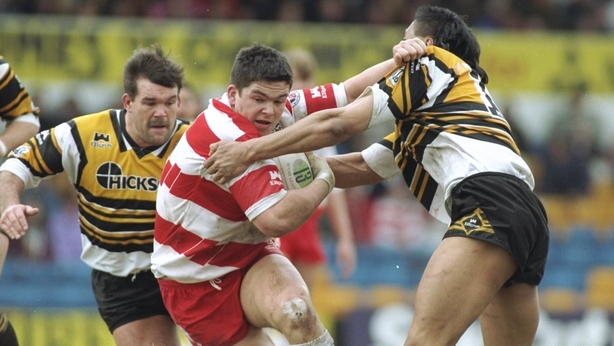 "He was a very talented footballer, he had a great understanding of tactics and a real good football brain," says Phil Larder, the Great Britain boss who decided to hand Farrell the armband at the grand age of 21 for their Lions tour in 1996.
"He was a great leader of men, trustworthy and led from the front, which gained the admiration from the rest of the boys."
Larder, like Farrell, started in rugby league but has coached Leicester Tigers, Worcester, and the Lions on their 2001 and 2005 tours.
"He has all the attributes necessary for head coach and the people who have put him in charge have seen that," he adds. 
In his playing days Farrell was unrivaled, winning six championships and four cup titles with Wigan between 1991 and 2004. Twice top scorer in the league, he is also a double Man of Steel recipient and was world player of the year in 2004.
The move across codes to Saracens in 2005 was, for Radlinksi, a "genuine disappointment" but came with the acknowledgement that he had achieved everything he could in rugby league.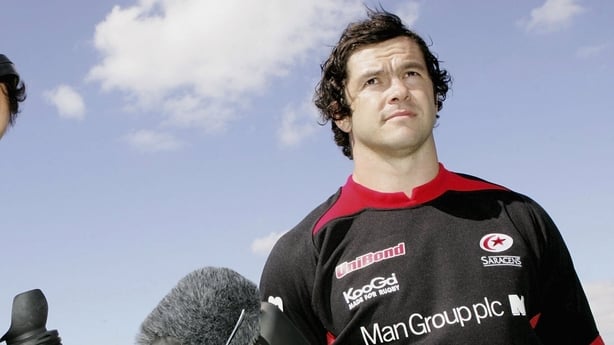 Injury prevented Farrell, playing primarily in the centre, from making a similar impact in his new sport but did enough to earn eight England caps in 2007 and was part of the team that famously lost to Ireland in that year's Six Nations game in Croke Park.
Since 2009 Farrell, whose brother Phil has played rugby league for Ireland, has been learning his trade as a coach.
Three years at Saracens with Eddie Jones at the helm initially led to a call-up for national duty under Stuart Lancaster with that term coming to an inglorious end as hosts England failed to emerge from their 2015 World Cup pool.
After that coaching team was dismantled he was picked up by Schmidt to act as defence coach.
Two stints on Warren Gatland's ticket with the Lions have also added to his experience.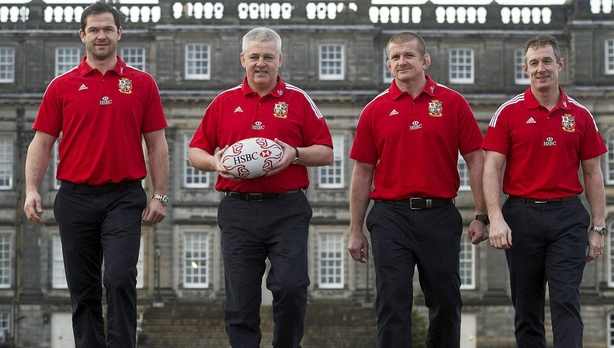 There is a morning-after story of the Irish players and staff, while celebrating their win over England in Twickenham, being led by Farrell's rendition of The Field's of Athenry.
And while no Shane Lowry-type clips have emerged, Radlinksi's description of the man away from the playing fields fits perfectly with the image.
"He's great company," says the current Wigan executive director.
"He's somebody you want to have a beer with and when you do, you have a great time, he enjoys music, enjoys a sing-along.
"With his travelling we don't see each other as often but within a couple of minutes of meeting up it's the same as when we were working together every single day."
Farrell's predecessor was a former school principal, and always had the air of a headmaster, maintaining that distance between himself and his students.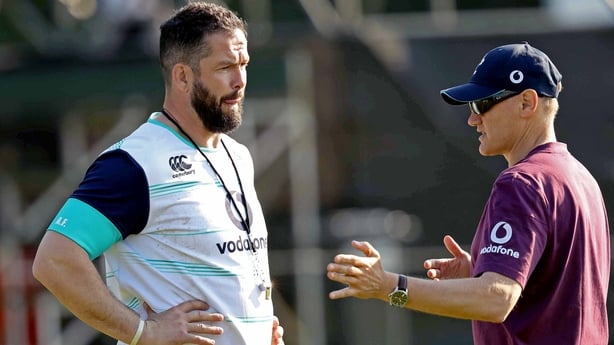 Now Farrell must redraw that line between being a man of the people and being the boss, he will have to make the tough calls and drop players who he has developed relationship with over the last seven years.
His first test comes against Scotland and Brian O'Driscoll believes that, despite the disastrous 2019 Six Nations and World Cup, where Ireland's gameplan seemed redundant, finding a new style of play can wait.
"You've got to start with a win," says the former Ireland captain.
"I think that's very important. But then to get the opportunity to have the squad together for seven weeks is important in the style that he's going to change.
"It's very hard for him to do it having had a three-day camp at Christmas and then having the lads in for some of this week and into next week – that's no time to try and shape a completely new game plan."
"It'll be a progressional thing, I would imagine. But I think he will have some slightly different concepts and ideas.
"I think you'll probably see a bit more focus on unstructured play.
"I think you'll see an opportunity to offload a little bit more, to push the pass a little bit more where maybe we got a bit tight in that regard in the last couple of seasons and played a bit too conventionally."
A new era for Irish rugby begins. 
Follow Ireland v Scotland (kick-off 4.45pm) on Saturday via our live blog on RTE.ie/Sport and the News Now app or listen live on RTÉ Radio 1's Saturday Sport. Highlights on Against the Head, Monday at 8pm on RTÉ2 and RTÉ Player.