If you offered Ireland a bonus-point win against Italy in Rome before the game I'm sure they'd have taken it but the nature of the performance has raised some question marks.
It only takes one poor showing to rattle players. This is because the players expect so much of themselves and don't accept poorer standards.
Players at a different level might shrug it off and not think too much before lining out again and probably deal with it a little bit easier.
We need your consent to load this SoundCloud contentWe use SoundCloud to manage extra content that can set cookies on your device and collect data about your activity. Please review their details and accept them to load the content.Manage Preferences
Top players look deeper into their own thoughts. There's nothing worse than playing poorly and having to wait a week to rectify it.
What's worse is waiting two weeks. This is the second break that these Irish players are getting and you get the feeling that they just need more games to come quickly for another chance to perform.
The second last game in my career was against Edinburgh in Musgrave Park.
I was after kicking 14 or 15 kicks in a row. I wasn't even thinking about my kicking. I just knew I was on a roll and the ball was going from my boot over the bar. You try not to think too much about why. Just try to enjoy the flow.
You do need to understand the feeling of that flow and why you got there so you can emulate it but thinking too hard about it will cause nerves. I kicked an iffy penalty to add another to my tally.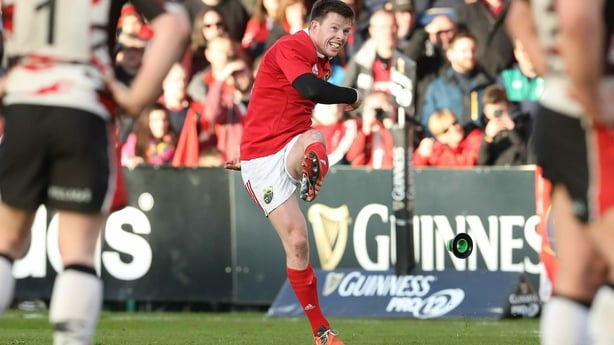 Then kicked a conversion from an Andrew Conway try from the touchline. In the same game and from the same touchline I scuffed a kick. The result? Nerves, doubt, a lot of internal dialogue.
Yeah, you're supposed to be bulletproof, put it behind you and 'trust the process'. That's what you're trying to do and you know that's what you should do. Add to that, I wasn't able to train the next week before my last game in Thomond Park against the Scarlets.
My hamstring wasn't up to a single training session in the fear that I'd have to be ruled out of another must-win game. Again this resulted in doubt.
Only one game later after a 16-kick streak I felt like the ball could have gone anywhere after it left my boot.
One kick went wrong and all of a sudden I thought I wasn't a good kicker.
I was a professional player, albeit a less experienced one than what's on show in the green of the Irish jersey at the moment but these guys are human.
The same thing happens in teams. Sometimes things go against you, another team may be pumped up for a game because they really need it and you suffer because of it.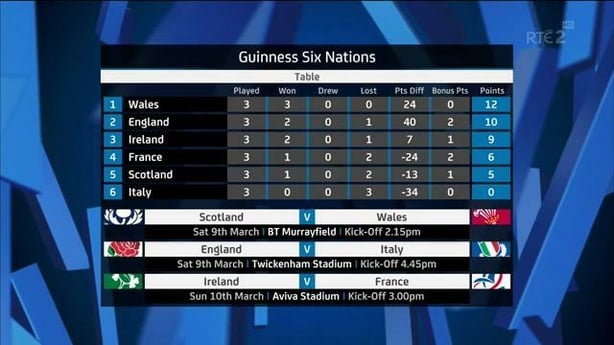 Maybe the Irish mentality against England was inferior to their English counterparts but it doesn't mean they were in a bad place. Eddie Jones and his men needed it badly and they showed that.
Supporters will say that players get paid enough to switch on and be at their best every week. It's not possible.
These are the players in this country that have switched on most and have done that consistently. They wouldn't be where they are if they weren't the mentally toughest in their position along the way.
They go from international game to European game, back to international competitions and get their head space right 90% of the time.
Us mere mortals wouldn't get near that 90% mark and it's why we don't get to play those games. They didn't only do it to beat the All Blacks and go unbeaten last year, they did it throughout every setback in their career.
Every small challenge along the way was conquered and that's why they were able to build on their talent and potential to become the best in the country, and in some positions the best in the world.
They've got experience in overcoming these setbacks. They'll do it again. Hopefully in time for the World Cup but they didn't become a good team overnight and they won't be a bad team overnight either.
They just have to fight through a rough patch.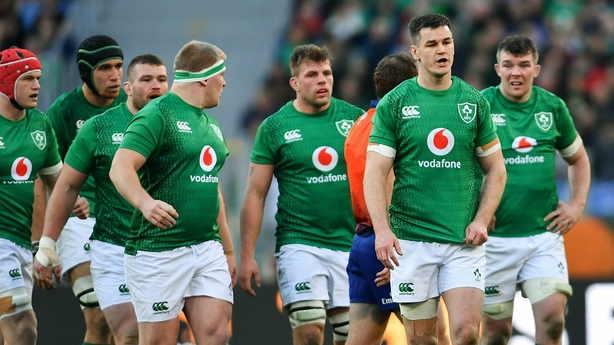 As a coach you try to think about why every little thing happened as much as players do. You can even see it coming and can't do much in the way of stopping it at times. Joe Schmidt can't do a whole lot about early injuries or players dropping nine balls.
I was involved in a game at the weekend where we lost after a string of victories. The easiest thing to do is to look internally at what you could have done better to allow the players to play better but you could be thinking about it all week and still won't find an answer that satisfies your internal chimp.
It's easier said than done but sometimes you've to try to let go or you risk causing that self-doubt to escalate.
Italy showed that it's a tough place to go against Wales as well. They are a passionate side in front of a home crowd with a tactically astute coach. That's a good recipe for success although they haven't achieved the obvious success yet in terms of results, but they'll get there.
Conor O' Shea had two weeks to prepare his troops for a Test match against his home country. You would expect that his long-term plan is to return to a big job, if not in the national set up then at least in one of the provinces.
'We played against 16 men' - One Italian journalist made his feelings perfectly clear on #ITAvIRE referee @SixNationsRugby #SixNations - this and more on tomorrow's #RTErugby podcast #rtesport pic.twitter.com/gdNZORQylV

— RTÉ Rugby (@RTErugby) February 26, 2019
He was always going to have his team as prepared and passionate about that game as he could. An upset would have catapulted him back in to the minds of the Irish supporters as a leading Irish coach.
Unfortunately for Ireland they have become everyone's stepping stone to success at the moment.
Ireland used the All Blacks for the same purpose but the difference is that they're used to it by now and have dealt with it for a lot longer.
Ireland as a nation aren't used to being everyone else's cup final but they've still only lost one game.
Manchester United scraped many 'poor' results away from home on their way to success under Ferguson with Cristiano Ronaldo.
Top teams will go through this struggle and getting through to the other side proves their worth in the rankings.
Time will tell for this Irish team but I have confidence that they'll get it back.