It was little more than five weeks ago, but Ireland out-half Johnny Sexton still rues the decision to play against Castres in the Champions Cup.
Out of action since picking up a hamstring injury against the All Blacks in Dublin, the 31-year-old was desperate to get back on the pitch with the Six Nations campaign on the horizon.
Leo Cullen's side ground out a gritty 24-24 draw at the Pierre Antoine Stadium to all but secure a home Champions Cup quarter-final, but it came at a cost as Sexton departed in the first-half after exacerbating a haematoma in his calf.
The out-half had worked tirelessly for six weeks in Santry to rehab the injury, but was forced to depart mid-way through the opening period and the player says it was a valuable lesson learned, even if the intentions were understandable.
"I did a lot of work before Christmas," he told RTÉ Sport.
"After doing so much hard work before Christmas, to undue it with being a bit silly by playing with a knock in the calf...you live and learn"
"My body felt as good as it has been in years and then I undid it by playing against Castres away, with that knock in the calf carrying it into the game stupidly, and it went.
"It cost me a few weeks. It was really disappointing but I felt under pressure coming into that game because I wanted a run of games coming into the Six Nations. It was a tough decision but one I've learned from.
"It was a frustrating few weeks after doing so much hard work before Christmas, to sort of undo it with being a bit silly by playing with a knock in the calf...you live and learn."
Fast-forward a month and things are looking much rosier for the former Racing 92 man.
He returned to the starting XV for the crucial 19-9 victory over France and gave a masterclass in the 10 jersey as he controlled proceedings, slotting seamlessly into the effective game-plan after Paddy Jackson was more than an able deputy in Edinburgh and Rome.
Sexton was clearly in positive form after the win over Les Bleus – "It was great just to be back in with the team" – and there was no concealing his delight on the pitch when he knocked over a second-half drop goal to give the home side the momentum against a French side that raced into an early 6-0 lead.
'I have been very lucky with injuries' - Johnny Sexton on his Ireland return and rushing back too soon earlier this season #RTERugby pic.twitter.com/WI9kcG1s2T

— RTÉ Sport (@RTEsport) February 27, 2017
It was a moment that was about much more than simply three points on the day.
"There was a lot of frustration that had built up during the weeks and I was just glad to be out there," he said.
"Sometimes you celebrate things and you regret doing it, but you do things in the heat of the moment when you are pumped up for the game.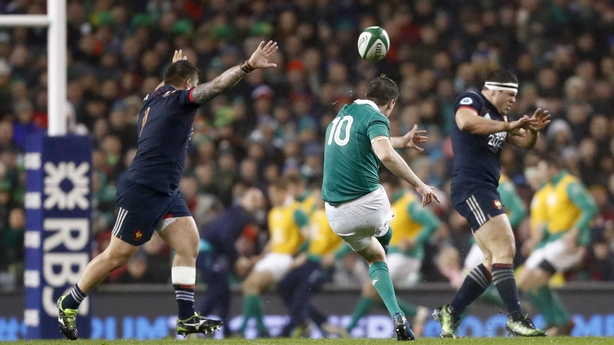 "You want to show the people that are here how much it means to play for Ireland and I've missed playing for Ireland since the Australia game in November and I just wanted to show how much it meant."
Injuries and the well-being of Ireland's general has become a major talking point, but the Dubliner says that many of his injuries have been unavoidable.
"The way I look at it, I have been very lucky with injuries"
In fact he considers himself lucky when he sees the plight of some of his more unfortunate team-mates and former team-mates.
"The way I look at it, I have been very lucky with injuries because I have never had a nine-month injury," he contends.
"Some guys might get four in a career. The longest I have ever been out is that shoulder injury at the end of last season.
"Unfortunately if I get injured it's in the papers. There are guys around me at Leinster who haven't played rugby for two years...One injury after another, so that puts it into perspective.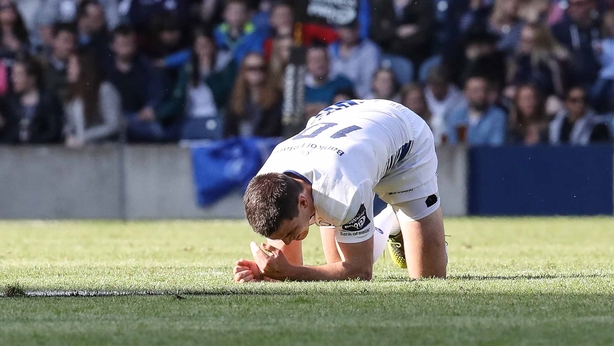 "There are some injuries you can't do anything about – I dislocated my shoulder in the Pro12 final last year (above) - I can't do anything about that, it's just impact.
"I've had broken hands, a broken jaw, you can't do anything about them. It's the small little niggles that frustrated me.
"There's no one more frustrated and upset when I'm injured...You get stronger from these things.
"It's important that you bounce back, I'm sure I'll pick up more injuries in my career, that's just the nature of the game."
For now Sexton is feeling fully fit – "I was pretty sore yesterday" – and with two games to go, Ireland have the destiny of the Championship in their own hands after the opening round defeat to Scotland.
Wales away and England at home will arguably present the two most difficult assignments for Joe Schmidt's side, but while the Six Nations is coming to the boil nicely, there is a bigger picture at play as the countdown to the Lions series in New Zealand continues in earnest.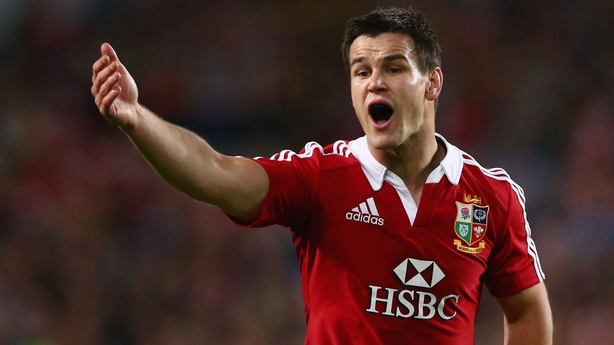 Sexton, along with his Irish half-back partner Conor Murray are being tipped in many quarters to not only make the plane, but to be the first-choice pairing for Warren Gatland on a daunting tour against the world champions.
Sexton however says that after such an injury-interrupted season, and now only getting back to full fitness, he can't allow himself contemplate anything other than Ireland.
"I can't even think about it that at the minute," he said.
"I've only played one Six Nations game. I think I have played 10 games this season.
"I just have got to concentrate on getting match fit and getting a string of games under my belt."