France are on the right track under new coach Guy Noves and see the Six Nations clash against Ireland as a chance to get a bonus victory, according to Bernard Jackman.
Les Bleus lost out to England before scraping past Scotland in round two, while Ireland got their campaign back on track with a handy win over Italy following defeat to the Dark Blues. 
Noves is rebuilding a France side that lost its spark over the last few seasons and, according to Grenoble coach Jackman, would be content with three wins in the 2017 Six Nations.
They visit Italy in round four and host Wales on the final day.
That means, Jackman says, that the clash in Dublin on 25 February (4.50pm, live on RTÉ Radio 1 and RTÉ2) is being viewed as a "freebie".
Speaking on RTÉ 2fm's Game On, the former Ireland hooker said: "I know that they are being harshly judged in some areas but, honestly, they believe they're on the right track, both in terms of what they are doing on the field but also what's happening in the background.
"The preparation time they have, the ability of the national coach to control a certain amount of their international players' game time and preparation [has changed].
"For example, this weekend, it's a gap week and for the first time ever, Guy Noves can actually stop players playing for their club side.
"The week before the Six Nations he was able to pull his 23 players from playing, which is normal for us in Ireland but for France, up till now, it hasn't been the case.
"So these guys are getting to prepare for the Six Nations with the same amount of training time as everybody else.
"I think you can start to see some positive signs, they look a lot more organised, they know how they want to play in attack.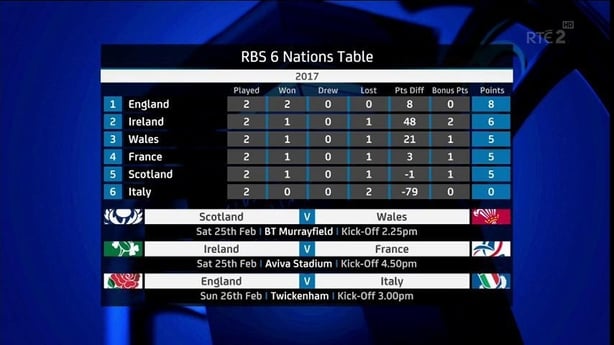 "Defensively, they haven't really been put under a huge amount of pressure, they have a very strong scrum, a very strong maul, and they have individuals who can punch through the advantage line and keep the ball alive in contact and you don't need a whole lot more.
"It takes away their excuses. They can't play badly and say, 'oh well, we had a fierce hard game last weekend for our club, and we only got back into camp on Sunday night and we couldn't train Monday etc'.
"They have the ideal environment now to prepare. If you believe preparation is important, which 90 per cent of us do, then you say, 'well, hang on, that's going to get that extra three or four per cent out of them'.
"You just need a little bit of confidence, which they got from [beating] Scotland.
"They'll go to Ireland without any pressure"
"They'll go to Ireland without any pressure. Their last two games are Italy away and Wales at home, so they are looking at three wins. They had a very good performance in England, a losing bonus point.
"They'll have massive respect for Ireland but they see the game as a freebie, a joker, and that's a dangerous mindset for a French team who have a lot of talent.
"They beat Ireland last year by a point, the year before they ran us close.
"We struggle with that power [from the bench], that's what they have in abundance."