Niamh Briggs has revealed "patience and frustration" have been the buzz words in Ireland camp as they look to end their Six Nations championship on a high on Sunday.
Coach Tom Tierney has made a number of changes for the visit of Scotland to Donnybrook (1.0pm), after defeats to England and France extinguished any hopes of retaining the title they captured last year.
Captain Briggs admitted Ireland are in a period of transition, and that the changeable line-ups have made it difficult for them to really find their rhythm, but stressed it was crucial to keep the faith as Tierney looks to develop the next generation of players.
"We've tried to develop as many players as possible," Briggs told RTÉ Sport. "We've a huge year for Irish rugby going forward and we need to develop as many players as possible.
"After the defeats to France and England we were out of the running for the championship so therefore you're going to try as many new combinations as possible. 
"It's important for us to understand this is a development stage of women's rugby but not let our standards drop either. We expect to win Sunday."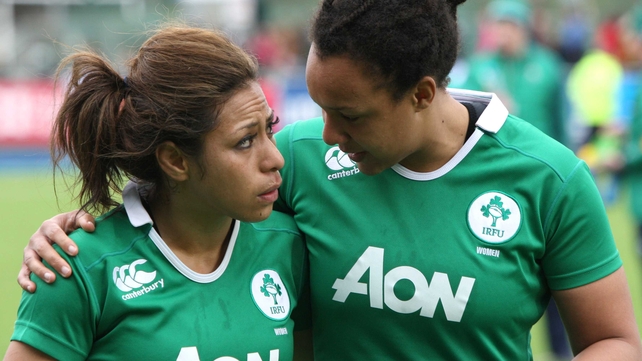 Ireland defeated Italy 14-3 last week, with Tierney handing debuts to Kim Flood at full-back and Liz Burke on the right wing, while centre Claire McLaughlin's second-half introduction brought the number of new caps to 14 since last November.
Briggs conceded the performance wasn't as slick as it could have been, but insisted things will click as long as her team-mates stick to the game plan.
"The most important thing for us is to remain patient and to keep trusting in each other and the systems. Sometimes you can into a game and that goes out the window and the frustration creeps in.
"At times we got frustrated last week. It's important to keep trying these things. We can't walk away from things because they haven't worked once or twice. Patience and frustration are the two key words we've had around camp this week.
"At this level all you're looking for sometimes is a win. Scotland are a good side, they're very well drilled, very well coached. We need to win but we need to give a performance as well."
Follow Ireland v Scotland LIVE from 2pm on RTÉ2, Radio 1 and via the live blog on the RTÉ News Now app and RTÉ.ie.