Ireland have suffered some dark days in the City of Light over the years, but Paris has also been home to some of Ireland's most famous victories in the Six Nations.
1972 - France 9-14 Ireland
John Moloney and Ray McLoughlin were the heroes for Ireland as they registered a historic victory over France at Stade Colombes, their first since 1952.
In the final game before the French moved to Parc Des Princes, Ireland proved to be too strong in a hostile environment in the French capital.
The Five Nations that year was cut short due to the Troubles in Northern Ireland – both Wales and Scotland refused to travel to take on Ireland in Dublin.
Ireland had won away to both England in Twickenham (16-12) and France, but could not take the title as a result.
With Wales and Ireland both at the top of the standings but having not completed their full round of fixtures, France had to play two friendlies against them.
Ireland won 24-14 at Lansdowne Road, while Wales beat the French 20-6 in Cardiff.
But Paris had been a treacherous venue for Irish teams, and with five players making their international bow it was a shock when they overturned their hosts for the first time in 20 years.
Ireland had plenty of experience on the day too, with Fergus Slattery, Tom Kiernan, Willy John McBride, Ray McLoughlin and Mike Gibson all on show, while Con Feighery, Stewart McKinney, Tom Grace, Wallace McMaster and John Moloney all made their debuts in the green jersey that day.
Ireland scorers: JJ Moloney, RJ McLoughlin tries, TJ Kiernan 2 PG
France: P Villepreux; R Bertranne, C Dourthe, JP Lux, J Cantoni; JL Berot, R Astre; A Vaquerin, R Benesis, JL Martin, A Esteve, B Dauga, O Saisset, V Bofelli, Y Buonomo
Ireland: TJ Kieran; TO Grace, CMH Gibson, MK Flynn, AW McMaster; BJ McGann, JJ Moloney; RJ McLoughlin, KW Kennedy, JF Lynch, WJ McBride, CFP Feighery, SA McKinney, DJ Hickie, JF Slattery
2000 - France 25-27 Ireland
Leinster centre Brian O'Driscoll burst onto the world stage as he bagged a hat-trick in Ireland's first win over France in Paris since 1972.
The 21-year-old made it six tries in 11 games for his country as his reputation continued to grow after he destroyed the French rearguard.
Ireland trailed 13-7 after a first half where O'Driscoll dotted down his first try, and despite Christophe Laussucq notching France's effort, two further O'Driscoll tries sealed the win.
France nearly went in front inside the opening minute when debutant David Bory's early try was disallowed for a forward pass, but out-half Gerald Merceron kept them ticking over.
He slotted a couple of early penalties and the French led 6-0 after 12 minutes.
However, O'Driscoll began a move that he finished under the posts off of a Malcolm O'Kelly pass to push Ireland in front after 24 minutes.
Laussucq took advantage of a momentary lapse in the Irish defence as he took a quick tap, while Merceron's extras gave France a 13-7 lead at half-time.
When Merceron added two penalties France took what looked to be an unassailable 19-7 lead. However, O'Driscoll hit back.
Rob Henderson made a break into the French 22 and with O'Driscoll weaving his way onto his shoulder, the Clontarf man touched down again under the posts.
It was a major swing in the match, and although Paddy Johns was sent to the bin for going offside, and Merceron slotted another penalty, France began to creak.
Rob Henderson gave them another penalty opportunity when he strayed offside, but after Merceron slotted his final kick it was all Ireland.
O'Driscoll showed his wizardry to pick up the ball at full tilt and dance past Emile Ntamack on the way to complete his hat-trick. David Humphreys converted it, but still Ireland needed another score, and Humphreys obliged from the tee to seal a fantastic win.
France scorers: C Laussucq try; G Merceron 6 pens, con
Ireland scorers: B O'Driscoll 3 tries; D Humphreys 2 pens, con, R O'Gara 2 cons
France: E Ntamack; P Bernat-Salles, C Desbrosse, S Glas, D Bory; G Merceron, C Laussucq; C Califano, M Dal Maso, F Tournaire; O Brouzet, F Pelous; A Costes, A Benazzi, T Lievremont
Replacements: R Ibanez, P de Villiers, L Mallier, F Belot, A Hueber, A Penaud, D Venditti
Ireland: G Dempsey; K Maggs, B O'Driscoll, R Henderson, D Hickie; R O'Gara, P Stringer; P Clohessy, K Wood, J Hayes; M Galwey, M O'Kelly; S Easterby, K Dawson, A Foley
Replacements: F Sheahan, J Fitzpatrick, P Johns, A Ward, G Easterby, D Humphreys, M Mullins
Referee: Paul Honiss (New Zealand)
2002 - France 44-5 Ireland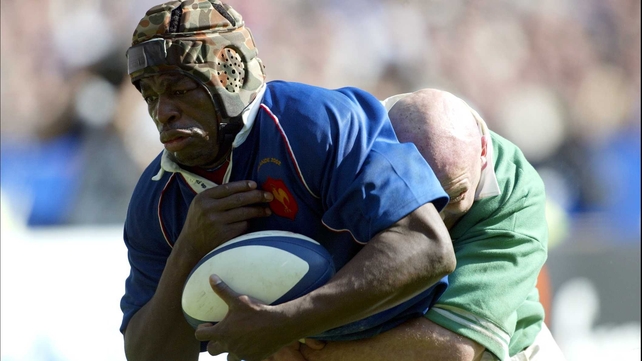 Nicolas Brusque and Serge Betsen were the stars on this occasion as Ireland were given a dose of reality by the French on their return to Stade de France after their famous victory there two years previous.
The win gave France their third Grand Slam in six seasons and was a record win over Ireland, who only had Keith Wood's try to show for their exploits in Paris this time around.
The two Biarritz stars and Montferrand's Aurelien Rougerie all dotted down for the dominant hosts, while the dependable Gerald Merceron slotted 19 points off the kicking tee.
France were already well on their way by half-time and despite Wood's 11th minute try, Ireland trailed 28-5 at the break after being outclassed in the opening 40 minutes.
The 2002 Six Nations campaign was another improvement but after their opening day 54-10 hammering of Wales, heavy defeats to England and France damaged expectations ahead of the World Cup in Australia the following year.
The warning signs were there early – Betsen got his first after just two minutes and Merceron's conversion made it 7-0.
Ireland hit back when Peter Stringer set up Wood, but from then on the Irish had no answer. After two successful Merceron penalties, Brusque touched down his first try in the 26th minute.
Then it was the turn of youngster Rougerie, who glided in after some weak Irish defence, and that gave France a 25-5 lead before a Merceron penalty put them out of sight before the break.
They came in waves again on the resumption, Merceron landed his first penalty eight minutes in and Betsen doubled his tally before the hour.
Just after that prop Peter Clohessy was replaced for the last time in an Ireland jersey, and there was still time for Brusque to put more of a gloss on the scoreline.
France scorers: N Brusque 2, S Betsen 2, A Rougerie tries; G Merceron 5 pens, 2 cons
Ireland scorer: K Wood try
France: N Brusque; A Rougerie, T Marsh, D Traille, D Bory; G Merceron, F Galthie; JJ Crenca, R Ibanez, P de Villiers; F Pelous, O Brouzet; S Betsen, O Magne, I Harinordoquy
Replacements: Olivier Azam, JB Poux, D Auradou, R Martin, P Mignoni, F Gelez, J Marlu
Ireland: G Dempsey; S Horgan, B O'Driscoll, R Henderson, D Hickie; D Humphreys, P Stringer; P Clohessy, K Wood, J Hayes; G Longwell, M O'Kelly; S Easterby, D Wallace, A Foley
Replacements: S Byrne, P Wallace, P O'Connell, K Gleeson, G Easterby, R O'Gara, J Kelly
Referee: Paddy O'Brien (New Zealand)
2008 - France 26-21 Ireland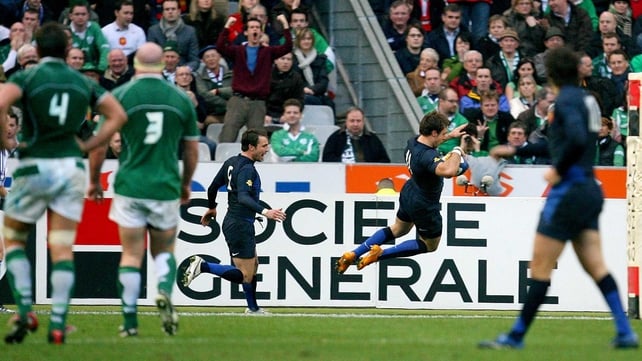 Despite David Wallace's try and Ireland's late revival in Paris they couldn't pull off a memorable comeback against France.
The 31-year-old crossed the whitewash shortly after the hour mark as Ireland launched a dramatic rally. They had trailed 26-6, but France did not score after the 49th minute.
However, it was too late for Ireland, and after they had trailed 19-6 at half-time, it was French wing Vincent Clerc who did the damage again as he bagged a hat-trick.
He dotted down his first after 15 minutes when he latched onto a kick through from Jean-Baptiste Ellisalde to touch down ahead of Denis Leamy.
Ronan O'Gara slotted a penalty, but Ireland were shook by another try straight away, and again it was the diminutive figure of Clerc who popped up at the right time.
David Skrela did all of the work to get past Geordan Murphy and Leamy, and offloaded to Clerc who added his second try.
Another O'Gara penalty meant Ireland only trailed 12-6 after half-an-hour, but when Clerc completed his hat-trick before half-time the game looked over.
On this occasion it was Cedric Heymans who sped up field, and provided the assist, with Clerc's try and Elissalde's extras giving France a 13-point lead.
Ireland needed to score first in the second half, but it was the French who moved further clear. Heymans was the benefactor from a Brian O'Driscoll error as France streaked clear.
But Ireland kept their heads and got their reward in the 58th minute. Nigel Owens awarded a penalty try after three scrum infringements in a row by the French.
O'Gara made the easy conversion and when Wallace touched down three minutes later, a shock looked possible. But O'Gara could not convert, and all Ireland could muster was another O'Gara penalty which wasn't enough.
France scorers: V Clerc 3, C Heymans tries; JB Elissalde 3 cons
Ireland scorers: D Wallace try, penalty try; R O'Gara 3 pens, con
France: C Heymans; A Rougerie, D Marty, D Traille, V Clerc; D Skrela, JB Elissalde; L Faure, D Szarzewski, N Mas; L Nallet, A Mela; T Dusautoir, F Ouedraogo, J Bonnaire
Replacements: W Servat, J Brugnaut, L Jacquet, L Picamoles, M Parra, F Trinh-Duc, A Floch
Ireland: G Dempsey; G Murphy, B O'Driscoll, A Trimble, R Kearney; R O'Gara, E Reddan; M Horan, B Jackman, J Hayes; D O'Callaghan, M O'Kelly; D Leamy, D Wallace, J Heaslip
Replacements: R Best, T Buckley, M O'Driscoll, S Easterby, P Stringer, P Wallace, S Horgan
Referee: Nigel Owens (Wales)
2014 - France 20-22 Ireland
Ireland out-half Jonathan Sexton sparkled as his 17-point haul helped Ireland to their first Six Nations trophy since 2009.
In Brian O'Driscoll's final appearance for his country, two tries from his Leinster team-mate and one from Andrew Trimble helped Ireland overturn a 13-12 half-time deficit in Paris.
Brice Dulin and Dimitri Szarzewski touched down for the French but despite a couple of penalties and conversions from out-half Maxime Machenaud they were resigned to defeat.
It was just the second time in 42 years Ireland had won in Paris and although Damien Chouly went close late on for the French, it was Ireland's day.
Machenaud kicked France ahead after two minutes and he added another penalty to give them a 6-0 lead 15 minutes in.
But Sexton began the Irish fightback. He latched onto a pass from Chris Henry to dot down in the 21st minute and even though he missed the subsequent conversion, Ireland were back amongst the tries five minutes later.
This time in-form winger Trimble finished off a team move that began with a break from Brian O'Driscoll.
Conor Murray added further momentum and then the Ulster flyer touched down.
Sexton made no mistake with this conversion as Ireland took a 12-6 lead after 27 minutes. But in an end-to-end game, France were next to score.
Dulin collected the scraps from a cross-field kick when Yoann Huget tapped it down and Machenaud's conversion pushed France back in front.
Ireland trailed by one at the break and Sexton crossed the whitewash for his second try seven minutes into the second half. Trimble made the break this time, and when O'Driscoll was stopped short, Murray found the on-rushing Sexton who raced home.
He added the conversion and a 53rd minute penalty, and Ireland withheld a late French comeback as Szarzewski's try was in vain.
France scorers: B Dulin, D Szarzewski tries; M Machenaud 2 pens, 2 cons
Ireland scorers: J Sexton 2, A Trimble tries; J Sexton pen, 2 cons
France: B Dulin, Y Huget, M Bastareaud, G Fickou, M Medard; R Tales, M Machenaud; T Domingo, D Szarzewski, N Mas; P Papé, Y Maestri; L Picamoles, A Lapandry, D Chouly
Replacements: G Guirado, V Debaty, R Slimani, A Flanquart, S Vahaamahina, W Lauret, JM Doussain, M Mermoz
Ireland: R Kearney; A Trimble, B O'Driscoll, G D'Arcy, D Kearney; J Sexton, C Murray; C Healy, R Best, M Ross; D Toner, P O'Connell; P O'Mahony, C Henry, J Heaslip
Replacements: S Cronin, J McGrath, M Moore, I Henderson, J Murphy, E Reddan, I Madigan, F McFadden
Referee: Steve Walsh (New Zealand)