Dylan Hartley has responded to the controversy over his appointment as England captain for the RBS 6 Nations by declaring: "I am me."
Hartley has amassed 54 weeks of suspensions for a range of offences including eye-gouging, biting, head-butting and swearing at a referee, but has been entrusted with the task of leading the national team's post-World Cup healing process.
Head coach Eddie Jones views the 29-year-old hooker as the standard-bearer in his mission to restore the might of England's pack, who he believes lost their snarl under previous regimes.
"It's been bumpy, but it's been fun. I wouldn't change any of it. Maybe without the setbacks I wouldn't be sat here" - Dylan Hartley
Hartley makes no apology for a dire disciplinary record that has prevented him from appearing in one World Cup and on one British and Irish Lions tour, and will continue to play with the fire that has served him well over 66 caps.
"I am me. It's there in print for you to see what I've done wrong and what I've been guilty of," said Hartley, who answered "simple" when asked to describe his leadership style.
"I'm well aware of the perception and the reputation that comes with it, but I play my best when I'm on the edge. I just know to not go over the edge."
Aside from his lengthy list of misdemeanours, there is also concern over Hartley's fitness given he has missed seven weeks of the season with concussion and then suffered a rib problem.
He has started Northampton's last two matches, however, and insists the enforced break will be beneficial heading into the Six Nations, while Jones promised a gruelling week ahead in training that will leave his "butt hanging on the ground" to sharpen his conditioning.
Hartley has led England on one previous occasion - in a 14-14 draw against South Africa in 2012 - but Monday's longer-term appointment provides a fuller episode of an eventful career that saw him arrive on these shores from his home town of Rotorua, New Zealand, as a 16-year-old.
"It's a bit weird. It's funny, because the first time I went to Twickenham I had my backpack on and jandals - which are now flip-flops - and went to an under-19 training camp," Hartley said.
"I went through security and saw the James Haskells and Tom Crofts getting dropped off in their chinos and blazers. I thought, 'jeez, I'm a long way from home here'.
"But 14 years later I'm still here. It's been bumpy, but it's been fun. I wouldn't change any of it. Maybe without the setbacks I wouldn't be sat here."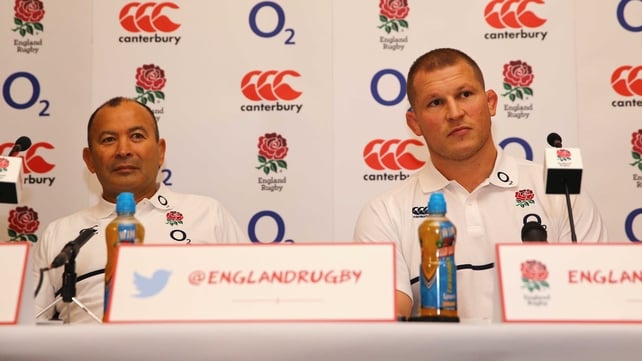 Hartley, who became a father for the first time last August, will take shelter from the pressures of international captaincy in the company of the young family that has offered him a fresh perspective on life.
"Rugby is my life and has been for the last 10 years or so. It's actually quite nice to have an off switch, going home," he said.
"I used to obsess about it. If we had won I would be worrying what we going to do for fun on the Monday morning to celebrate.
"Now I just get home it is something entirely more important than rugby, and it is nice to have that off switch."
Jones insists none of the views he gauged before deciding Hartley was to be Chris Robshaw's successor were negative, but accepts there is an element of risk in the decision.
"You just have to hope and pray it's not going to happen. People mature. We all make mistakes as young people. I made a hell of a lot as a young coach," Jones said.
"He has made some mistakes. He's got a wife, he's got a young daughter. Life changes, priorities change.
"If he is an opposition target then great because it takes the emphasis away from what the other team needs to do to win.
"If they spend half their time baiting Dylan, they are going to be wasting their time."