Brian O'Driscoll counted himself "extremely lucky" to cap 15 years of Ireland action with his second RBS 6 Nations title.
The 35-year-old admitted he would be loath to take off an Ireland jersey for the final time after the breathless 22-20 win over France in Paris.
The Leinster stalwart said he could not quite believe the time had come when he would never represent his country again.
O'Driscoll accepted tears will be a certainty as he reflected on just his second win in Paris, 14 years after a stunning hat-trick announced his arrival on the world stage.
"I played on for one more year hopeful to get a victory against the All Blacks - that didn't happen - and to win a Six Nations, and that did happen," said O'Driscoll, who will retire in the summer with a second Six Nations title to add to the 2009 Grand Slam.
"You can't have it all, but you take the bits that you get.
"Not many people get to finish their career on their own terms - certainly not with high emotions like today. I'm extremely lucky and thankful to have been a part of a great, great team.
"It's been a fantastic Six Nations for us. I've enjoyed every second.
"I don't really want to take this jersey off yet, because I know when I do it's the last time.
"I'm dragging the a*** out of it a little bit!"
"Emotions come afterwards and they did. I'm sure there will be a few tears - later on, with multiple beers on board, probably"
Johnny Sexton had a mixed evening. He scored two tries, missed five points with the boot and was knocked out cold trying to tackle Mathieu Bastareaud.
Ireland boss Joe Schmidt confirmed Sexton suffered concussion, but reported the Racing Metro fly-half was "up and about" after the final whistle.
Andrew Trimble also crossed for Ireland, as Schmidt's men fended off a late French rally to edge home and win the Six Nations on points difference from England.
"I think I tried to channel the emotions into the performance," 141-cap Test world-record appearance holder O'Driscoll said.
"I played fair today, and you can't allow the occasion to get the better of you.
"You have to try to make sure you're the cog in the wheel for the team.
"Emotions come afterwards and they did. I'm sure there will be a few tears - later on, with multiple beers on board, probably.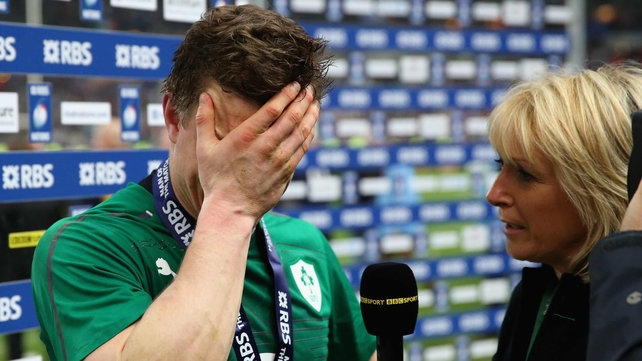 "It's a lovely way to finish out. I've had so much fun over the last 15 years, and I feel very grateful to finish in this fantastic way.
"I got a frog in my throat on the final whistle all right. You're not yourself sometimes when you're being interviewed. It feels as though you're trying to present a certain way.
"After scenarios like today it comes out a bit more, particularly when it's the end. You have to be as natural as you can.
"Over the course of the next while, when it sinks in, I'm sure it will flood out.
"When I pull the jersey off it will be hard, but it will come with a great sense of happiness to finish off with a great high after a lot of nearly moments."
Ireland head coach Schmidt said he will miss coaching "workaholic" O'Driscoll immensely.
The former New Zealand schoolteacher said O'Driscoll's legacy will start with Robbie Henshaw and Darren Cave picking up the slack in his absence, having learned international outside-centre play at first hand.
"I've worked with Brian for four years now, and he's a man I respect hugely," the former Leinster boss said.
"He's a player I really enjoy coaching. His work ethic is massive.
"If you think you've got to where you need to be, and you're talented, to work so hard that you maximise those special attributes, the example he sets with his character... All that I will most certainly miss.
"At the same time he's been quietly grooming a couple of guys to come in.
"I don't think they can come in and fill his shoes straight away - they will have slightly smaller feet.
"But hopefully they can grow into them."
Phew! Worked out ok! Thanks for all the messages of support. Unreal feeling. Not easy taking this off for last time pic.twitter.com/Sq89BdLOnw

— Brian O'Driscoll (@BrianODriscoll) March 15, 2014
Schmidt said Ireland's stars have earned the right to celebrate an icon's international retirement, especially after rejecting the emotion of O'Driscoll's farewell all week.
"We did it a little bit last week; there was a fantastic ovation in Dublin," he said. "This week we did nothing.
"I mentioned it once pre-game and it wasn't mentioned at all, all week. The team were very conscious of it, and it didn't demand mentioning.
"They wanted it to be special for him, and I think they achieved that."