By Brendan Cole
Ireland have beaten France 22-20 in Paris to claim the RBS 6 Nations title and give a fairytale ending to Brian O'Driscoll's international career.
The victory was only Ireland's second in the French capital in 42 years.
The match concluded amid desperate scenes as the two sides traded punch and counter-punch like exhausted heavyweights and Ireland had two basic errors by French players to thank for their victory in the end.
Having missed five easily kickable points of their own in the first half and given away several penalties in the opening exchanges, Ireland will know that they could and probably should have won this match the easy way.
France got off to the perfect start, with Maxime Machenaud landing two penalties after infringements by Chris Henry and Dave Kearney, respectively, to give them a six-point lead.
The home side were transformed from the blunt instrument of the first four rounds, with Mathieu Bastareaud leading an assault that asked a succession of tough questions of Ireland's defence.
But Ireland, unlike in years past, were able to find the right responses.
After letting the French off the hook on a couple of occasions, the Irish scrum earned a penalty that gave Ireland another chance inside the French '22.
This time, there was no let-off, with Ireland's superior attacking organisation opening up just enough room for Sexton to make the decisive contribution, the outhalf brushing past the flat-footed Bastareaud and running over the line for the first try of the game.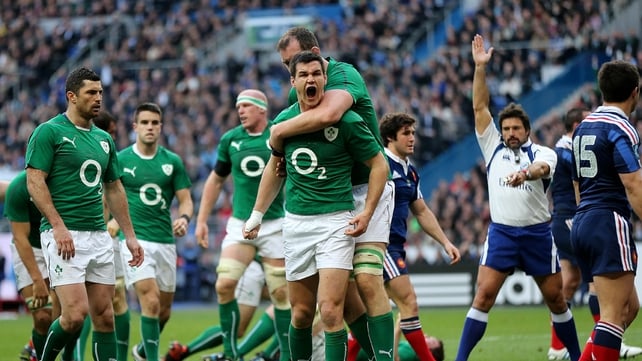 The Racing Metro outhalf was unable to convert his own score, but Ireland had at least signalled that they had come to play.
They got their second chance after Louis Picamoles dropped a routine catch to give Ireland a scrum inside the French half.
Brian O'Driscoll pierced the French defence and before the home team had a chance to re-organise, Conor Murray picked and ran before feeding Andrew Trimble, who raced in for Ireland's second try.
From an easier position, Sexton made no mistake with the conversion. Suddenly there was daylight.
But France had rediscovered their character as well as their organisation.
A holding-on call against Jamie Heaslip, won by Bastareaud, gave them an opportunity to respond and outhalf Remy Tales' brilliant kick put them within five metres of the Irish line from where a powerful lineout maul put them within a yard.
With the battering-ram approach just coming up short, Tales launched a cross-field kick under which Yohan Huget outjumped Dave Kearney and knocked the ball in-field to Brice Dulin, who was able to collect and score.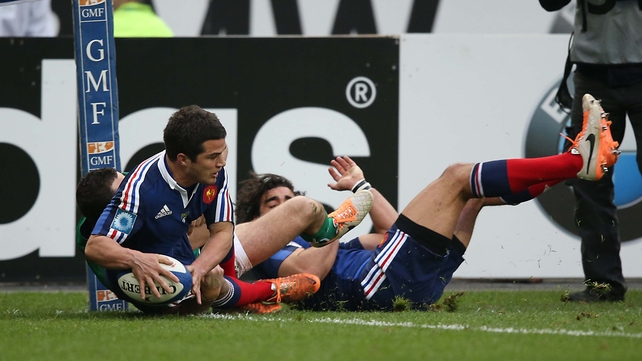 French flair, an absent factor for much of this championship, was alive and well and France were back in the lead when, from a difficult position on the touchline, Machenaud landed the conversion.
France had momentum in their favour and just missed out on extending their lead further when Tales missed a drop-goal attempt.
It had been a ferociously physical encounter and Nicolas Mas become the first casualty after his arm was caught in an awkward position.
The half had almost drawn to a close but Ireland had the chance to move ahead in the final play of the game after a French player was penalised for coming at the side of a ruck.
Again from a relatively easy spot, Sexton was unable to claim the points and having left five behind them, Ireland went in a point behind at the break.
France continued to threaten in the early in the second half and Ireland need smart interventions from Rob Kearney and Paul O'Connell to survive early attacks.
But after withstanding that early pressure, Ireland landed the perfect counter-punch when Dave Kearney grabbed a spilled ball. In a flash, Ireland had transferred the ball to the far wing to the Trimble.
He and O'Driscoll were not quite able to finish the job but Sexton was again in the right place and with a well-timed arrival got over untouched for his second try of the match.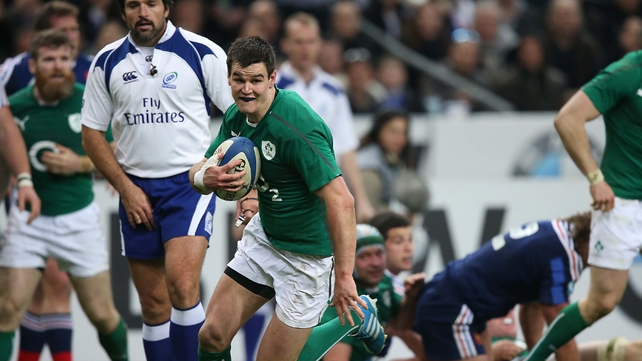 This time, he landed the conversion and Ireland led by six. That lead grew to nine when Yohann Maestri committed an infringement at a lineout on their own '22, Sexton again landing the kick.
Ireland had almost bounded clear but, almost inevitably, France responded with a gruelling assault on the Irish line. Ireland conceded a penalty when Cian Healy lunged into a ruck.
France spurned the penalty the chance, kicking for touch.
Bastareaud gave France forward momentum before Dimitri Szarzewsi was awarded a try at the base of the French post after scrambling over. A replay appeared to show he may have knocked the ball forward but referee Steve Walsh declined to ask the TMO for his opinion.
The lead was down to two. Ireland brought in their bench, Iain Henderson, Marty Moore and Eoin Reddan sent in for Ross, Murray and Peter O'Mahony, respectively. Gordon D'Arcy also made way for Fergus McFadden.
France made a potentially important change of their own, sending in Jean-Marc Doussain for Machenaud.
The sides continued to exchange heavy blows and, as they settled in for the endgame, key playmaker Sexton was forced off on a stretcher after a huge collision with Bastareaud, the latter catching Sexton with his forearm as he carried the ball. Joe Schmidt later confirmed Sexton had been concussed.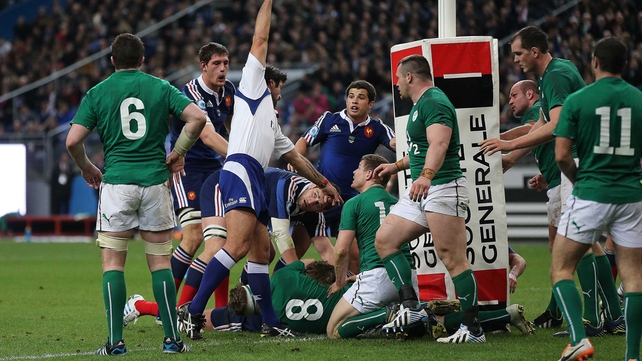 The outhalf was stretchered off and Ian Madigan, perhaps selected for a situation different to the one he was now coming in to manage, was introduced.
The Irish scrum then creaked under a huge drive, yielding a penalty for France.
From a central position, Doussain had a chance to reclaim the lead for his team but in his first real intervention in the match, the scrum-half did Ireland the favour of missing the kick.
Sean Cronin and Jack McGrath were brought in immediately after in a bid to shore up the Irish scrum as Ireland continued to survive on their wits, Rob Kearney managing things steadily from the back before Henderson won a key relieving penalty.
Then, in scenes that mirrored the desperate finale against New Zealand, Ireland ate a significant chunk of time and advanced as far as the French '22 before conceding a penalty.
Just like the All Blacks, France raced into the Irish '22 and as Ireland's previously near-impregnable defence suddenly went AWOL, the ball was shipped from touchline to touchline and back-rower Damien Chouly then crossed the line.
But there was a doubt about the final pass and despite some uncertainty about whether it was a 'clear and obvious' forward pass, the TMO rescued Ireland.
There was more drama to come and Ireland rode their luck even more in a desperate final few minutes, losing a key scrum and coming within a hair's breadth of conceding what would surely have been a decisive penalty.
But the ball cleared the set-piece just in time, and Chris Henry wrapped up a French carrier to bring an incredible contest to an end, secure the title for Ireland, and complete the perfect finale to O'Driscoll's marvellous career.