By Tadhg Peavoy
Ireland coach Joe Schmidt has said that picking an unchanged starting XV for Saturday's clash with England was not a straightforward decision.
Schmidt told the assembled press at Carton House: "It wasn't straightforward, there were some guys that we felt played pretty well at the weekend [for the province].
"It's just hard to gauge Pro12 to Test match, there is a quite a gap between the two.
"And the players that have played for us have played very well for the first two games. So, it's a combination of those two things."
The two changes in the matchday 23 are Leinster's Jordi Murphy coming in on the bench for Munster's Tommy O'Donnell, and Ulster's Iain Henderson replacing injured Ulster lock Dan Tuohy on the bench.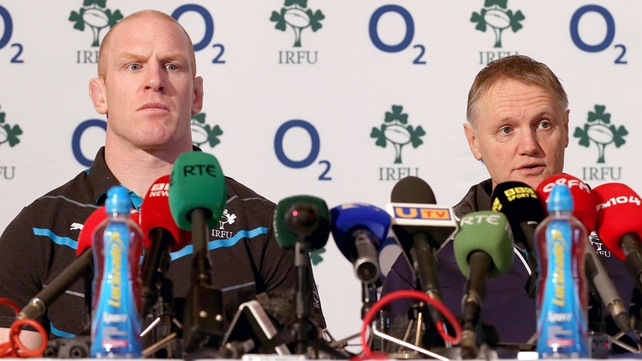 Speaking about Murphy's inclusion at the expense of O'Donnell, Schmidt said: "Again, right from the very start, we felt that those two might move in and out, particularly once Chris Henry had played very well, so that they could both get enough game time.
"And Tommy didn't have much game time at all coming into this Six Nations.
"So, we feel it'd good for Tommy to get a couple of games in this next two weeks.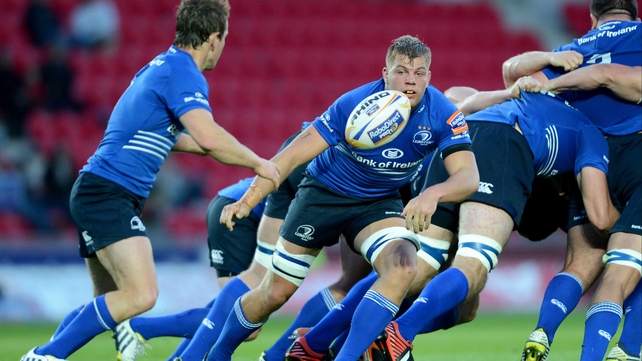 "Jordi had come back from injury a little bit sooner, had a bit of game time. So we felt there was an opportunity  for Jordi to get a little bit of time off the bench possibly."
Schmidt also emphasised that Brian O'Driscoll was fully fit and had overcome a bug he picked up on Tuesday.
"He [Brian O'Driscoll] probably could have trained on Tuesday. But when you get to that level, you have a get out of jail free card, so he had a training off. He was back training fully today and trained well," said Schmidt.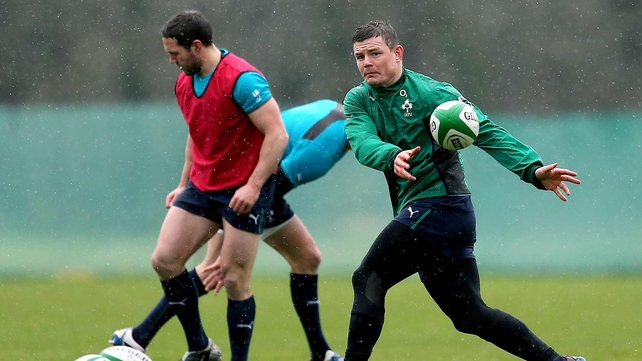 "He's bounced back fully, he did train on Monday and today, so he's trained twice this week."
"He's [Brian O'Driscoll] bounced back fully, he did train on Monday and today, so he's trained twice this week" - Joe Schmidt
The Ireland boss has also highlighted how dangerous England's kicking game is and how much damage it could potentially do to Ireland.
"England will kick very well, with Danny Care kicking from the base," said Schmidt.
"Owen Farrell has real variety with his kicking game. Then you have the long left foot of Mike Brown. I've no doubt at all they've got to be prepared to cover the ground and defend very well.
"Both with the ball in the air, the ball in behind, and with big runners running at them.
"Against Wales I thought we did that reasonably well."
The former Leinster head coach also spoke highly of how England have performed in their two opening championship matches against France and Scotland.
"I think I'm not the only one who believes France were a little bit lucky to get out to the lead that they had at 16-3 after 35 minutes [against England]," he said.
"But then England [were impressive] to get back in the game by half-time and work their way back into the lead.
"But then one defensive slip-up, with the French you can't give them that chance, with guys coming off the bench like Gael Fickou.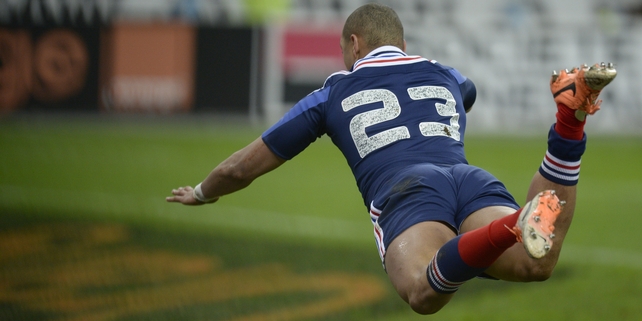 "They probably would have been frustrated at times last week against Scotland, and they were probably more than 20 points better than Scotland last week. They looked very dominant. They've got the physical capacity to dominate teams."
O'Connell: England will be a step up
Ireland captain Paul O'Connell, meanwhile, was keen to keep expectations in check ahead of the tie at Twickenham and emphasise that a huge challenge lies ahead in south-west London on Saturday evening.
"I think the confidence in the side is realistic. I think the Wales side we beat last week was a little bit off their best," said O'Connell.
"I think the lads realise how big a step up the game against England is going to be, and to be playing them in Twickenham as well. I think there's kind of a realistic awareness of where we need to be at the weekend.
"I think the guys know how good we can be, but there's a lot of things we need to get right to get there. But we're certainly heading in the right direction.
"Players are buying into everything Joe is doing and really enjoying it. There's a good buzz around the squad.
"Guys know they need to train well, prepare well, play well, and play well back at their clubs to play for Ireland. When they come off the bench they need to play well. But confidence is not sky high, I think it's realistic.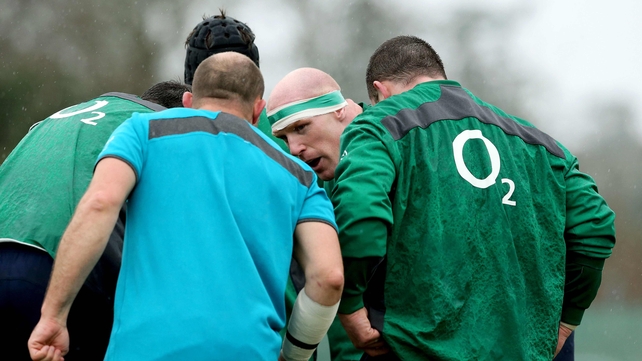 "It's going to be a big step up this weekend. It's our first away game since Joe has taken over. We know how well we're going to have to play to win the game.
"I think the last three times we've lost to them. So certainly from my point of view, I think the way we've played in recent times has been good, but I think everyone is aware this is a big step up this weekend.
"Mentally it's a big challenge as well, as England have spoken a lot about Twickenham being a fortress for them."
O'Connell also spoke in glowing terms about Jordi Murphy, who will make his Ireland debut if he is called upon from the bench.
"He's an incredibly talented player. Very powerful, very fast," said O'Connell.
"He's been playing really well for Leinster, and it's not an easy backrow to break into. There's a lot experience there. But he's been nudging his way in now and that's a serious achievement in itself.
"To have a guy like that ready to come off the bench is great. It's something Joe is really into, having guys making an impact off the bench, and he's a great guy to have there."
Twitter: @TPeavoy