By Brendan Cole at Aviva Stadium
Wales had no answer for a rampant Ireland on a day when Irish victories in individual battles across the pitch and a superior game plan saw the visitors thoroughly deconstructed as the home side claimed a 26-3 win.
Four penalties by Jonathan Sexton and tries scored off the back of the superb Irish maul by Chris Henry and Paddy Jackson were a more than fair reflection of Ireland's dominance.
The contest saw Wales outplayed at the ruck, out-muscled at the coalface and out-thought across the park on a day when the Joe Schmidt era officially kicked into overdrive.
From the opening exchanges, Ireland established edges in the key contests, handling Wales' flagship ball-carriers and getting on top in the ruck contest.
The first Welsh attack saw Ireland easily handle Jamie Roberts, Richard Hibbard and George North before a superb hit by Paul O'Connell gave Ireland blindside Peter O'Mahony the chance to force a holding on penalty call from Wayne Barnes. 
Ireland were winning the collisions and protecting their own ball well, and off a solid platform, two Sexton penalties gave them the early lead.
Only once, when a Brian O'Driscoll pass was intercepted on the halfway line, did the visitors generate any real momentum in the first half and even that was quickly reversed when Ireland forced another Welsh ruck infringement.
O'Driscoll's health was the only real point of concern. The centre stayed down after Scott Williams' interception-forcing tackle. But, along with minor issues around Sexton's kicking from the hand and the scrum, the worries had faded long before the end of the first half.
In the end, Williams was the man forced off after that midfield clash; O'Driscoll would go on to finish the 80 minutes.
Other small victories across the park began to stack up in Ireland's favour. Rory Best's steal on opposite number Richard Hibbard will make for particularly sweet watching in the video review sessions.
The Welsh hooker smashed his opposite number backwards on the Irish 22 and seemed to have won the mini-contest, only for Best to emerge from the ruck with the ball seconds later.
Murray's hit on an under pressure Mike Phillips added to the sense of an Irish side winning key mini-battles across the park.
Ireland began to create try-scoring chances. The first, after a clever piece of attacking play by Rob Kearney released Trimble and the Ulster winger dodged his way up to within five metres of the Welsh line before the attack was snuffed out by a rare Welsh ruck turnover.
But the inevitable try did come after a highlight-reel contest between Kearney and Leigh Halfpenny saw both men simultaneously take a high catch, with Kearney winning the battle on the ground by wrestling ball out on the Irish side. That allowed Sexton to kick into Wales' unprotected backfield.
Forced to turn and chase the ball, Rhys Priestland could do no more than run into touch near his own line and before Wales knew it, Ireland had mauled over the tryline, Chris Henry coming up with the ball. From a difficult angle, Sexton landed the extras to put Ireland 13-0 up.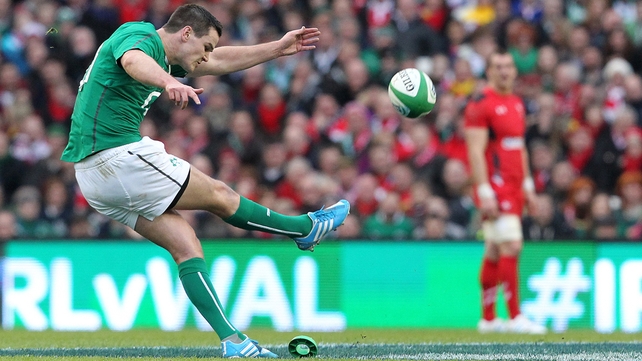 Wales were reeling and a final error, crossing between a couple of forwards, gave Sexton a late opportunity to grow the gap on the scoreboard even further. From inside his own half he came up just short.
Unlike last year, there was to be no second-half Welsh revival.
The early exchanges again saw Hibbard lose out to Best in their head-to-head, coughing up another turnover.
O'Mahony and O'Driscoll found touch with the boot inside the Welsh 22 twice in quick succession, with O'Driscoll's resulting in an Ireland throw-in after it flicked a Welsh boot.
Ireland won their ninth penalty of the day after Wales hauled the maul down and Sexton duly knocked it over.
Wales gained a shade of traction in the aftermath of that score, shifting their strategy and creating some dangerous situations out wide.
A missed tackle on Roberts by O'Driscoll saw the visitors get to within five yards of the tryline but Ireland held firm, O'Mahony isolating Wales captain Sam Warburton after a rash carry into contact and forcing the holding on call.
Another punishing maul sapped the Welsh pack's will and legs even further soon after, and looked likely to result in points only for Murray's behind the back flick to go forward and allow Wales to regroup.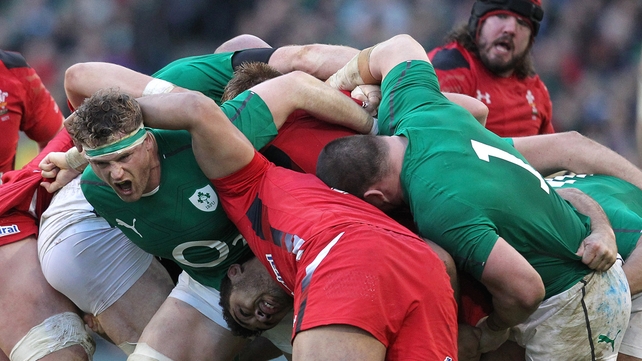 But Wales' next attack failed as well, and Warburton was again the culprit knocking a bouncing ball forward as his side looked to build pressure.
The subsequent scrum saw Wales finally get on the scoreboard through Halfpenny's boot after Barnes favoured their front row just as persistent rain began to fall at Aviva Stadium.
Mike Ross and O'Connell were withdrawn with 25 minutes left, but it made little difference and Ireland soon had their three-score lead back after Welsh loosehead Paul James was penalised for a foolish ruck infringement. Sexton was again faultless with the boot.
It was becoming a rout and Wales needed a reprieve after the linesman failed to spot a touch off Leigh Halfpenny and awarded a lineout to Wales on their own line.
Wales did manage to cross the tryline, substitute Rhodri Jones grounding the ball after a burrowing carry, but the touchdown was judged illegal by Barnes and that snuffed out Wales' last realistic attempt at getting back into the game.
That rally quashed, Ireland finished with a flourish.
The maul again provided the key, rampaging toward the tryline with virtually every member of the Ireland team on board before Murray and Jackson detached themselves. Murray then smartly released the substitute out-half to give Ireland the kind of scoreline their supremacy deserved.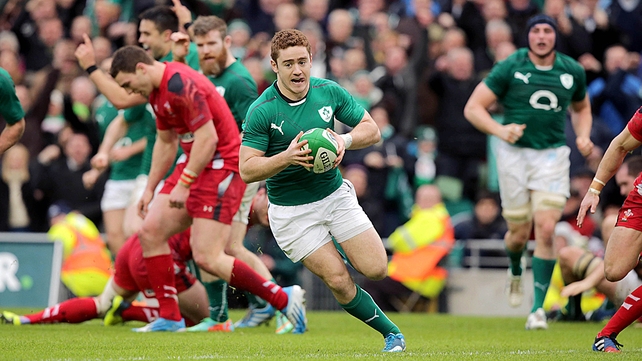 Wales' discipline was shot at that point, and an elbow delivered to Jackson's temple as he grounded the ball sparked a minor melee and added a sour note to the closing minutes.
Ireland almost had a third try after a poorly organised foray into the Irish 22 saw Ireland claim yet another turnover but Halfpenny just managed to snuff out the chance, preventing what would have been a length of the field score.
It wasn't to be, but Ireland could still be extremely happy with a day's work that saw them rack up a big points total without doing anything out of the ordinary.
Substitute Dan Tuohy's arm injury, which saw him forced off after just ten minutes was the only negative.
For Wales, Warren Gatland's six-year contract suddenly looks inordinately long and a possible misjudgement.
Ineffective performances from  key men like Warburton and Phillips will also give rise to major concern. They do not look a side capable of recovering to challenge for the title this time.
Ireland, even with trips to London and Paris, can afford to dream of bigger things.