Annalise Murphy's bid to reach the 2020 Olympics in the 49erFX class has come to an end after deciding to abandon her campaign alongside Katie Tingle.
Having raced most of her life in the Laser Radial class, the two-time Olympian decided to team up with Tingle for Tokyo, but after a "hugely challenging" 14 months she has decided their Olympic medal goal is no longer a realistic one.
The pair first raced together in April of this year at the World Cup in Genoa, and a month later they retired from two races at the Europeans Championships in Weymouth.
A trip to Tokyo for a pre-Olympics event, where they finished down the field, appears to have been the final straw.
The World Cup in Japan was a bit of a wakeup call for me
There appeared to be some progress in June at Kiel Week, but by August and a trip to Tokyo for the pre-Olympics and more mid-fleet results it appears the writing was on the wall.
"I guess the World Cup in Japan was a bit of a wake-up call for me. I was unable to see a medal in less than 12 months and that was always the goal," she said.
"Katie has been incredibly understanding in what is clearly a difficult situation. I've learned so much from her over the last 14 months and am glad our friendship has grown from this shared experience."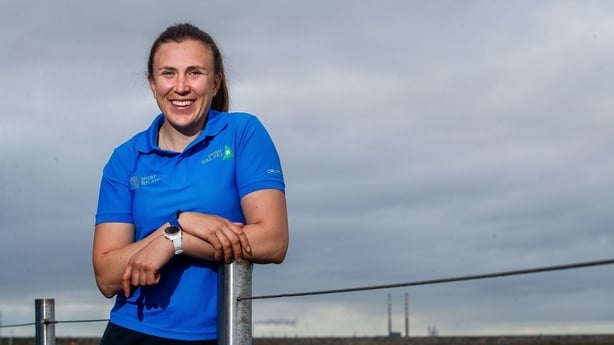 It isn't however the end of the Olympic dream as it is expected that Murphy will return to the Laser Radial dinghy, where she finished fourth in London (2012) and claimed silver in Rio four years later.
Following the heart-breaking fourth-place finish in London 2012 after a blistering start to the competition, she claimed silver four years later with a superb display in Brazil.
In March, Murphy outlined the reasons to RTÉ Sport why she was leaving the Laser class, while admitting it was a steep learning curve sharing a boat with another sailor.
"The easy thing for me to do would have been to keep on sailing the Laser," she said. "I don't know if I would have been enjoying it as much. I probably would have got to Tokyo and maybe have a good chance of winning a medal.
Irish Sailing performance director James O'Callaghan says the overall experience of Murphy and Tingle remains a positive one.
"Katie took the opportunity to explore her potential to follow her dream, she made the most of the chance and I hope can look back fondly on the experience," he said.
I've had a roller coaster fourteen months having jumped straight in at the deep end of high-performance sport
Tingle for her part said while the outcome was not what she had hoped for, but paid tribute to her team-mates and support staff.
"Of course I'm disappointed," she admitted. "I've had a rollercoaster 14 months having jumped straight in at the deep end of high-performance sport.
"It's been incredible seeing how hard everyone works for their goal and the support that goes around it. I'll miss my team-mates and all the support staff."