Games can swing on big moments, and in the 58th minute of yesterday's Grand Slam decider, Ryan Baird came up with one when it mattered.
Ireland had been going through the motions in the third quarter of the game, seeing their lead trimmed to a point by 14-man England, and defending a lineout 10 metres inside their own half.
Just over three minutes later, Robbie Henshaw burst through a gap to cross for the second try, and after Johnny Sexton added the conversion, Ireland had moved into a two-score lead from which they comfortably saw out the game.
The try was three minutes in the making, coming off the back of a scrum five metres out, which came off the back of a lineout in the English half, which came off the back of a big turnover from Baird.
The Leinster lock pounced on England's Ellis Genge after he'd been tackled by James Ryan, the jackal penalty being the first sequence which ultimately led to the crucial second try.
And looking back on that moment shortly after the game, Baird said it was inspired by the man who started this campaign in the 4 shirt.
"I saw it, and thought, 'this is what Tadhg Beirne would do', so I just did what he'd do," he said.
"I'm not taking credit there, I just copied him!
"First half I could have done better, but the second half I really felt I dug in. That turnover was an accumulation of hard work I felt, and to put it in position for the boys to maul it."
Having started the championship outside the matchday squad, injuries to Beirne and then Iain Henderson have seen the 23-year-old promoted first to the bench, and this week to the starting line-up, winning his 11th cap in the Grand Slam decider.
Yesterday's finale was just his third start of his international career, and with his two previous coming against USA and Italy, this was by some distance the biggest Test he'd been involved in.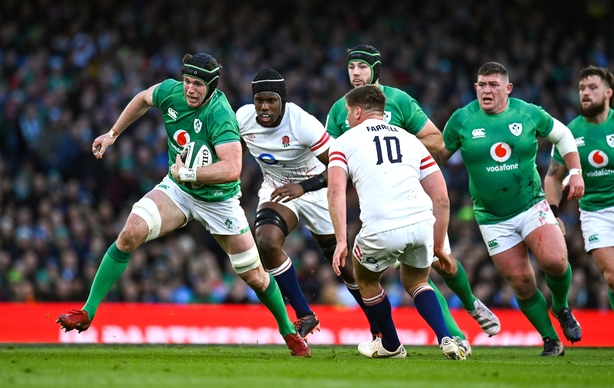 "I was quite nervous, but everyone was nervous, but we focus so much on staying in the present and focusing on the next moment and that's all I tried to do. There were images popping in of lifting the trophy, but I just had to keep coming back to the present.
"It was talked about all week, how we deal with the big moments, but I never played in one of these big games, so for me to come out and experience and try deliver my best for the team was a real special challenge.
"Our first half performance, we weren't happy when we came in but second half we put our foot down and we executed on a couple of plays.
"It's just surreal, all the work you put in and to come and actually do it... It will take a while to sink in, I'm trying to soak the atmosphere now, I'm going to go see my family, my friends, I'm going to have a good night."
A Grand Slam winner with the Ireland U20s in 2019, he's now added the senior version to his collection, an achievement he says is still yet to fully register.
"You come off the pitch and just think of the work you've done over the last two or three years, and how it accumulates to a performance
"I only met someone in The Shelbourne the other day who I went to school with in High School. I don't remember, but he said I was always saying I would be here, and to think one day you could be here with this bunch of lads, it's very special, you know?
"We can use this, we can definitely use this but now it's just about enjoying the moment. I've never won a Grand Slam before, so I'm not going to think about anything further than the next 10 minutes," he added.