"Never in doubt", Andy Farrell exhaled, with nothing close to a straight face.
Any year where you pick up wins against the southern hemisphere's big three, you can mark it off as a good one. In Ireland's case, it's only been done once before.
But last night's 13-10 win against Australia showed there's a lot of improvements still to be made. At least we can sit through Christmas without mentioning those three famous words of Irish rugby; peaked too soon.
The game in general was a stop-start mess, with penalties outnumbering points 24-23.
And Farrell says on a night like that, it's all about securing the result.
"We can pull it apart and we will do, and we will learn from all sorts of aspects of the game, but the bigger picture stuff for me is that Australia made it an absolute dogfight and fair play to them," the Ireland head coach said.
"I thought the way they went about their game was abrasive to say the least, and certainly at the breakdown. They had the courage to shift the ball, like we knew they would, and they were dangerous with their outside backs.
"But for us to back up a few ill-disciplined bits and a few technical and tactical errors and still find a way [to win] is a hallmark of a good side. That's what good sides do, they always find a way in the heat of the battle, and we are delighted in that regard with the win."
Ireland's preparations were hit in the warm-up when captain Johnny Sexton strained his calf, putting Jack Crowley in for the start on just his second Ireland cap, while Ross Byrne was promoted to the bench for his first Test since March 2021.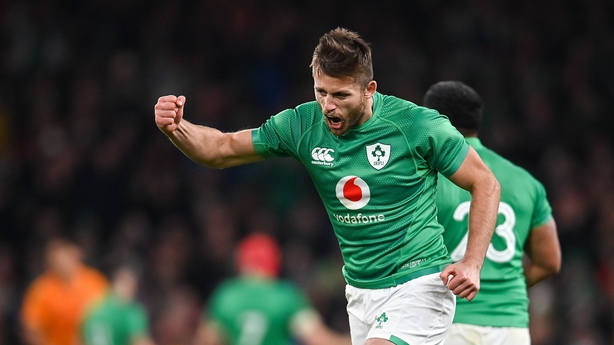 The Leinster out-half's international career has been a topsy-turvy one by his own account, but he was nerveless in landing the match-winning penalty four minutes from time.
"It is awesome for him, I was absolutely delighted for him," Farrell said of Byrne.
"Ross's temperament is made for him, with that type of situation where it is deadlocked, and it was a tough enough kick when the penalty came but there was no doubt in Ross' mind that he was ever going to do anything but go for the three points so fair play to him.
"He has waited for that chance and he delivered it and it got us over the line."
For much of this Autumn Nations Series, Farrell has spoken about the need to stress-test his squad.
The Ireland 'A' outing against the All Blacks XV on the eve of the Springboks test was designed to stretch the coaches beyond the norm, to see how they would respond under pressure.
Sexton's injury did likewise for the squad, and while Farrell said it was naturally a blow to lose their captain, he added that it was the kind of moment that could benefit Ireland in the long run.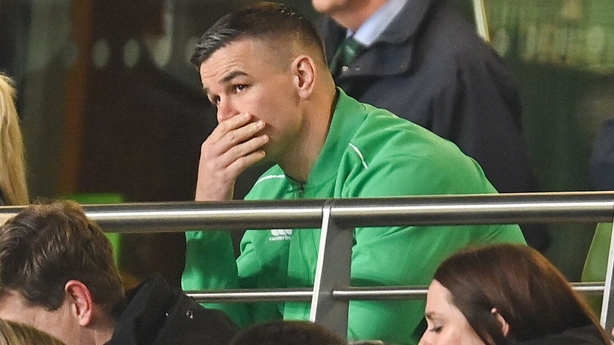 "It's not ideal, but it is really, for us. To find out in a window like that is fantastic for us as a group. I think the autumn has been great for us. I don't think we have played our best rugby.
"To play against South Africa, that was a Test everyone wanted to see us manage and we did that pretty well.
"We had a bit more opportunity against Fiji and learnt some lessons from that. We have not played Australia for five years, we knew the Australian mentality so we didn't take any notice about their form. The mentality when they have their backs against the wall is that they are always going to come out and produce a performance like that.
"I said to the boys you have to get used to it and we have to raise our standards because the reality is that people coming to the Aviva now you expect them to be their very best and we have to be better in that regard."
And although Ireland capped off the year as the world's number one side, the head coach says the recent performances have shown there is a lot more still to come.
"[We have] a lot to do, which is great, and that's the reality. We've certain aspects of our game as always that we'd love to get better at.
"We can analyse that game until the cows come home and get better, but we've got to keep pushing forward with all aspects of our game, we've to be more innovative as coaching staff.
"We expect to come in at the Six Nations and improve our game and push forward."