IRFU performance director David Nucifora has confirmed that eight women's players have turned down professional contracts from the union.
The IRFU are in the process of negotiating contracts with their women's XV internationals, which is expected to bring the total of contracted players across the women's XV and Sevens programmes up to 43.
Reports this week suggested there had been a slow uptake of contracts among the Ireland XV's players, with the salary scale of €15,000-30,000 plus benefits being an obstacle for those who would need to base themselves in Dublin.
Nucifora moved to clarify those reports this morning, admitting that eight players have so far turned down deals.
"We have offered 37 contracts to date," he said in a media briefing at the Aviva Stadium.
"We have had an uptake of 29 of those. We have had eight players turn down contacts, four of those are UK-based players and four based here. The four UK-based players are contracted to their [respective clubs] for the amounts of money I mentioned earlier [between £3,000-£10,000 per annum]."
The Australian also said that in some cases he was not surprised to see players opt out of the professional deals, with some already bound to contracts outside of Ireland, while others weren't in a position to compromise their careers outside of the game.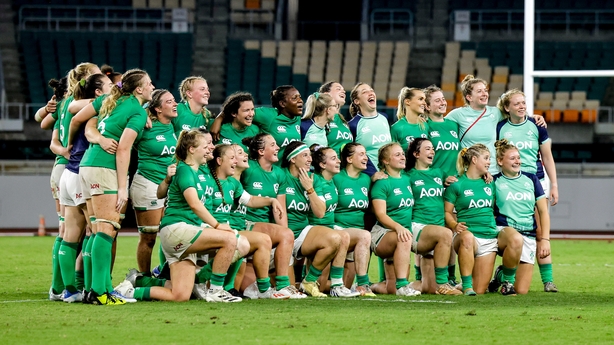 "One, they have a contractual obligation, but also they also made a decision that they would stay and play their rugby there this year.
"The other four players are players that are not surprising to us; just the age bracket of players we have, we have produced a model that has come on in a very short period of time. Those other women have got jobs, they are committed to their careers which is understandable.
"We fully understand that you have financial obligations that don't permit you to be able take up those contracts. We could have just not offered contracts to the ones that we thought wouldn't take it up, but we have given people a choice, an option."
However, he maintains those who have chosen not to take IRFU contracts will still be catered for.
"When you look at the facts behind it is no surprise to us that those earning significant amounts or have careers have a choice not to train full-time in a professional scenario but what they do have is a model that will cater for them to keep playing the game at the highest level.
"They will be able to play for the clubs either in England or in Ireland and they will be able to train in a programme that suits their lifestyle at that point in time.
"That was always our intention to come up with a model that works like that."
Nucifora also revealed that John McKee [below] has been hired on a full-time basis as senior coach with the women's team, working alongside head coach Greg McWilliams.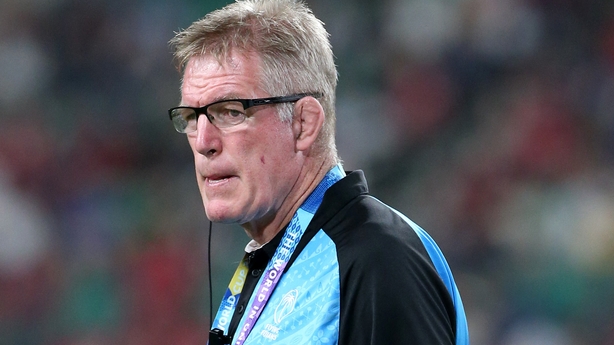 The New Zealander, who has coached Fiji and Connacht during a long career, was involved on a short-term basis with Ireland on their tour of Japan in August, and will now join the coaching group fully, operating out of the IRFU high-performance centre in Dublin.
He also confirmed plans are afoot for a future "Celtic Cup" between Irish, Welsh and Scottish teams, which will likely begin in 2023.
The inaugural competition is expected to be a three-team competition with one side from each country, before expanding that to a six-team tournament [two from each country] in 2024, with the ultimate goal of having four Irish teams involved within five years.
The Celtic Cup, in addition to next year's new WXV international tournament, will see the bulk of Ireland's international players unavailable for their clubs in the Women's All-Ireland League.
"We also have to keep in mind that World Rugby dictate our competition structure. When the Women's XVs competition starts next year that will fall in the window when the Women's AIL runs. You are going to have the best players not available during that period," he added.
"So therefore, the season looking forward, internationally, you will have Women's XV sitting there in September and October, you'll have a Celtic Cup, growing in size, whether there is an Interprovincial competition somewhere, we have to make sure that game gets taken out of participation and into performance. Then it will start to serve a purpose to raise the standard.
"The Celtic Cup will lead into a Women's Six Nations. The AIL's role will be to house those developing players coming through and give them competition. I can't see the Women's AIL being what the English Premiership is, that's not our model, that is not going to work here. We have to do it differently. There is no quick fix other than giving it time, effort and structure that will build it."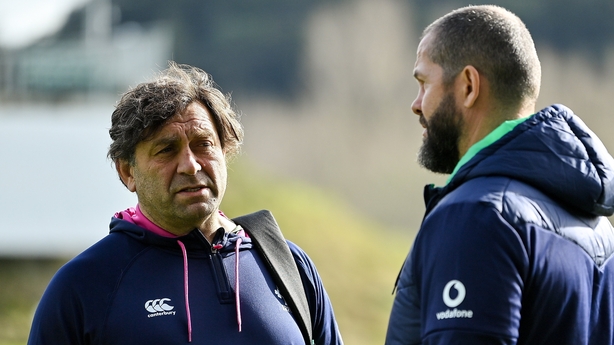 Regarding his own future, the 60-year-old says he is in negotiations about extending his current contract, which expires after the men's Rugby World Cup in 2023.
However he says it's likely he and the IRFU will begin succession-planning in 2024, by which point he will have been in Ireland for a decade.
"My contract is until the end of the World Cup, and we're talking about extending that for a little bit further. That would probably involve looking at some type of transition in that period.
"I think at some point, by the middle of 2024 I'll have been here 10 years, and I think that's a pretty good stretch.
"I think what we start to do is look at the future and I'm not saying that I'll definitely depart then, but we'll start thinking about who takes this role after me. You've got to keep evolving."
Listen to the RTÉ Rugby podcast on Apple Podcasts, Soundcloud, Spotify or wherever you get your podcasts.
Watch Munster v Ulster and Ospreys v Connacht in the BKT United Rugby Championship on Saturday 29 October from 4.45pm on RTÉ2 and RTÉ Player.
Listen to live commentary of Munster v Ulster on Saturday Sport on RTÉ Radio 1, or follow our live blog on RTE.ie