Ireland hooker Neve Jones says she has spoken to the IRFU about a proposed playing contract with Irish rugby, but is staying silent on whether or not she is signing on the dotted line.
The union are in the process of recruiting Ireland's 15-a-side players to professional deals, although a recent report in the Irish Independent suggested that there has been a slow uptake on those contracts, with some players offered a deal amounting to just €15,000 plus incentives.
Jones, who has been playing for Gloucester-Hartpury in England's Premier 15s, has emerged as one of Ireland's key players in the last 12 months, cementing her place as first choice hooker under head coach Greg McWilliams, before being named women's XV Player of the Year at the Guinness Rugby Writers of Ireland awards.
And while she says she has been offered a contract by the IRFU, she says she will hold off on revealing the outcome while negotiations with other players are still ongoing.
"We've had conversations, between myself and Gillian [McDarby, Head of Women's Performance and Pathways], it's on an individual basis and what works for us as players," Jones said.
It's been reported that while the ultimate goal is for multiple high-performance centres for the women's team around the country, the initial crop of contracted players would train out of the Irish Rugby high-performance facility in Abbotstown, which would naturally require players to relocate within commuting distance of Dublin.
"It's one of those things, it's not as easy as a yes/no," Jones added.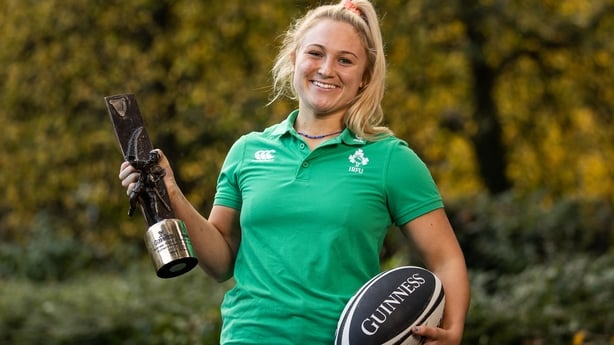 "There's a lot of life involved, my life is rugby and I revolve everything around it, but I need to take the emotional side away from it and think what's best for me; not only as a player, but as a person as well.
"Tough decisions were made, I think the decision I made is the right one for me at this time and hopefully down the line things will change.
"I'm not sure I fully want to disclose my full answer, it was a really difficult decision I had to make and it wasn't something that was easy to decide and it took me a few days to decide.
"I'll leave it there and not say whether I have or haven't [signed], just that it's a very difficult decision and one that a number of players who are in the same boat as me have pondered over for a while."
And while this week's news would suggest there are some teething problems with the transition to professionalism in the women's game, she believes it will be worth it in the long term.
"I think we're definitely making progressions in the right direction.
"We're definitely making progress, it's definitely going to be a fantastic thing for the women's game in Ireland and it's what needs to happen for the next building blocks for our game.
"There's so many positives to take out of it, I can't wait to see where it takes us."
The 23-year-old's form is even more impressive considering the spotlight on her position.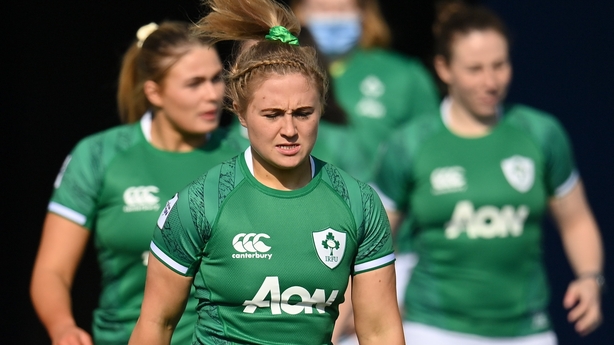 Having earned her first five caps as a replacement, Jones (above) was promoted to a starting role after Cliodhna Moloney was controversially dropped for the 2022 Six Nations championship, just a few months after she publicly took the IRFU to task in the fallout from their failed World Cup qualifying campaign.
Jones started all five of Ireland's Six Nations games and was named to the team of the championship, in large part down to her defensive efforts, where she finished third in the tackle count, and led the tournament for dominant tackles.
"During the game you don't really think about it, but you watch it back and say 'was that me?'," she says, when asked about her highlight reel tackles.
"It's your job, you're getting on with it - you make a tackle, what's my next thing? Do I counter-ruck, do I bounce to my feet. What's the next job?
"You watch the game back and people ask 'do you remember making such and such a hit?' Kind of, but it's only when you watch it back.
"It's good for young players to see it's not just the attacking side of the game, but it's also defence which is my favourite part of the game. Credit to my dad for having done all that tackle practice with me throughout mini rugby.
"I was and probably still am one of the smallest players on the pitch, you have to stand your ground."
Unfortunately, Jones and Ireland have been spectators for the World Cup currently taking place in New Zealand, although she says she's been able to remove that emotion from the games, as she revels in the performances of several of her Gloucester-Hartpury teammates.
The early signs have been progressive for Ireland since the change of coaching after the World Cup qualification disaster, with an up-and-down Six Nations campaign ending on a high with a win against Scotland, while they shared a Test series 1-1 with Japan in the summer, which was a maiden overseas tour for an Irish women's side.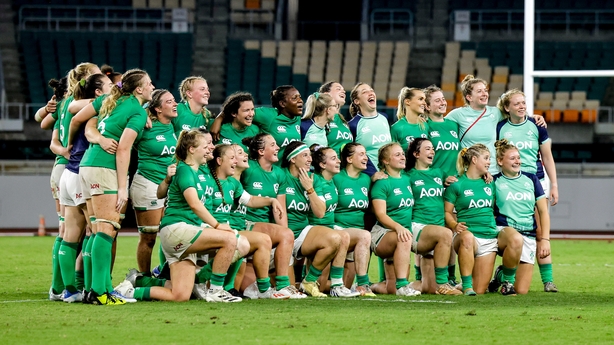 And Jones says that tour of Japan will be hugely beneficial as the youthful squad gels together.
"You can't put words on it, we were able to build on the Six Nations; it was a constant building blocks for us as a squad and as a nation.
"It was great to see, you could see when we took the field - we played with heart, we had each others' back from the first to the last whistle.
"For me, and a lot of the girls, we want to conquer the world.
"I don't know if that sounds dramatic, but we want to become a world class team; a team that everyone fears playing and that sort of thing.
"Having come off the back of a really successful year for us, we're looking to build on that, keep going and progress."
Listen to the RTÉ Rugby podcast on Apple Podcasts, Soundcloud, Spotify or wherever you get your podcasts.
Watch Munster v Ulster and Ospreys v Connacht in the BKT United Rugby Championship on Saturday 29 October from 4.45pm on RTÉ2 and RTÉ Player.
Listen to live commentary of Munster v Ulster on Saturday Sport on RTÉ Radio 1, or follow our live blog on RTE.ie