Twice capped former England back Tom May says that something has to be done to prevent more clubs going to the wall in England.
Wasps went into administration yesterday, just 12 days after fellow Gallagher Premiership side Worcester Warriors were wound up, meaning the top club rugby competition there has just 11 teams left.
Wasps have won six Premierships titles, as well as two Champions Cups, but they owed the UK's revenue more than €2.3million in unpaid taxes.
Speaking on RTÉ's Game On, May suggested that it might not be the end of the turmoil either.
"It's a big blow for everyone involved in the game here in England," he said.
"It's been a tough three weeks. It's been coming for a while and we've known it's been coming. If rumours are to be believed, there are one or two more creaking.
"It's a difficult time and clearly yesterday was a very dark day for rugby. From a Wasps perspective, more than 160 people lost their jobs yesterday.
"It's a tough time and something needs to be done quickly to sort this out."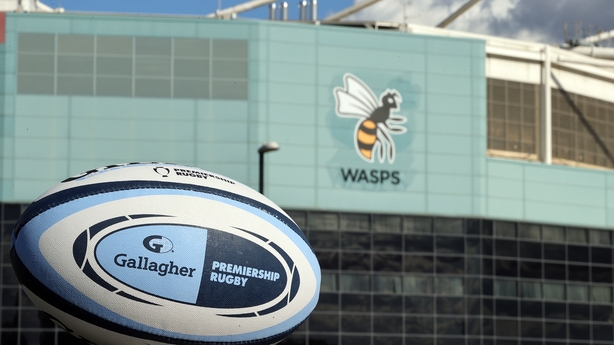 Speaking today, Rugby Football Union chairman Tom Ilube said Wasps will be given every opportunity to secure their long-term survival.
Administrators FRP are seeking new buyers but the it is understood they encountered a significant setback on Monday night when Terminum Capital withdrew its interest.
They were seen as serious and credible buyers and were introduced to the RFU and Premiership Rugby last week, only to be put off when told Wasps' P share would not be included in the purchase.
P shares were allocated to 13 clubs in 2005, giving them access to central funding and voting rights on issues relating to the league, and are viewed as a vital part of any deal by investors.
A successful takeover would see Wasps' suspension from the Premiership lifted, enabling them to play again this season, but time is not on their side amid concerns that too many cancelled fixtures would distort the integrity of the league.
In a statement, the RFU revealed that it is speaking daily with FRP and Premiership Rugby to "understand whether there is any possibility of a buyer taking over the club".
Ilube said: "The news Wasps are now in administration is desperately sad. We believe it is right to keep working with all parties to give the club the best chance of long-term survival if at all possible. We all feel for the fans, players, volunteers and everyone with a connection to the club.
"The importance of financially robust and transparent professional leagues has never been more apparent and we will continue our work with Premiership Rugby to improve the structure, governance and business model of rugby union in England."
Wasps moved from London to Coventry in late 2014, and May believes that this decision ultimately proved to be fatal to the financial viability of the outfit.
"Clubs like that that have big global brands, you would just assume that it would never happen to them," he continued.
"There was a bond that was raised which was funded and now that's due back. It was done at the same time that they moved to Coventry; they moved away from their historic home. Arguably that move to Coventry hasn't worked.
"If you combine that with some of the problems financially that they've had in the past, moving to the Ricoh Stadium was a big gamble - one that hasn't paid off."
The pandemic had a big impact on the coffers of professional rugby in Ireland, with the IRFU announcing in April of last year that up to 20 jobs would be lost in attempt to balance the books.
"Covid has put an incredible amount of pressure on these clubs," May said of the situation in the UK.
"So many clubs played in empty stadiums for so long. They had a huge amount of government funding, which has put them under pressure financially since all of that is starting to be due back in.
"Rugby is at a point, as so many other businesses are in this current economic climate, where they have to try and stabilise themselves. It's potentially an opportunity for club owners, shareholders and the like to say, 'enough is enough. I've had enough of sport and I need to move out of this.'
"If you can't invest anymore then perhaps now is the time is for those people involved to step away."
Watch Leinster v Munster in the United Rugby Championship on Saturday from 4.30pm on RTÉ2 and RTÉ Player, listen to live commentary on RTÉ Radio 1's Saturday Sport and follow a live blog on RTÉ.ie/sport and RTÉ News app