It's just over three weeks ago since Andrew Smith was picking up a bronze medal in Cape Town, the Leinster academy winger having been part of the Ireland side who surprised many with a third place finish at the World Cup Sevens.
After spending a well-earned week off on holidays in Botswana, the 22-year-old had only been back in Ireland for around half a day, by his calculation, before he packed another gearbag to join the Emerging Ireland camp in Abbotstown, ahead of a swift journey back to South Africa.
From the Western Cape to the Highveld, Smith is now back on XVs duty with Simon Easterby's Irish trialists, selected on the wing for this evening's second game of their South African tour, as they face the Currie Cup-winning Pumas in Bloemfontein (kick-off 4pm Irish time).
The Dublin native has been back and forth between the two codes in the last 18 months, making a couple of Leinster appearances during the 2020/21 season, playing on the sevens circuit since 2021, while also helping Clontarf to a title win in the Energia All-Ireland League back in May of this year.
But having collected a bronze medal at the World Cup last month, he looks set to focus more on the XV-a-side game in the coming months.
"I think the option is still open [to play sevens]," he said.
"We'll see how this season goes for me but the option is still open. I'm just looking to get as much game time as possible whether that's in 15s or sevens so whatever way I can make that work, I'm going to try go hard at it.
"[The World Cup] was a really exciting time. Obviously, it was a massive ambition of ours to get a medal. It was a massive squad effort and one we're really proud of. Personally, it's a nice reward coming into a camp like this and showing our efforts have paid off. We build on it now."
With the likes of Hugo Keenan, Will Connors and Jimmy O'Brien all progressing through the sevens programme into key roles at Leinster, the pathway from one code to another is visible for Smith and any of the sevens stars.
And he says the sting in the sevens programme has added new layers to his game.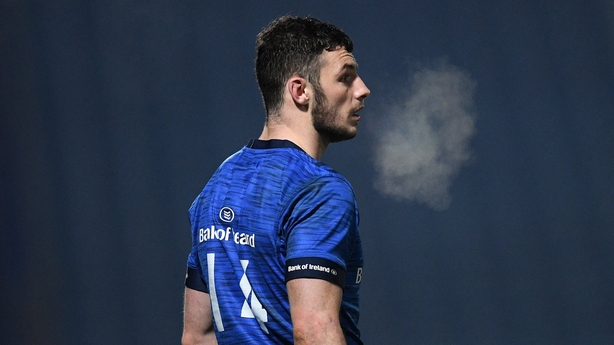 "My fitness has definitely been a massive factor. Passing and small one-on-one details like the breakdown, your tackle efficiency. Hopefully, I can show what I've learned and build on in the game on Wednesday.
"The tour probably couldn't have come at a better time for me because transitioning back you don't know when your next game with Leinster could be.
"So for me personally, the timing was great and hopefully I can put in a couple of good performances here and then put my hand up for selection when I get back to Leinster.
"The plan for me this season is definitely to get a couple of more caps and maybe even solidify a position regularly. That's the plan anyway."
Making the transition between the two codes at short-notice is the big challenge, however, with Smith admitting there's been a lot of extra homework for himself and his fellow sevens man Chay Mullins to take on board.
"It's a very different sport when you think about it. There's a lot more to process and a lot more plays you have to think about on the go.
"So, that was probably the most difficult thing but I think even after a couple of training sessions, you kind of just naturally fit back in.
"And like I said earlier on, the lads being so supportive has been really good and allowed me to fit in nicely again and feel confident playing.
"I definitely still have a lot to improve and add to my game but that will come in time.
"The transition from sevens into XVs, the lads in my position have been a great help, the wingers and back three players have got behind myself and Chay [Mullins]. That's given us confidence in a new environment, it's been really interesting an enjoyable."