Ireland captain Nichola Fryday said Saturday's defeat to Japan failed to take the gloss off one of her best experiences as a player.
Ireland's tour ended on a disappointing note in Tokyo as a resurgent Japan claimed a five-try 29-10 victory to draw the series.
Having torn the hosts apart in the first Test, Ireland were outplayed for most of the second, but Fryday said the positives outweigh the negatives as they prepare to return home.
"Genuinely it's been one of the most enjoyable experiences I've ever had," said Fryday.
"With this group, and this management team, if we look back at the start of this tour, we've come on so much.
"Yes, tonight didn't go our way but there are so many positives.
"Every single girl in that room should be hugely proud of this tour because it was the first women's tour. We got a win and a loss, that's the way Test rugby goes, but there's so much to be proud of with that group.
"For me, personally, I've never been prouder to be captain."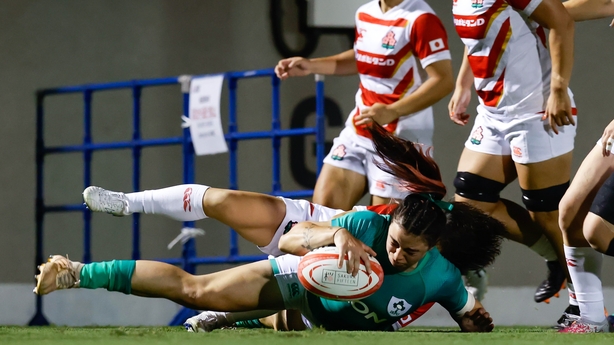 Despite taking an early lead in Tokyo through Natasja Behan's try, Ireland struggled to contain a more physical Japan, with indiscipline inviting further pressure.
Two Japan tries saw them lead 12-5 at the interval and they added a further three in the second half, with Katie O'Dwyer's effort on the hour mark briefly giving Ireland hope.
"I think it was probably just the speed of the ball they were playing," said Fryday. "They were catching us out with silly errors that we should be able to fix on the pitch.
"That's a learning curve for us as a team, we have to be able to react to scenarios that are in front of you.
"One week the ref will be in your favour, the next week maybe not. You have to be able to play the game that's in front of you.
"It's frustrating but we'll definitely have learnings from it."