A fourth defeat in six matches has piled further pressure on All Black head coach Ian Foster after suffering a 25-18 defeat to Argentina.
Traditionally strong finishers, New Zealand looked to have the game in the bag when Richie Mo'unga gave them an 18-12 lead eight minutes into the second half, only for the Pumas to turn over the restart and score a try on their way to a 25-18 win.
"We conceded that try at the kick-off, a bit fortunate, and after that they grew an arm and a leg, and we probably got perhaps a little bit flustered," he said.
"So we've got to look at our composure in the latter stages, particularly with the bench coming on, and we've just got to make sure we're a little bit more ruthless at the breakdown."
Foster said the Pumas ability to turn over the ball at the breakdown, and the refereeing of the tackle area, had been a key factor in the loss.
"Congratulations to Argentina, they kept true to how they wanted to play, they really frustrated us," he added.
"We didn't get what we wanted at the breakdown. We had large periods of dominance in our set piece but that didn't go well at the end.
"But overall they got away with some stuff at the breakdown and we weren't able to deal with it."
Foster has endured a torrent of criticism this year after New Zealand lost their July series to Ireland and their Rugby Championship opener in South Africa.
It was only after the victory in Johannesburg two weeks ago that he was confirmed in his job through to next year's World Cup.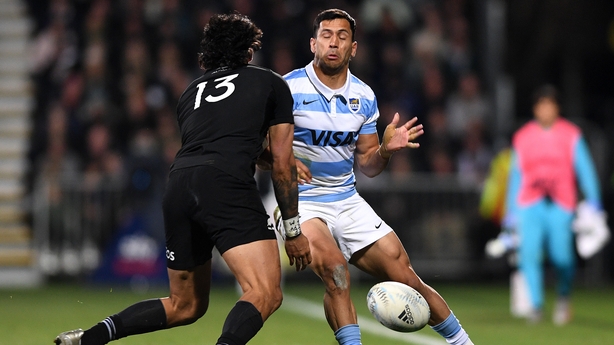 Former Leinster head coach Michael Cheika was delighted with his Argentina side after their maiden victory over the All Blacks in New Zealand but said it was vital they were ready to go again against the same opposition in Hamilton next week.
"For those Argentina boys, that's historic for them and I want them to enjoy it," he said. "It's a first for me too, I've never won a test match in New Zealand.
"I'm looking to grow the team, particularly towards the World Cup, and what's important for us now is getting ready for next week.
"Because they're going to come back with every piece of artillery they've got and we've got to find a way to handle that and give something back."

Cheika, who has now overseen four wins from six matches in his first season in charge of the Pumas, said he had not held back in his pre-match and halftime team talks.
"They are guys who haven't won a lot of Rugby Championship games and maybe not a lot of self belief," he said.
"So you've got to bring (emotion) as well as the technical to make them believe in themselves.
"We knew we had to bring intensity, we knew they had a bit of pressure on them so we had to try and build on that, and then just take it from there and see where the game lands."
The victory gives Argentina successive wins in the Rugby Championship for the first time after their impressive 48-17 thrashing of Australia in San Juan two weeks ago.
They also remain top of the championship standings on points difference ahead of Australia, who earlier beat South Africa 25-17 in Adelaide.
Additional reporting: Reuters