Ireland captain Nichola Fryday says their tour of Japan has given the wider squad an ideal window into what life is like as a professional athlete.
Having come together for a full week in advance of departing for the far east, Greg McWilliams' squad have been together in camp for three weeks, by some distance the longest continuous camp an Irish women's team would have had outside of World Cups.
And with the prospect of new professional contracts for Ireland's elite XV-a-side players coming in the next few months, the Ireland captain says they are already seeing the benefits of devoting themselves solely to the game.
"We've been fully immersed in a professional setup for these three weeks," she said, ahead of Ireland's second Test against Japan in Tokyo tomorrow morning (11am Irish time).
"Some of the girls have done a little bit of work, but the majority of us have been able to fully switch to being a full-time athlete for the three weeks we've been on tour.
"It's been amazing, these are the opportunities we've always wanted, and we're getting them now, and it's been a great three weeks of learning as well as getting to play some really enjoyable rugby."
Rest and recovery has been as important as any game preparation this week, with the Irish squad becoming acclimatised to the searing heat and humidity in Japan.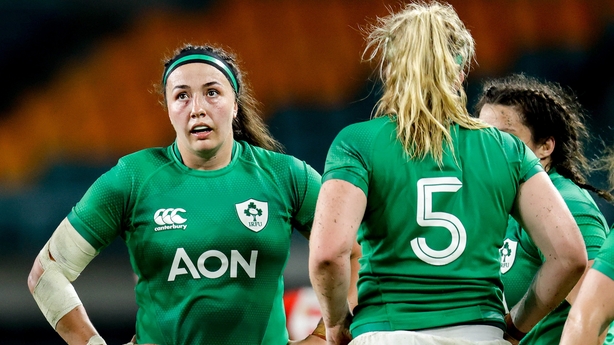 "I definitely think the heat takes an extra toll on your body, hydration is huge. The whole time we've been here, we're making sure we get the fluids back into us.
"Even today at the captain's run it was 40 degrees, and the sweat pumps out of you when you're standing still. It's been a huge part of this trip, the recovery, and I think it's been invaluable learning for the girls around what's expected in recovery in a national setup.
"It's next level, it's not like recovering after a club match, especially on tour, you have such a quick turnaround between matches it becomes your sole focus whenever you're off the pitch, making sure you get back up and running as quick as possible," Fryday added.
Ireland come into the second Test in Tokyo off the back of an impressive nine-try 57-22 win in Shizuoka last Saturday, in which a youthful Irish backline flourished behind a dominant pack of forwards.
However, despite dominating the final 60 minutes of the game, Fryday says their poor start, in which they went 15-0 behind after 11 minutes, gives plenty of scope for improvement.
"In terms of our defence, we didn't really have much chances to work on our defence last week, but the first 15 minutes was definitely something we weren't really pleased with.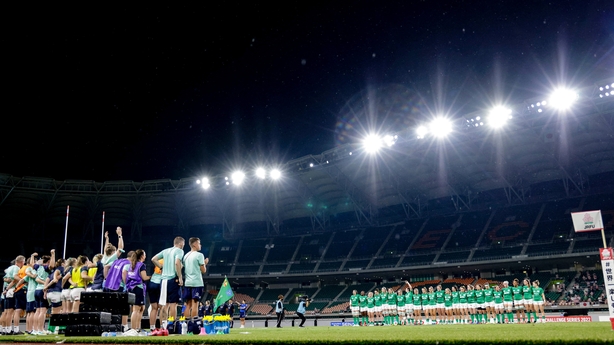 "We had the majority of the possession, but we know Japan will come back at us, and we're not underestimating them in any way. The like to move the ball to the edge as quick as possible, so we've had to work on our defence shape, and how we can counteract their style of play.
"Then, focusing back on our attack, and making sure we're executing. There were some great starter plays we scored tries off, but you have to be able to react to the different pictures to make sure we're making the right choices on the pitch.
"It's been about the finer details and focusing on what Japan will bring. We know they will step it up, it's not going to be the same match it was last week.
"I definitely think they will have a huge reaction to last week. That's not the way they would have wanted this Test series to go, so we're not underestimating them in any way.
"We know there were weaknesses in our performance that they will look to target, and I definitely think they will have a big retaliation to that match. We're expecting it to be a physically and enjoyable match. A proper Test."
Follow Japan v Ireland (Saturday, 11am) via our live blog on rte.ie/sport and on the RTÉ News App.