Ireland head coach Greg McWilliams announced three changes today for his side's second test against Japan on Saturday.
Jo Brown, Grace Moore and Laura Feely all come into a side looking to make it two wins from two on the road.
Brown is the most eye-catching inclusion - the 28-year-old won seven caps for her native England but is now poised to make her Ireland debut.
She qualifies under World Rugby's new international eligibility rules, which allow one country change providing the player was born in or has a parent or grandparent from the second country, and hasn't represented their original nation in three years.
"When I got the job, one of the first things I did was connect with Joe Lydon and Steve McGinnis who run the IQ [IRFU Irish qualified] programme," McWilliams told RTÉ Sport.
"There are a wide range of players that are Irish-qualified and Jo is one of them. You're watching her performances in the Prem [Allianz Premier 15s]. I love how she goes about her business, she's very tough and abrasive.
"She's got seven caps for England, her last cap was in 2019. We had a look at her over the summer and I was impressed with what I saw. I think she buys into the style of rugby we're trying to play and I'm looking forward to seeing how she goes."
Brown becomes the first player to represent Ireland at senior level having previously lined out for another country since Australian Brian Smith in 1991 but McWilliams insisted he had "never thought of it as a thing, to be honest."
"I've never addressed it with her. She came in and straight away it was like she has been with the group. Not an issue at all, to be honest.
"She has bought in, added good value, and is a very good rugby player. She's eligible for Ireland so we're going to see how she goes.
"We want to develop a wide player pool that's going to be competitive, that's the goal as we prepare for the World Cup, that's got to be our target in three years' time. We're trying to test as many players and she's one of them."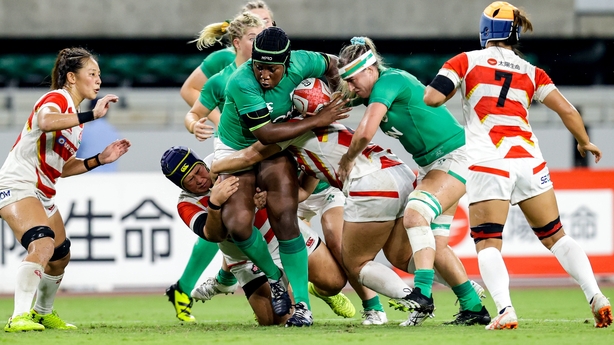 Jess Keating and Emma Tilly are also set for their international bows off the bench as McWilliams aims to give the squad game time while also hoping to back up last weekend's 57-22 comeback triumph.
"I expect Japan to play at a very, very fast pace and try to run us around the field," he said.
"They've gone for a 6/2 split as well so I'd say it's a case of changing the guts of their pack early in the second half to keep the pace on. It's our job then to make sure we can match that."
"Laura Feely is somebody who has worked exceptionally hard since the Six Nations, she deserves her chance. "She's a very skillful player, has done a lot of work on her fitness and I'm looking forward to seeing how she goes for sure.
"Jess Keating, who is a utility forward, comes in. She's from Life University [in the USA] originally. She has added value after being a late call-up for Maeve Óg O'Leary. I think it's good to have a look at her on the bench.
"We've got Grace Moore and Jo Brown, two players who are starting at 8 and 6 respectively. I want to see what they're like. They're working hard, training well, they've committed to the programme and I think to give the best opportunity to people, you've got to give them time to shine.
"We've moved Hannah O'Connor to second row, she's played there before. We've pushed Linda across to tighthead so we want to test our group."
Follow Japan v Ireland (Saturday, 11am) via our live blog on rte.ie/sport and on the RTÉ News App