After 15 years of an apprenticeship, Graham Rowntree's time has come.
Since retiring from a distinguished playing career in 2007, the former Leicester and England World Cup winner moved straight into coaching, first with the Tigers, before making his way through the ranks; England, British and Irish Lions, Harlequins and Georgia, and finally Munster, where he replaced Jerry Flannery as forwards coach in 2019.
The 51-year-old has spoken previously of how quickly he and his family settled in Limerick, so when head coach Johann van Graan and senior coach Stephen Larkham both announced their impending departures last winter, it still seemed likely that Rowntree would hang around.
Having agreed a contract extension to remain as forwards coach, he soon emerged as the frontrunner to step up into the head coach role, before his promotion to the job was confirmed in April.
Munster's pre-season campaign begins on Friday, with Rowntree's side welcoming Gloucester to Musgrave Park.
And as the day's tick down to his first season as a head coach, he says he's getting used to the demands of the new job.
"It's got its challenges and quite rightly so," Rowntree says of the new role.
"The day's a bit busier, there's a lot more people wanting a piece of your time but I'm loving it so far.
"When I spoke to you guys after being announced, I said the time is right for me. It has to be around who you work with, and that's the player and coaching group, It has to feel right, and a wise man knows where he is in his career. So far, so good, we'll see Friday night!"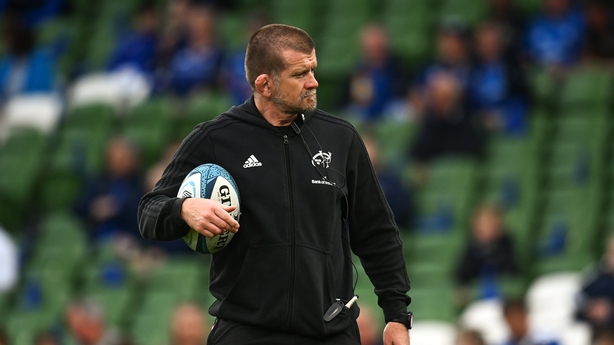 His appointment was a popular one with fans, but the coaching ticket he has placed around him has arguably drawn more excitement, bringing Mike Prendergast and Denis Leamy back to their home province, as well as promoting Andi Kyriacou from his role in the academy.
Prendergast returns to Limerick having cut his teeth in France over the last nine years, most recently at Racing 92 where he received widespread praise for his work on their attacking system.
Leamy returns to Munster having spent last season on the senior coaching team at Leinster, and Rowntree says he's been impressed with what he's seen from the former backrow, whose own career was cut short at the age of 30 due to injury.
"A quiet man but very good at getting his point across. He gets emotional when he needs to," said Rowntree of Leamy.
"He is up and down in his meetings in terms of his emotion, which is important, and our lads are really buying into how he's doing things. He has a presence in front of the group. He's been good so far, very good so far, very good."
"He's our defence coach and essentially as a coach, you're mentoring young players all the time and he's worked hard to build relationships with young and old players.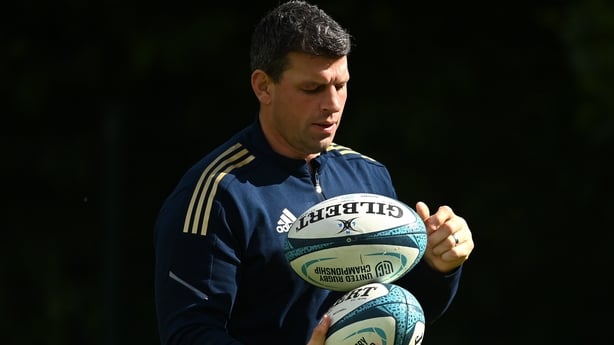 "I can't speak highly enough about Denis. He quietly goes about his business and within the group, we all gel well together. I'm a big fan of Denis.
"I had good reports about Mike and his coaching, I did my research with players and coaches who worked with him. Having approached him, I knew he was the right fit instantly.
"A very warm character, knowledgeable, easy to get on with, and again the lads are enjoying bouncing off him. He's good craic to have around the place.
"I had heard good reports and he's got that affinity and that association, which I believe is important. So far, so good with Mike."
The head coach also confirmed that loosehead prop Dave Kilcoyne will be available for the start of the season, having missed the final two months of last season, as well as Ireland's tour of New Zealand, due to a neck injury that required surgery.
"He literally is champing at the bit. I've not seen him in as good a condition as he is now. He was disappointed with how the season ended but he has worked as hard as he can.
"Our roster is stocked with some pretty good looseheads currently so it's going to be good competition for selection in Round 1. He will certainly be available around the early rounds, so it's a big headache for me."
Rowntree has a different kind of selection headache on the other side of the scrum, where John Ryan's departure has left a large vacuum of experience.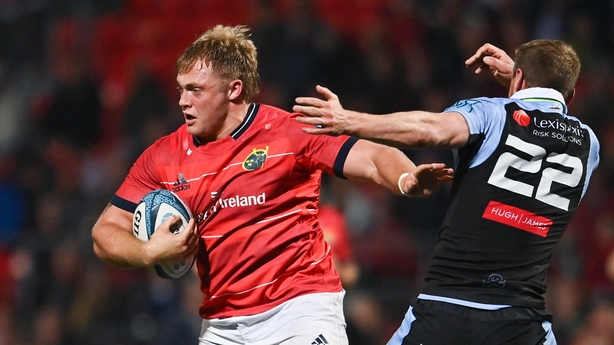 With Stephen Archer likely to be first choice, the remaining tri of Keynan Knox, Roman Salanoa and James French have played just 38 games of senior rugby, with a combined seven starts between them.
And while he admits there is a lack of experience behind Archer, he says he has full faith the younger trio will be able to swim when put into the deep end.
"We've seen Keynan in many big games, Roman's had injuries over the last couple of seasons, and French's not long after moving from loosehead. I am confident in their ability. You've got to give guys a chance some time, and bear with them.
"I am certainly aware it's a very important position for us, and we've lost some experience there, but how can the guys get experience unless you give them experience and chuck them into games?
"Those guys, I'm very confident will come through for us. They're great young men to work with, but we have to back them and they will come through."